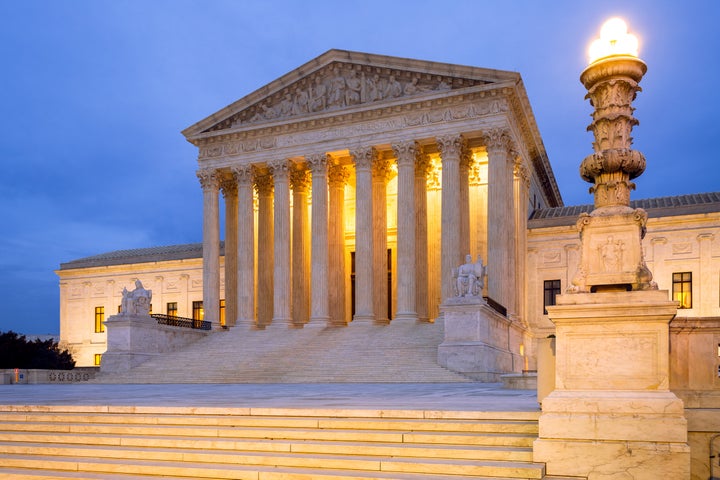 The vote was 5-4, with the court's three liberals joined by Chief Justice John Roberts in opposition to the decision.
Justice Elena Kagan, joined by Justices Stephen Breyer and Sonia Sotomayor, issued a scathing dissent after the ruling.
"Today's decision is one more in a disconcertingly long line of cases in which this Court uses its shadow docket to signal or make changes in the law, without anything approaching full briefing and argument," she wrote. "That is a serious matter, which cannot properly occur without thorough consideration. Yet today the Court skips that step, staying the District Court's order based on the untested and unexplained view that the law needs to change."
At issue is Alabama's latest congressional map, drawn in November, the first to take into account the 2020 census. The map maintains just one majority Black district and six majority white districts even though the population of Black Americans in Alabama is more than 25%. The Black majority district has traditionally voted for Democrats, while the other six have voted for Republicans, meaning the shift could potentially give Democrats an additional seat in Congress.
A three-judge panel unanimously said in January the state's GOP-controlled legislature should create a second district that is at or near a Black majority, giving Democrats hope that the Voting Rights Act could still be used to protect against racial discrimination. But the state of Alabama appealed and asked the Supreme Court for an emergency stay.
The Supreme Court's decision Monday only adds to concerns that the landmark act could be gutted even further. Earlier decisions effectively eviscerated the law's Section 5, which required federal approval of state and local voting laws in areas with a history of racial bias. Section 2 of the law, which bars any effort to limit a citizen's right to vote based on race, has been the main vehicle for any lawsuits against partisan gerrymandering in recent years.
The court will hear Alabama's appeal of the lower court ruling sometime in the future, but it did not give a date. It's likely the court won't hear arguments until the fall and the congressional map in question will be used for the upcoming 2022 election.
Justice Brett Kavanaugh, writing for the court's conservative bloc, said the stay was needed due to the short timeline before the next election, adding that a federal court had swooped in and redone "a state's election laws in the period close to an election."
"When an election is close at hand, the rules of the road must be clear and settled," he wrote in an option. "Late judicial tinkering with election laws can lead to disruption and to unanticipated and unfair consequences for candidates, political parties and voters, among others."
Support HuffPost
The Stakes Have Never Been Higher
Popular in the Community