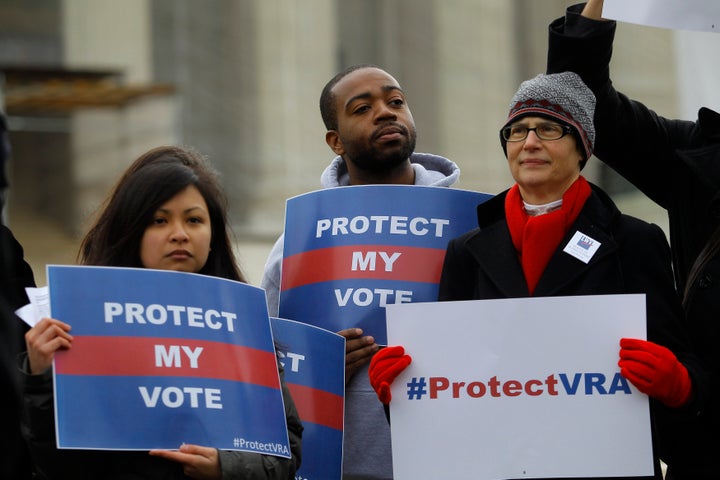 Following the 2010 census, the Arizona commission -- made up of two members from each party plus an independent -- set out to redraw the state's 30 legislative districts, with the help of a consulting staff that included lawyers, a statistician and a Voting Rights Act expert.
After a process that had many layers and was largely bipartisan, the commission, on a 3-to-2 vote, made important tweaks to three districts, all with an eye toward preserving the historic voting power of minorities living there.
After the Department of Justice approved the plans -- and while the Voting Rights Act of 1965 was still in full force -- a group of Arizona voters sued, claiming the commission failed to reach "absolute equality of population" in those districts, and that it acted with the purpose of benefitting Democrats, whom minorities tend to favor.
The Supreme Court rejected those claims on Wednesday, noting that the commission instead acted to secure "compliance with the federal Voting Rights Act," which at the time covered Arizona given its history of disenfranchisement -- and "not to secure political advantage for one party."
"The Fourteenth Amendment's Equal Protection Clause requires States to make an honest and good faith effort to construct [legislative] districts ... as nearly of equal population as is practicable," Justice Stephen Breyer wrote for the court. "The Constitution, however, does not demand mathematical perfection."
Breyer pointed out that Arizona's retooled districts, which reflected a population shift below a 10 percent threshold the court has established for similar cases, weren't the product of "illegitimate considerations." But he did recognize that "partisanship played some role" in the redrawing process -- just not enough to violate the Constitution.
"Given the inherent difficulty of measuring and comparing factors that may legitimately account for small deviations from strict mathematical equality, we believe that attacks on deviations under 10% will succeed only rarely, in unusual cases," Breyer wrote.
At only 11 pages, the Supreme Court's decision appears sparse -- a fact that University of California at Irvine law professor Richard Hasen, a voting rights expert, suggested was an attempt to avoid a bitter split along ideological lines in an area where the justices have "some great disagreements."
"More flexibility for line drawers can be a double edged sword," Hasen wrote in a blog post Wednesday.
REAL LIFE. REAL NEWS. REAL VOICES.
Help us tell more of the stories that matter from voices that too often remain unheard.