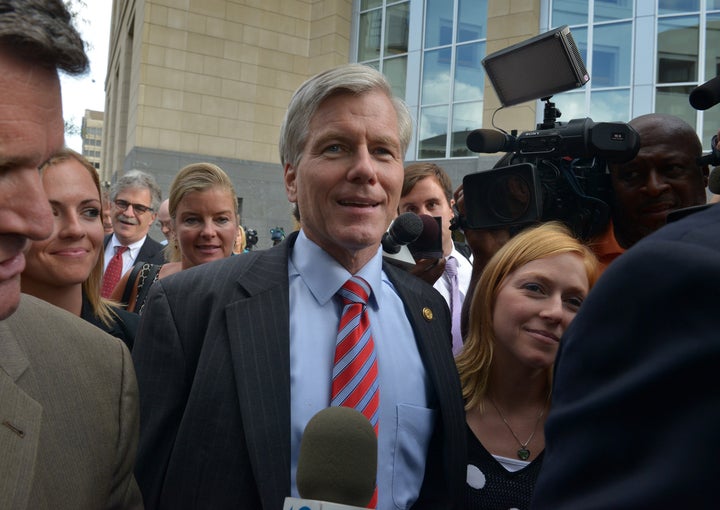 The U.S. Supreme Court on Friday agreed to take up the case of former Virginia Gov. Bob McDonnell (R), who in October urged the justices to review his multiple convictions on federal corruption charges.
The justices' decision to hear the case effectively allows McDonnell to remain out of prison at least until the court issues a decision -- which could arrive as late as June.
McDonnell's lawyers are trying to convince the court that the kind of "official action" federal law treats as corruption -- and that a jury agreed McDonnell committed while governor -- was no more than "routine political courtesies," including activities such as "arranging meetings, asking questions, and attending events."
"This is the first time in our history that a public official has been convicted of corruption despite never agreeing to put a thumb on the scales of any government decision," McDonnell's lawyers wrote in their appeal to the Supreme Court. "Officials routinely arrange meetings for donors, take their calls, and politely listen to their ideas."
The lawyers warned that allowing McDonnell's 2014 convictions to stand would lead to a "dramatic expansion" of what government officials can't do under federal corruption law, potentially "threatening to criminalize politics in America."
In McDonnell's case, his various dealings with Jonnie Williams, the head of a Virginia-based company, via staffers, a government lawyer and at public functions -- purportedly to benefit the company -- formed the basis for a prosecution leading to a five-week trial and immense publicity.
A jury eventually convicted McDonnell on 11 counts of corruption under various statutes criminalizing improper "official action" taken on behalf of someone else or in exchange for political favors. His wife, Maureen, also was convicted.
An appeals court upheld Bob McDonnell's convictions and put his wife's appeal on hold. But now, McDonnell's lawyers are arguing the appeals court's interpretation of what "official action" means sweeps too broadly and risks granting federal authorities too much leeway to go after "ordinary politics."
And McDonnell is far from alone in thinking federal prosecutors overreached. Ahead of Friday's action by the Supreme Court, a broad coalition of former and current Virginia lawmakers, criminal defense attorneys, former federal officials, law professors and other supporters filed briefs backing the ex-governor and urging the justices to take action in his case.
With McDonnell's appeal now on the court's docket, a hearing will take place in the spring.
Though it's far too early to tell how the Supreme Court might rule, it's fair to say luck is already on McDonnell's side. In August, the justices granted him an extraordinary reprieve from prison -- something they rarely do.
Calling all HuffPost superfans!
Sign up for membership to become a founding member and help shape HuffPost's next chapter