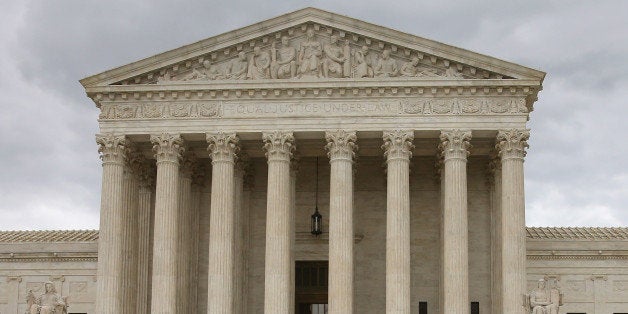 WASHINGTON, April 29 (Reuters) - The U.S. Supreme Court was set on Wednesday to hear arguments in a case brought by three death row inmates challenging Oklahoma's method of execution by lethal injection as a violation of the U.S. Constitution's ban on cruel and unusual punishment.
The three-drug process used by Oklahoma prison officials has been under scrutiny since the April 2014 botched execution of convicted murderer Clayton Lockett. He could be seen twisting on the gurney after death chamber staff failed to place the intravenous line properly.
Richard Glossip, John Grant and Benjamin Cole, the inmates challenging the state's procedures, argue the sedative used by Oklahoma, midazolam, cannot achieve the level of unconsciousness required for surgery, making it unsuitable for executions.
Glossip arranged for his employer to be beaten to death. Grant stabbed a correctional worker to death. Cole killed his 9-month-old daughter.
Arguments before the Supreme Court were set to begin at around 10 a.m. (1400 GMT). A decision is due by the end of June.
The main question before the nine justices is whether the use of midazolam violates the Constitution's Eighth Amendment prohibition on cruel and unusual punishment.
The case does not address the constitutionality of the death penalty in general, but it brings fresh attention to the ongoing debate over whether the death penalty should continue in the United States at a time when most developed countries have abandoned it.
Opponents say midazolam is not approved for use in painful surgeries and should not be used in the death chamber because it cannot maintain a coma-like unconsciousness, potentially leaving inmates in intense pain from lethal injection drugs that halt breathing and stop the heart.
The drug has been used in executions in Oklahoma, Florida, Ohio and Arizona.
Oklahoma maintains the drug is effective. Oklahoma's lawyers said in court papers the case was a "full-throated attack" on the state's ability to implement death sentences.
Oklahoma's governor, Mary Fallin, this month signed a law allowing the state to use nitrogen gas as an alternative execution method if the Supreme Court finds the state's lethal injection process unconstitutional or drugs are unavailable. (Editing by Will Dunham)
REAL LIFE. REAL NEWS. REAL VOICES.
Help us tell more of the stories that matter from voices that too often remain unheard.
BEFORE YOU GO