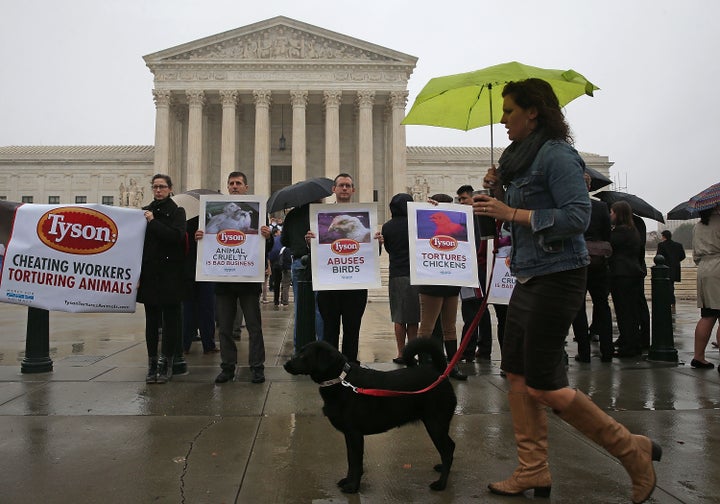 WASHINGTON -- Workers who sue collectively over unpaid overtime may just get a big break from the U.S. Supreme Court.
The justices heard arguments Tuesday in a high-stakes dispute over the scope of class-action lawsuits, in a case involving thousands of workers who sued meatpacking giant Tyson Foods over unpaid overtime at a pork-processing plant in Iowa. 
The endgame for Tyson in the legal challenge isn't just to toss out the $5.8 million judgment two lower courts agreed was proper for the workers, but to hopefully get the Supreme Court to tighten the rules governing class actions -- a task the court under Chief Justice John Roberts has embraced in the past decade.
In this case, at least, the justices didn't seem too enthralled by the company's position. 
"I just don't understand your arguments," Justice Anthony Kennedy told Tyson's lawyer, Carter Phillips, near the beginning of the hearing.
Justice Sonia Sotomayor piled on: "Mr. Phillips, I'm completely at a loss as to what you're complaining about."
Tyson's chief complaint is how a lower court calculated damages for about 3,300 workers who sued over unpaid wages for "donning and doffing" activities -- the time it takes to put on and take off safety and sanitary equipment before and after each workday. 
Some workers at the plant take longer at this than others -- those who work on the slaughtering floor, for example, have more equipment to carry around or clean up after their shift than those on the meat-processing floor. And so to account for the differences, the lower court accepted as valid a statistical average to get a ballpark figure for every worker in the class.
Tyson says this amounts to an improper "trial by formula" that blurs the diversity of the Tyson workers' damages -- the very method the Supreme Court criticized in another big class-action case favoring Walmart.  
But the Supreme Court seemed unimpressed, and it brought up time and again a nearly 70-year-old case, Anderson v. Mt. Clemens, in which the court established that workers can draw "just and reasonable" averages for wages they were never paid.
"What you're basically saying is that Mt. Clemens is completely wrong," Sotomayor told the Tyson lawyer. "You can't estimate your time when the employer doesn't keep records."
Indeed, Tyson didn't contest that it had a shoddy record when it came to keeping tabs on its workers' donning-and-doffing overtime. And so it appeared curious to the justices that the company now stood before the court assailing an old precedent that helps workers precisely when their employer isn't very good at record keeping.
"How much of this case turns on the fact that the employer did not keep adequate records?" Kennedy asked at one point.
By focusing on Tyson's failures and other tactical mistakes by the company, the Supreme Court appeared to steer clear from the far thornier issue of redefining the rules of class actions -- a dangerous course that could unravel not only the Tyson workers' case, but every future case involving workers who band together as class litigants against their employer.
"It's not a class issue," Justice Elena Kagan said of the case, but an issue involving unpaid wages under federal labor law, which the court has the tools to resolve under its own 70-year-old precedent.
From those clues, it seems organized labor and workers' rights advocates should breathe a sigh of relief. At least for this case, it appears the Supreme Court won't be dealing a blow to worker classes who bring their employers to court.
REAL LIFE. REAL NEWS. REAL VOICES.
Help us tell more of the stories that matter from voices that too often remain unheard.