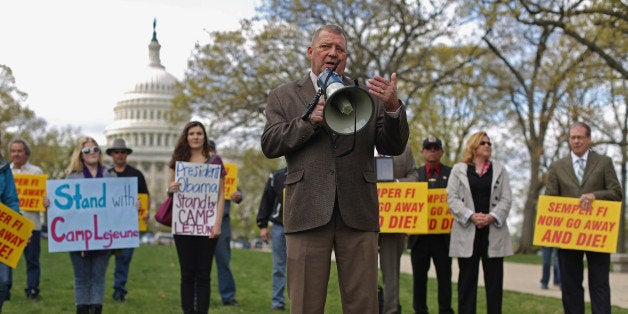 "Ludicrous." "Unconscionable." "A slap in the face."
The 7-2 vote in the case of CTS Corp. v. Waldburger blocks a group of landowners in Asheville, North Carolina from pursuing compensation for property and health damage allegedly caused by toxic chemicals released from a former CTS electronics plant.
Indirectly, critics warn, the decision may also eliminate recourse for veterans sickened by historically contaminated water at a North Carolina Marine Corps base, and may motivate corporations to cover up current and future pollution events long enough to escape liability. The decision, critics say, will trigger profound and unjust environmental health consequences across the U.S.
"It's very devastating to me," said Dot Rice, 76, of Asheville, who lives about a thousand feet from the CTS site. "The contamination has gotten much worse. There are more people getting sick and now there can be nothing done about it."
CTS shut down its Asheville plant and sold the property in 1987. Despite evidence of continuing chemical exposures in the community's air and water, a North Carolina statute cuts off a company's liability 10 years after its last contaminating act. In other words, according to the law's language, the deadline for filing claims came and went in 1997 -- years before Asheville residents were informed of the contamination, and well before many got sick. (The residents' illnesses can't be definitively linked to contamination from the plant.)
A federal law, however, sets a different clock, which starts ticking when a victim first learns of the contamination that likely caused his or her injury. As The Huffington Post reported in April, the Supreme Court was tasked with interpreting obscure legal terminology to determine which of the two clocks should set the deadline for a victim to legally file a claim.
The U.S. Court of Appeals for the 4th Circuit ruled in July 2013 that the federal law overrides the state law. On Monday, the Supreme Court reversed that decision, leaving people like Dot Rice out of luck.
"It's a really sad situation," said Rice, adding that she is helping to organize a community meeting concerning the court ruling on Thursday.
Rice has developed a thyroid disorder. Her husband and granddaughter are both fighting brain tumors. And last week, her son was among 13 Asheville residents urged to evacuate their homes and temporarily relocate by officials with the U.S. Environmental Protection Agency, which had identified unsafe levels of trichloroethylene (TCE) in the air. TCE, a known carcinogen and neurotoxin, was among the chemicals used at the CTS facility.
"That right there exposes the paradox of the court's ruling," said Tate McQueen, a high school history teacher in Asheville. The community, he said, continues to be exposed to lingering toxins whose health consequences can take years, even decades, to manifest.
McQueen said he felt "shock, dismay and then sadness" when he learned of Monday's decision. But he added that he and his fellow residents will continue to fight for clean air, clean water and justice -- in Asheville and beyond.
"This is about the greater community -- in particular, our Marine Corps brothers and sisters at Camp Lejeune who have now been summarily dismissed in terms of having any legal recourse for the damage that's been done to them," he said.
Retired Master Sgt. Jerry Ensminger shared his explanation of the high court's ruling: "The Obama administration was on the side of the polluter."
In August 2012, Ensminger stood alongside President Barack Obama as he signed legislation to provide medical care for Marines and their dependents who may have been affected by water contamination at North Carolina's Camp Lejeune Marine Corps Base between the late 1950s and the 1980s. Days later, the Department of Justice filed an amicus brief in support of CTS in the 4th Circuit case.
Some advocates argue that Obama's bill for Camp Lejeune victims -- a bill named after Ensminger's 9-year-old daughter, Janey, who was born at Camp Lejeune and died of a rare form of leukemia in 1985 -- falls short because it offers no compensation for injury or disability. The Supreme Court's CTS ruling, just as it thwarts the efforts of Asheville residents, is also likely to deny Marines and their families the ability to seek that compensation through lawsuits against the federal government.
"This decision is ludicrous," said Ensminger. "Basically what this is telling industry and polluters is, 'Hey, if you're deceitful and devious enough to cross that 10-year finish line, we're going to reward you."
Justice Ruth Bader Ginsburg made a similar argument in her dissent: "The Court's decision gives contaminators an incentive to conceal the hazards they have created."
The Department of Justice declined to comment on the decision.
Willy Jay, a lawyer with expertise in Supreme Court and environmental cases, agreed that the process of dealing with pending Marine Corps litigation explains "why the federal government was firmly on the side of the defense rather than the plaintiff in the case."
Jay also shared Ensminger's prediction that the Supreme Court ruling could motivate other states to enlist similar policies. To date, only four states, including North Carolina, have clocks that shut down a polluter's liability after a set number of years, a so-called statute of repose.
"You mark my words, there's going to be a fire sale at state legislators all scrambling to get their own statutes of repose after this decision," said Ensminger. "That's going to crucify our environmental law and set us back to the 1800s -- back to the days of Rockefeller, Vanderbilt and J.P. Morgan."
McQueen expressed a similar thought.
"Once again," he said, "we're placing the interest of corporate America ahead of the interest of the citizenry."
Related
Popular in the Community