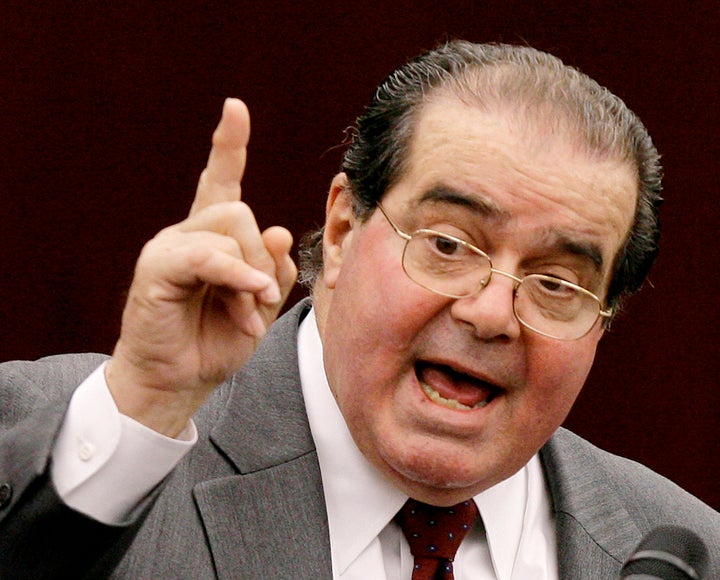 WASHINGTON -- Justice Antonin Scalia became Alabama's best friend on Tuesday morning. During oral argument in the case of death row inmate Cory Maples, the Supreme Court justice made it clear to everyone in the courtroom that he's ready to let a man be executed at least in part due to a mailroom mix-up. And he fought for his view all morning.
The other justices appeared less happy with that outcome, hinting at an interest in ruling for Maples -- albeit on narrow grounds.
Maples sits on death row in Alabama for committing two murders in 1995. After the state appeals courts affirmed his conviction and the U.S. Supreme Court denied review, two young lawyers at Sullivan & Cromwell, a major New York law firm, took his case pro bono to represent him in post-conviction proceedings in state court. The two New York lawyers associated themselves with an Alabama-licensed attorney, John Butler, as then required by Alabama state law.
With no further involvement by the local attorney, the New York lawyers filed a petition arguing that Maples' death sentence should be set aside due to "ineffective assistance of counsel" at trial. Eighteen months later, the judge dismissed the petition, and the court sent notice of that decision to all three lawyers. By that time, both New York attorneys had left Sullivan & Cromwell. The firm's mailroom sent the notices back to the court unopened with "Return to Sender" written on the envelopes. Upon receiving the returned notices, the clerk of the court did nothing to track down the two lawyers or to further engage Butler, the local counsel.
Unbeknownst to Maples, the deadline to appeal the trial court's decision passed without any action on his lawyers' part. That meant he couldn't pursue his ineffective-assistance-of-counsel claims in federal court unless he could show cause for his default based on some external circumstance, such as attorney abandonment or state interference.
The lower federal courts found no such cause, and neither apparently did Scalia on Tuesday morning. Latching onto the fact that the local attorney received the notice but did nothing, Scalia asked Maples' attorney, former U.S. Solicitor General Gregory Garre, if "you want us to believe that the local attorney has no responsibility for the case at all?"
Justices Ruth Bader Ginsburg, Elena Kagan and Sonia Sotomayor each tried to tease out from Garre whether the clerk of the court should have known that the local lawyer was acting as a mere functionary rather than substantively aiding Maples.
"There has to be some local counsel that does work," Sotomayor said to Garre. In response to that comment as well as Scalia's continued badgering, Garre noted that "the state itself must not have viewed Butler as a meaningful player, because when the default at issue in this case occurred, the state sent a letter ... to Mr. Maples directly on death row" rather than to his local counsel.
That prompted Chief Justice John Roberts to wonder how much local counsel would "have to do to put him in a position where he was in fact representing Maples."
"Your case, it seems to me," Roberts said to Garre, "turns critically on Butler's role."
And it was over this matter that Scalia broke from the rest of the justices (except, of course, Justice Clarence Thomas, who is fast approaching his sixth year of silence at oral argument). For Scalia, the local attorney remained Maples' lawyer no matter how hands-off he was in the case. Consequently, Scalia considered the lawyer's failure to appeal to be fairly imputed to Maples.
The case was apparently not as simple for his colleagues. Justice Stephen Breyer, for example, telegraphed his sympathy for Maples. He said that the prosecutor in the case would have known that "one, [Maples is] represented by counsel in New York; two, they didn't get the notice; three, the local attorney isn't going to do anything; and conclusion, they likely knew that he didn't get the notice," yet the prosecutor pressed to keep Maples out of court anyway.
Scalia interjected, "Do we know that [the prosecutor] knew all of those facts?" And Garre replied, "No, Justice Scalia."
Justice Anthony Kennedy then asked for statistics, for Alabama or the nation, on how many capital cases are not appealed. Given that such cases are virtually always appealed, the justice seemed to be implying that the local attorney would have done something had he actually considered himself Maples' lawyer.
Scalia again jumped in, this time to note that Maples did appeal his conviction and that the case before the Court involved post-conviction hearings. But Kennedy brushed away Scalia's nitpicking, refining the question to "how often an appeal is abandoned or not pursued in this kind of case."
And when Garre suggested the justices send the case back to the lower court to flesh out what Kagan called a "skimpy" factual record, Scalia countered, "You should have gotten the facts in the first place. If the record doesn't show the things that you need to show to get this case reversed, the case should not be reversed."
For all his efforts to maintain control of the message during Garre's presentation, Scalia, who celebrates the start of his 25th year on the Supreme Court this week, could not keep a grip through the Alabama solicitor general's stumbling half-hour argument. But it was not for want of trying. Right from the start, Scalia sought to save John Neiman from himself in the face of aggressive questioning by Roberts, Kagan and Ginsburg.
Justice Samuel Alito then signaled his disappointment with Alabama. Alito asked Neiman why he was "pushing the Court to consider rules that would have far-reaching effect," such as a new constitutional requirement that court clerks follow up on letters they send to losing lawyers who may or may not appeal adverse decisions. Why not, Alito wondered with considerable astonishment, "just consent" to allow Maples' attorneys to file an out-of-time appeal?
Neiman had no good answer.
But what he did say amid the onslaught was that the local lawyer was more involved in the case than Garre had suggested.
Chief Justice Roberts three times asked the Alabama solicitor general to substantiate his claim, and three times Neiman could not. On the fourth time, the chief warned, "You made a fairly serious suggestion that [Garre] did not accurately represent what he did."
"Let me withdraw any suggestion," Neiman said.
This time, Scalia didn't say anything to save him.
A decision in the case, Maples v. Thomas, is expected before the end of the term in June.

Popular in the Community