WASHINGTON -- Vin Testa has a new nickname: "Flag Guy."
The 25-year-old Washington resident -- a self-described "proud, out, gay man" -- became a fixture on the steps of the Supreme Court this week, as he waited for the high court's ruling on two landmark marriage equality cases. He could be recognized by the large rainbow flag he was waving.
"The time is now and we're on the road to equality," Testa said after learning that the court had finally ruled the Defense of Marriage Act unconstitutional on Wednesday. "Be on the right side of history."
Images of Testa's demonstration were plastered onto front pages and news websites worldwide as both sides of the gay marriage debate anticipated the rulings in the DOMA case, United States v. Windsor, and the challenge to California's Proposition 8 initiative, Hollingsworth v. Perry.
When a large, enthusiastic crowd of demonstrators joined Testa's flag waving on Wednesday morning, the overarching mood was just as nervous as Testa's. Being packed together made an already sweltering Washington day more unbearable, and frustrations arose as people eager to keep up with the news were unable to find a cellular connection on their phones.
Colorful, clever signs were everywhere. One crowd member actually brought his closet door, on which he wrote the words: "This used to oppress me. Repeal DOMA; Now. NO more shut doors."
Elizabeth Bier, 23, of California, had painted a poster of Edie Windsor, the plaintiff in the DOMA case, and her late wife, with a quote from Windsor: "Marriage is this magic thing."
A cascade of cheers and chants of "DOMA is dead" erupted as soon as protesters learned the news that, in a 5-4 decision, the court had ruled the statute unconstitutional. Patriotic songs like "America the Beautiful" and chants of "What do we want? Equality! When do we want it? Now" rang out, but the crowd quieted again when it turned to Twitter to learn of the court's Prop 8 decision.
David Baker, 24, an openly gay Mormon from Salt Lake City, now lives in Washington and has been out in front of the Supreme Court all week waiting for the same-sex marriage decisions. He came to the building with a sign reading "Gay Mormon for Marriage Equality" on one side and "If I can't marry my boyfriend, then I'll marry your daughter!" on another.
Baker was thrilled with the DOMA decision, but recognized that the Prop 8 ruling left the gay community with a lot of work to do in states that have yet to recognize same-sex marriage. "I'm so grateful that we now have marriage equality recognized on the federal level. It's what I've been waiting for all week," he said. "I feel like in terms of Prop 8, we made a step forward."
Though marriage is likely not in Baker's immediate future, he hopes to get married someday and hopes that the next generation of gay youth will grow up knowing that they can marry those they love.
"I think that that is the best thing that can happen for marriage in this country," he said of the ruling on DOMA. "I think that that strengthens all marriage -- having more people committed."
Some couples came with their children to ensure the younger generation would witness the rulings.
John Barabino and his husband, David Huebner, were outside the court with their 3-year-old son, Miles, who was perched on Barabino's shoulders. They brought him so he too could be a part of this historic day.
"It's our fifth wedding anniversary this week on Monday, so it's kind of an amazing week," Barabino said. "Now our marriage is finally recognized by the federal government."
Shalom Konstantino, 27, and Michael Konstantino, 37, are one of those couples. The pair wore matching shirts reading "This Guy Loves His Husband."
"I'm an Israeli, and Michael is an American, and finally, after six years, he is going to be able to give me his immigration benefits, and it's going to change our lives," Shalom told The Huffington Post.
Michael added that the couple will now save somewhere between $3,000 and $4,000 in federal taxes each year.
Elected officials joined the masses, too. Sen. Richard Blumenthal (D-Conn.) was one of them.
"Connecticut has marriage equality, and now all its citizens will have the same rights under the law as couples in every other state. Married couples deserve equality, and the Supreme Court has now struck down a law that denied it," Blumenthal said. "So I'm very proud to be here on this truly historic day."
Many religious leaders clothed in their vestments aimed to demonstrate that their churches supported marriage equality. Jill McCrory, 51, a pastor of the Twinbrook Baptist Church in Rockville, Md., wore a rainbow-colored clerical stole and held a sign that read, "Baptist Clergy for Marriage Equality."
"You get into sort of sticky wickets because you can really use the Bible in so many ways," McCrory said. "There's plenty of things in the Bible that we don't practice today, and there are many interpretations. It's all about love and inclusion."
A lone anti-gay marriage activist was visible in the crowd on Wednesday. He stood across the street from the courthouse with a sign that referenced sodomy and AIDS.
Once the euphoria of the decisions had died down, Linh Hoang, 30, encapsulated the feeling in Washington.
"It's a great day to be gay," he said.
Ashley Balcerzak, Caitlin MacNeal and Danielle Schlanger contributed reporting.
Before You Go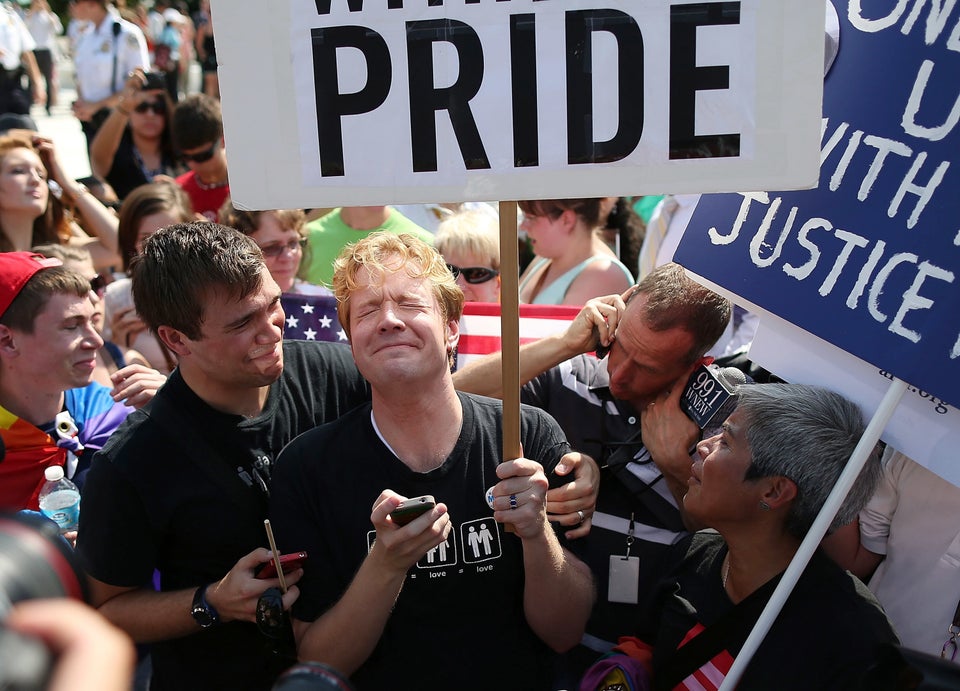 SCOTUS Decisions On Prop 8, Defense Of Marriage Act
Popular in the Community