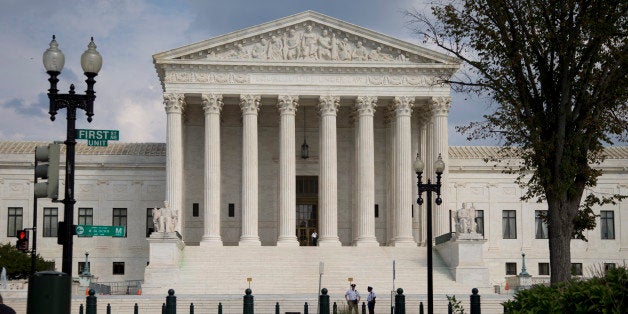 WASHINGTON -- Turns out, you shouldn't get deported over possession of a sock -- even if that sock is hiding prescription pills.
The Supreme Court reversed an appeals court decision Monday in a case brought by the Obama administration against a man who was deported over using a sock to hide four Adderall pills.
Writing for a majority of the court, Justice Ruth Bader Ginsburg sharply rebuked the federal government's argument that Moones Mellouli, a lawful permanent resident from Tunisia who pleaded guilty in 2010 to misdemeanor possession of drug paraphernalia, should be deported.
"This sweeping interpretation departs so sharply from the statute's text and history that it cannot be considered a permissible reading," Ginsburg wrote.
Mellouli came to the U.S. in 2004 on a student visa. He finished college, earned two master's degrees and became a legal permanent resident.
In 2010, Mellouli was arrested in Kansas for driving under the influence. At that time, police found the Adderall, which is usually used to treat attention deficit hyperactivity disorder, in his sock. Mellouli pled guilty to a misdemeanor possession of drug paraphernalia. He received a suspended sentence and a year's probation before being deported.
Being a legal permanent resident doesn't make an individual immune from deportation -- that person can still be removed from the U.S. under certain circumstances, including for some drug-related crimes. As Immigration and Customs Enforcement under President Barack Obama increasingly focused on deporting criminal offenders, drug offenses put even green card holders at greater risk of removal.
Theshia Naidoo, senior staff attorney for drug policy reform group Drug Policy Alliance, applauded the Supreme Court's rejection of the federal government's "expansive interpretation of immigration law."
"The Court's ruling recognizes the absurdity of the war on drugs and its devastating impact on immigrants," Naidoo told The Huffington Post. "The time has come to completely overhaul our drug laws and prevent mass deportation based on minor drug offenses."
In January, when the Supreme Court first heard the case, many of the justices appeared already quite skeptical of the federal government's case for deportation.
"If it's not such a big deal that the state is willing to let him cop a plea to drug paraphernalia, why should that be the basis for deportation under federal law?" Chief Justice John Roberts said.
Justice Elena Kagan, a former professor and dean of Harvard Law School, actually drew laughter with her observation.
"He was convicted of paraphernalia here because he had four pills of Adderall," Kagan began, "which, if you go to half the colleges in America ... and just randomly pick somebody, there would be a decent chance [you'd find Adderall]."
Only Justices Clarence Thomas and Samuel Alito dissented, arguing that Mellouli's deportation was justified. In his dissent, Thomas said he took objection to the focus on the sock itself.
"The majority's 12 references to the sock that Mellouli used to conceal the pills are thus entirely beside the point," he wrote. "An alien may be removed only if he is convicted of violating a law, and I see nothing absurd about removing individuals who are unwilling to respect the drug laws of the jurisdiction in which they find themselves."
The Supreme Court has previously limited the federal government's scope in deporting legal permanent residents on drug-related grounds. In 2006, the justices ruled that immigration agents were applying the drug trafficking label too broadly to simple possession offenses for deportation purposes. In 2010, the court ruled that two unrelated drug possession offenses should not automatically define them as a recidivist and mandate their deportation. In 2013, justices ruled that a man should not be removed for drug distribution for having 1.3 grams of marijuana in his car if there was no proof he was selling it.
"The court has now said to the federal government four times, look, get your act together when it comes to trying to deport people who have only minor drug crime convictions," said Cornell University Law School professor Stephen Yale-Loehr, who teaches immigration law.
Calling all HuffPost superfans!
Sign up for membership to become a founding member and help shape HuffPost's next chapter
BEFORE YOU GO
PHOTO GALLERY
Supreme Court Justices