WASHINGTON -- A majority of Supreme Court justices on Wednesday morning appeared skeptical of the constitutionality of the Defense of Marriage Act (DOMA), which defines marriage for federal purposes as between a man and a woman. Whether the justices believe they have the power to make any decision in this case, however, remained murky.
It was the second day in a row that the high court heard arguments dealing with same-sex marriage. At issue Wednesday in United States v. Windsor was whether it was constitutional for the U.S. government to refuse to recognize same-sex marriages that had been recognized by the states.
Justice Anthony Kennedy, who said Tuesday that the children of same-sex couples "want their parents to have full recognition and legal status," seemed troubled by the fact that DOMA refuses to recognize even those same-sex unions that are already recognized by states.
"When the federal government has 1,100 laws, which means in our society the federal government is intertwined with citizens' day-to-day lives," Kennedy said, then Congress is doing more than simply ensuring a uniform definition of marriage.
DOMA was only helping states, Kennedy said, "if they do what we want them to do." He pointed out to Paul Clement, the lawyer defending DOMA, that the law applied to states "where voters have decided" to legalize same-sex marriage and stated that he believed there was injury to same-sex couples whose marriages were not recognized by the federal government.
Section 3 of DOMA, at issue in Wednesday morning's case, says "the word 'marriage' means only a legal union between one man and one woman as husband and wife" for purposes of "any Act of Congress, or of any ruling, regulation, or interpretation of the various administrative bureaus and agencies of the United States."
Plaintiff Edie Windsor, 83, brought suit against the federal government after the Internal Revenue Service cited DOMA in denying her a refund for the $363,000 in federal estate taxes she paid following the 2009 death of Thea Spyer, her partner for over 40 years. Windsor and Spyer had married in Canada in 2007, but resided in New York. Because Windsor would have been eligible for an estate tax exemption had Spyer been a man, she argues that DOMA's Section 3 violates her equal protection rights under the Fifth Amendment.
On this point, Windsor had a friend in Justice Ruth Bader Ginsburg, who said that DOMA created "two types of marriage," likening same-sex marriage in the states to the "skim milk" version of straight unions.
Justice Kennedy also showed hostility to DOMA. But like his position in the Proposition 8 oral arguments Tuesday, he appeared reluctant to rule on equal protection grounds. Instead, the question for him was "whether or not the federal government under our federalism scheme has the authority to regulate marriage."
Solicitor General Donald Verrilli, representing the Obama administration on the merits of the case, avoided Kennedy's question, choosing instead to emphasize Congress' discriminatory purpose in enacting DOMA in 1996.
The law "is not called Federal Uniform Benefits Act," he said. "It's called the Defense of Marriage Act."
Justice Elena Kagan pushed a similar point. She told Clement, who was defending DOMA on behalf of the House of Representatives' Bipartisan Legal Advisory Group, "that maybe Congress had something different in mind than uniformity" in the definition of marriage. Suggesting the law was "infected with prejudice, fear, spite, and animus," Kagan read a portion of the House Report, which said DOMA was meant to reflect Congress' "collective moral judgment and to express moral disapproval of homosexuality."
Perhaps key to the justices' analysis of the case is whether to regard laws that single out gays and lesbians with what's called "heightened scrutiny" -- a level of review now used to strike down measures that single out politically disfavored and less powerful groups.
On this point, Chief Justice John Roberts focused in on the "sea change" in public opinion on the question of same-sex marriage. How did that "sea change" come about, he asked, unless gay and lesbian Americans had amassed significant political power. Roberts said it seemed to him that politicians were "falling over themselves" to endorse gay marriage.
Roberts also wondered why, if President Barack Obama believes DOMA is unconstitutional, he continues to enforce it. "I don't see why he doesn't have the courage of his convictions," the chief said. Kennedy chimed in later, saying he didn't "understand why they continue to enforce" DOMA.
Clement said that if 10 years from now, there were only nine states left that didn't have gay marriage, the federal government might be fully entitled to force the remaining states to recognize such unions.
Judging from Wednesday's first 50 minutes of oral arguments, however, the case may instead be decided on whether the justices have the power to hear the case at all.
In United States v. Windsor, the U.S. District Court and the U.S. Court of Appeals for the 2nd Circuit both declared DOMA unconstitutional. The Obama administration agrees with them.
Chief Justice Roberts asked Deputy Solicitor General Sri Srinivasan, arguing on behalf of the Obama administration, whether there was "any case where all parties agreed with the decision below," but a court "nonetheless upheld" its ability to hear the case.
The chief's question about legal standing reflects DOMA's long, strange trip to this point. A bipartisan piece of legislation, it was signed into law in 1996 by President Bill Clinton, who now believes it should be overturned.
In 2010, a Department of Justice official told reporters that defending DOMA was "difficult" for the Obama administration, while Attorney General Eric Holder told D.C. law students that the DOJ "has a responsibility to defend those statues that the Congress has passed if there is an argument that can be made to defend those statutes."
But things changed in 2011, when Holder announced that the DOJ would no longer defend DOMA. Holder was not in the courtroom on Wednesday, but Deputy Attorney General James M. Cole and Acting Assistant Attorney General Stuart Delery, who runs the DOJ's Civil Division, were in attendance on behalf of the department.
After the DOJ backed off from defending the law, House Republicans stepped in. The Bipartisan Legal Advisory Group hired Clement, George W. Bush's former solicitor general, to defend the law on behalf of the federal government.
Clement faced difficult questioning Wednesday from the Supreme Court's liberal wing on why the House had any legally recognizable interest in representing a position the executive has abandoned.
"How is this case any different from enforcing general powers of the United States," Justice Stephen Breyer asked.
See photos from the Supreme Court below, and scroll down for live blog updates: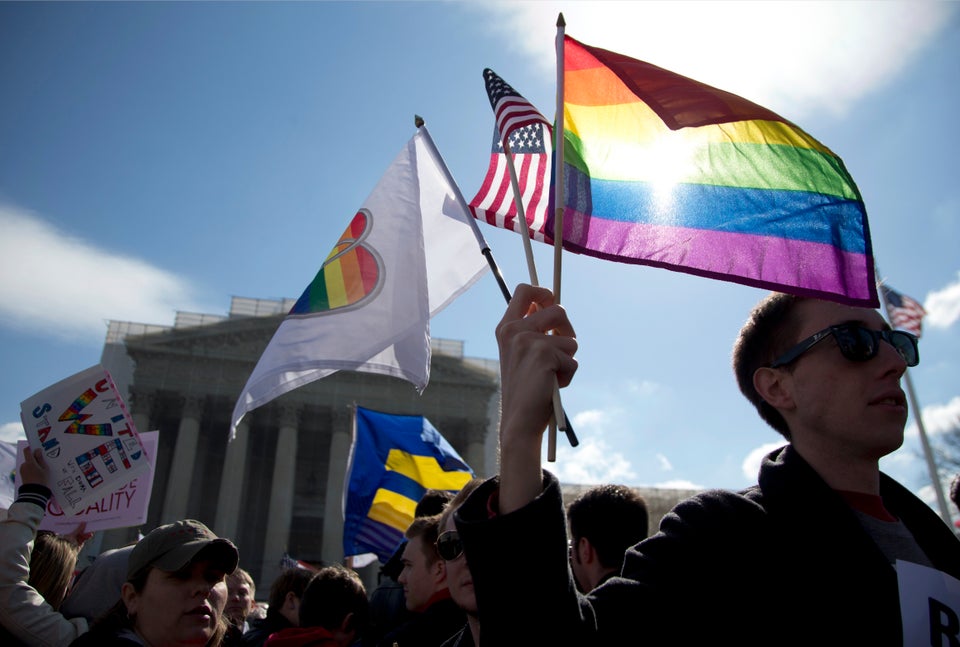 Supreme Court Proposition 8 Case
Popular in the Community