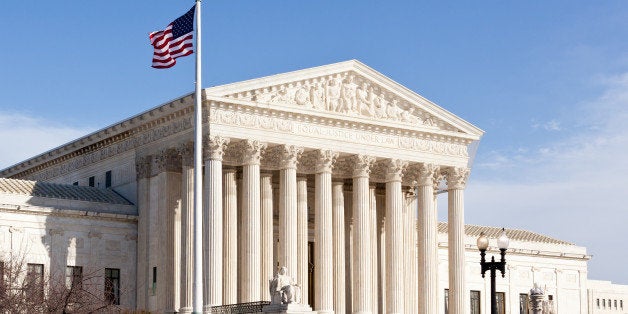 Gathered from select Twitter, Wikipedia, SCOTUSblog, and Google searches, here is a Supreme Court FAQ of what happens next following the death of Justice Antonin Scalia. Most of the information below was culled from this incredibly helpful report by the Congressional Research Service.
Q. How does Justice Scalia's death affect cases the court is in the middle of hearing?
A. They proceed as if nothing happened, unless the Chief Justice instructs differently.
Q. Since there are only 8 judges for a time, what happens to cases where the judges tie, 4-4?
A.The decision of the lower court stands, but does not hold weight as if it were precedent laid down by the Supreme Court. The risk of 4-4 ties is not unusual (though is obviously higher now), because Justice Elena Kagan has recused herself from a number of cases that she worked on while serving as Solicitor General prior to her confirmation.
Some scholars are also suggesting they can hold the case until a nominee is confirmed. But this has to happen before the end of the session in which the case was heard.
Q. What's the longest it's taken to confirm a Supreme Court justice?
A. It depends on how you look at it. From nomination to confirmation, the longest time taken to confirm was the 125 days before Justice Louis Brandeis took the bench in 1916. But the longest vacancy on the court (meaning time elapsed between a judge stepping down and their replacement being named) happened during John Tyler's administration (1844-46). It took him two years to replace Justice Henry Baldwin, who died in office. President Obama has 342 days left in office.
Q. How long will it take President Obama to nominate a replacement?
A. No one knows, obviously, but his record on the two judges he has nominated (Justice Kagan and Justice Sonia Sotomayor) offers a glimpse. Obama took about a month to nominate Justice Kagan after Justice John Paul Stevens announced his retirement. He took 26 days to nominate Justice Sotomayor after Justice David Souter's retirement plans leaked to the media.
The problem, of course, is that both Justice Stevens and Justice Souter announced they would retire at the end of the Court's term, so a vacancy wasn't technically created, unlike in this case, where Justice Scalia's death happens mid-term. That, combined with the approaching election, could expedite Obama's nomination.
Q. How can the GOP-controlled Senate block an Obama nomination?
A. Obama submits his nominee to the Senate Judiciary committee. Of the 114 nominations submitted to the committee since its creation, only 8 times have they not submitted the nominee to the full Senate for hearings + a vote. The committee can also delay the time between the receipt and the start of confirmation hearings. But the longest they have EVER delayed since public confirmation hearings began in 1916 is 82 days (remember, Obama has 342 days left in office). Between 1967 and 2005, it's taken an average of 50 days between receipt of nomination and final vote.
Most likely scenario? Delay of the magnitude necessary to carry the process into 2017 would be historically unprecedented. More likely than delay is that the confirmation hearings are a sham, and the GOP-controlled Senate rejects the nominee, which would bring a new nominee. Still, it would be unprecedented to reject nominees for just under a year (See John Tyler, who had 5 rejected and took 15 months to fill a vacancy).
Q. What's the history of a nominee being blocked/confirmed in an election year?
A. A Democrat controlled Senate confirmed Justice Kennedy in 1988, the final year of President Reagan's administration. Will Pres. Obama get the same respect from the GOP? The history before that is long, and goes both ways.
"The fact of the matter is that it's been standard practice over the last 80 years to not confirm Supreme Court nominees during a presidential election year," Senator Chuck Grassley, the chairman of the Senate Judiciary Committee, said.
Except for when Senator Grassley voted for the confirmation of Justice Kennedy in the 1988 election year just mentioned.
Q. Who does Obama nominate?
A. The most likely nominee seems to be Judge Sri Srinivasan, who has served two and a half years on the DC Circuit Court of Appeals. Srinivasan was confirmed in a unanimous 97-0 vote in the Senate. But fun fact  --  it took over a year between his nomination and confirmation, which is time President Obama doesn't have  --  and the Senate was controlled by Democrats.
To anyone who thinks a nominee block is likely and/or will happen, consider the following question, posed by Nick Confessore of the New York Times on Twitter:
What's the best argument for why a sitting president with almost a year left in his term shouldn't be allowed to name a replacement?
REAL LIFE. REAL NEWS. REAL VOICES.
Help us tell more of the stories that matter from voices that too often remain unheard.