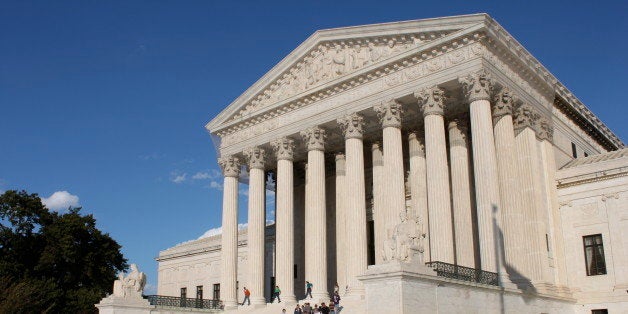 WASHINGTON, June 22 (Reuters) - The U.S. Supreme Court ruled on Monday in favor of husband-and-wife farmers in California who had been left with nothing but sour grapes by a Depression-era federal program requiring raisin producers to put aside some of their crop without guaranteed compensation.
The court said the federal government had taken property without compensation in violation of the U.S. Constitution's Fifth Amendment. The government's arguments in defense of its actions withered on the vine, with the court ruling 8-1 in favor of farmers Marvin and Laura Horne in the important property rights decision.
Chief Justice John Roberts, writing for the court, said the government should pay the Hornes, who run Raisin Valley Farms just west of Fresno, the market value of the raisins and relieve them of the fine that was imposed. The total value is around $700,000.
"No more will they take our raisins and not pay for them," Marvin Horne said in an interview. "It's been tough for us having this cloud over our heads. Now we have been vindicated."
Roberts said a "clear physical taking" occurred because "raisins are transferred from the growers to the government."
Three of the liberal justices said the case should have been sent back to lower courts on the issue of whether compensation was required.
That prompted Justice Clarence Thomas to write a separate concurring opinion in which he quipped that such a move would be a "fruitless exercise."
The U.S. Department of Agriculture program traces its roots to a law passed in 1937 to control the prices of certain agricultural products at a time of declining commodity prices.
The Hornes objected to the law's application to the raisin market.
Each year, a certain proportion of the crop is set aside to maintain price stability. Leftover raisins are then used for government programs such as school lunches. Farmers can receive compensation if any funds are left over.
Justice Sonia Sotomayor, the sole dissenter, said a court precedent requires that "each and every property right be destroyed by governmental action" before a taking has occurred. The program, she added, "does not deprive the Hornes of all their property rights."
The Hornes came up with a plan to circumvent the program by packing and marketing their own raisins in a move they said would make them exempt from it. The government disagreed and sanctioned the Hornes for the 2002-2003 and 2003-2004 seasons.
The Hornes' constitutional challenge to the program has lasted a decade and previously led to another Supreme Court case they won in 2013.
The case is Horne v. U.S. Department of Agriculture, U.S. Supreme Court, No. 14-275. (Reporting by Lawrence Hurley; Editing by Will Dunham)
Calling all HuffPost superfans!
Sign up for membership to become a founding member and help shape HuffPost's next chapter
BEFORE YOU GO
PHOTO GALLERY
Supreme Court Justices Get Out Of The Office