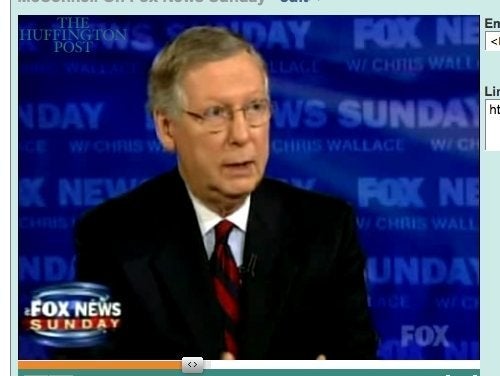 Senate Minority Leader Mitch McConnell said on Sunday that he would not rule out employing a filibuster to block Barack Obama's Supreme Court nominee despite having vehemently opposed the use of the parliamentary procedure over judicial appointments four years ago.
Appearing on Fox News Sunday, the Kentucky Republican said that, per the rules of the Senate, "all things are possible" when it came to the vote on Obama's choice for the Court. When reminded that he threatened to resort to the "nuclear option" when Democrats were threatening to filibuster George W. Bush's Court appointments, McConnell largely embraced his 180 degree turn in position.
"The Senate rejected my advice," he reminded host Chris Wallace. "And the Senate is a place that frequently operates on precedent. So I think the Senate deliberately decided not to take a position one way or the other. And as you know we did have a cloture vote on Justice Alito, which the President, by the way, opposed... So the President himself has indicated that all options are open, but I think it is way premature, Chris, to be predicting what kind of procedural moves will be taken. We haven't even seen the nomination yet."
As for the type of nominee he could support, McConnell said he expects someone of a liberal judicial bent to get the nod, but that Senate Republicans could back such a person provided they can "apply the law without partiality. Each federal judge takes an oath to apply the law to both the rich and the poor. Their personal views ought to be irrelevant."
Popular in the Community