Wendy Sue Johnson has lived in Eau Claire, Wisconsin, for nearly five decades ― and for most of her life, she remembers competitive elections as voters from surrounding rural areas packed in with voters from the town.
Johnson, a 48-year-old lawyer and former teacher who identifies as a Democrat, used to bring in the chairs of both the Republican and Democratic parties to talk to her students.
"It would flip back and forth, so people had to work hard during elections and convince the voters that they were qualified and had the right policies and ideas," Johnson told HuffPost.
Following the 2010 census, Wisconsin Republican lawmakers drew new maps for the state Assembly that moved Johnson from her old Assembly district into a new one packed with Democratic voters. It was an attempt to diminish the power of Democratic votes like Johnson's by concentrating them in a single district and consolidating Republican electoral power elsewhere. The boundary separating Johnson's new Assembly district from her old one, which is currently represented by a Republican, runs right outside the side door to her house.
Now Johnson is one of 12 Wisconsin voters who are now plaintiffs in Gill v. Whitford, a landmark case the Supreme Court will hear on Tuesday that could put an end to that kind of partisan redistricting. A ruling in favor of Johnson and her fellow plaintiffs could remake American politics by requiring lawmakers to draw more competitive maps. Republican and Democratic lawmakers alike have joined together in asking the court to strike down the Wisconsin map.
While the Supreme Court has struck down electoral districts that dilute the power of racial minorities, it has never said whether a redistricting plan that goes so far to benefit one party can violate the Constitution. Last year, a federal court in Wisconsin said the state's 2011 plan, under which Republicans won 60 of 99 Assembly seats with 48.6 percent of the vote, went too far.
Johnson said the new districts have made a difference. As a member of the school board, she was used to both Republican and Democratic officials coming to meetings and listening to the challenges facing the education system. But in February 2016, state Rep. Kathy Bernier (R) walked out of a school board meeting as Johnson discussed school funding. Bernier later criticized the discussion as too political and said going to the meetings was "worse than going to a dentist."
"Their districts are safe. If you know that you don't ever have to appeal to voters on the other end of the spectrum, that you have enough people on your end of the spectrum to re-elect you each year, there's no reason to talk to them at all," Johnson said. "It doesn't matter how many independents you pick up back and forth. The districts are set up in Wisconsin and so many other states [so] that the Republicans are going to keep control of both houses of the legislature."
"If you know that you don't ever have to appeal to voters on the other end of the spectrum ... there's no reason to talk to them at all."
Drawing maps for political advantage is hardly new in American politics, and has been going on since the late 18th century. The process is often called a gerrymander ― named for Massachusetts Gov. Elbridge Gerry, who in 1812 oversaw the redrawing of a Boston-area district to resemble a salamander. Advances in technology have allowed lawmakers to draw districts with even more precision.
In the 2004 Vieth v. Jubelirer case, the Supreme Court declined 5-4 to strike down Pennsylvania's congressional districts on partisan grounds. Four justices in the majority said the Supreme Court had no place evaluating claims that a redistricting plan was too partisan, because there was no standard to determine whether it violated the Constitution. Justice Anthony Kennedy was in the majority, but wrote separately in a concurring opinion that he believed such a standard could, theoretically, exist. Of the majority in Vieth, only Kennedy and Clarence Thomas remain on the court, and because of his opinion, Kennedy is being closely watched as the swing vote in the case.
In briefs, experts have offered a variety of potential standards for the court to evaluate partisan gerrymanders. One idea that has received attention is the "efficiency gap," which attempts to quantify the effects of partisan gerrymandering by measuring the number of votes each party wastes in an election. Experts say that when the efficiency gap is greater than 7 percent, the majority is extremely likely to maintain its majority. Researchers found Wisconsin had an efficiency gap of 13 percent in 2012, 10 percent in 2014 and 11 percent in 2016.
"The briefs from political scientists support a variety of standards (I don't believe there are any political scientist briefs saying that partisan gerrymandering is not a problem for courts to remedy) but they converge on the idea that extreme partisan gerrymandering creates representational problems," Rick Hasen, a professor and election law expert at the University of California, Irvine, wrote in a blog post. "Justice Kennedy knows that his replacement, if replaced by President Trump, is going to be much less likely to rein in gerrymanders than he is. This is maybe the last chance to do so."
But in a brief to the Supreme Court, lawyers for the state of Wisconsin said the efficiency gap amounted to nothing more than "social science hodgepodge" and that the challengers had failed to offer a standard by which courts can evaluate the law. They argue that Wisconsin lawmakers complied with traditional redistricting principles and did not break any law in drawing the maps. Moreover, they say, the 12 voters in the case can't challenge the statewide map, but only the map for the districts they live in.
"Plaintiffs have presented this Court with no new, historical-based redistricting principles and no new, administrable test. They have, instead, recycled arguments that this Court has already rejected, while attacking a plan that complies with traditional redistricting principles and is strikingly similar to the immediately prior, court-drawn plan," the lawyers wrote.
For Johnson, the case is about something much simpler: Making sure that constituents are the ones choosing their representatives, and not the other way around.
"We should get to choose our representatives. But when the Democrats won the majority of the votes across Wisconsin, the Republicans still won 60 out of 99 seats," she said. "That means people are not choosing their representatives."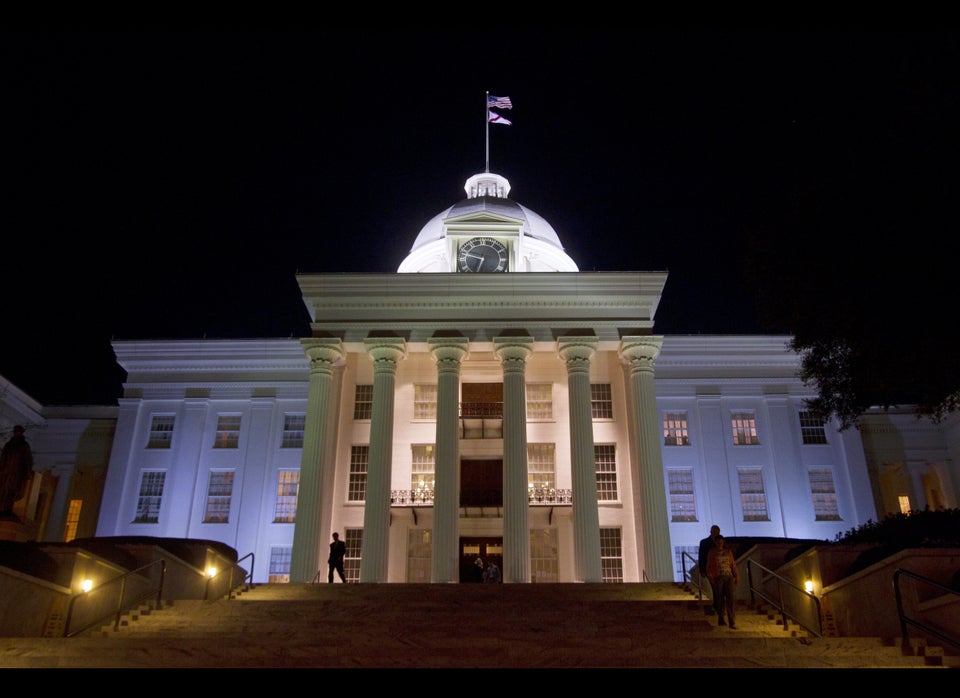 U.S. State Capitol Buildings
Popular in the Community