In a pair of decisions that appeared to frustrate justices on both sides of the ideological spectrum, the Supreme Court on Monday turned down two Second Amendment cases.
The higher-profile of the cases, Peruta v. California, involved a challenge to a California law that bans the open carrying of firearms and requires concealed carry applicants to first demonstrate good cause. Petitioners had argued that law enforcement officials in San Diego and Yolo counties had defined good cause so narrowly that they only gave licenses to individuals who could, for example, present "documented threats of violence" or "demonstrate they are a specific target at risk."
By refusing to hear the case, the justices left in place a ruling from the 9th Circuit Court of Appeals, which upheld the California restrictions and declared that the Second Amendment did not protect the right to carry a concealed weapon outside of the home.
Although the Supreme Court ruled in 2008 that the Second Amendment protects the right to keep and bear arms in the home for self-defense, gun rights groups had hoped Peruta would give the court the opportunity to interpret how the Second Amendment applies in public.
Justices Clarence Thomas and Neil Gorsuch, both conservatives, disagreed with their colleagues' decision to not take up the case. Thomas said the denial "reflects a distressing trend: the treatment of the Second Amendment as a disfavored right."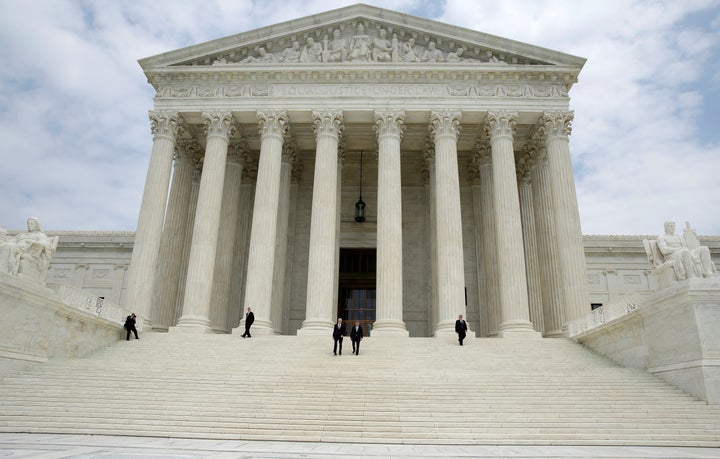 The second case, Sessions v. Binderup, centered around a federal law banning convicted felons from owning guns. Daniel Binderup and Julio Suarez ― two Pennsylvania men who had been barred from possessing firearms due to convictions for nonviolent misdemeanors more than 20 years ago ― challenged the measure, claiming it denied Second Amendment rights to people convicted only of minor offenses.
Federal law generally prohibits gun ownership for any person convicted of a "crime punishable by imprisonment for a term exceeding one year," excluding "any State offense classified by the laws of the State as a misdemeanor and punishable by a term of imprisonment of two years or less."
Neither Binderup nor Suarez was sentenced to serve prison time, but they were subject to the federal firearms ban because their charges technically opened them up to sentences of more than two years.
Binderup pleaded guilty in 1996 to corrupting a minor for engaging in a sexual relationship with a 17-year-old co-worker. Although he faced up to five years in prison, he was sentenced to three years of probation. Suarez pleaded guilty in 1990 to carrying a handgun without a license, a charge that carried a maximum three-year sentence. He was given a suspended jail sentence and a year of probation, which he completed.
By declining to hear the case, the justices let stand a lower court's 2016 ruling ordering the government to restore Binderup's and Suarez's rights to gun ownership and declaring that individuals may challenge their gun prohibitions on a case-by-case basis.
Justices Ruth Bader Ginsburg and Sonia Sotomayor, both liberals, dissented, saying the court should have heard the case.
Sessions v. Binderup had marked a rare point of agreement for President Donald Trump's administration, the outgoing Obama administration and gun control groups, which had urged justices to take up the case and reinstate the categorical ban on felon gun ownership. Although Trump campaigned as a staunch defender of the Second Amendment, acting Solicitor General Jeffrey Wall argued this year that the lower court ruling would "place an extraordinary administrative burden" on district courts that could now be required to consider challenges to individual bans on gun ownership.
In a petition asking the Supreme Court to take up the case, the Law Center to Prevent Gun Violence similarly argued that the previous ruling would "open the floodgates to thousands of new challenges," which would lead to dangerous individuals getting their gun rights reinstated.
"Courts and prosecutors are ill-equipped to administer such an individualized test, which will lead to an increasing number of felons with guns, some of whom undoubtedly will pose a threat to public safety," wrote lawyers for the organization.
Before You Go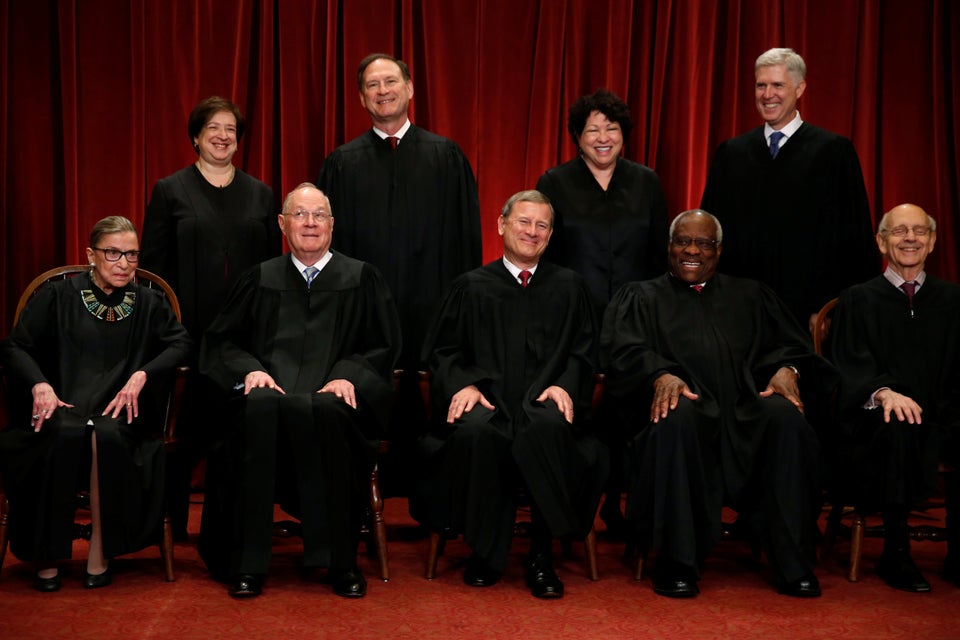 The Supreme Court's 'Family' Photos
Popular in the Community