The high court on Wednesday extended a temporary stay issued by Justice Anthony Kennedy on Friday, granting an injunction requested by a group of Native Hawaiians and non-Hawaiians challenging the election.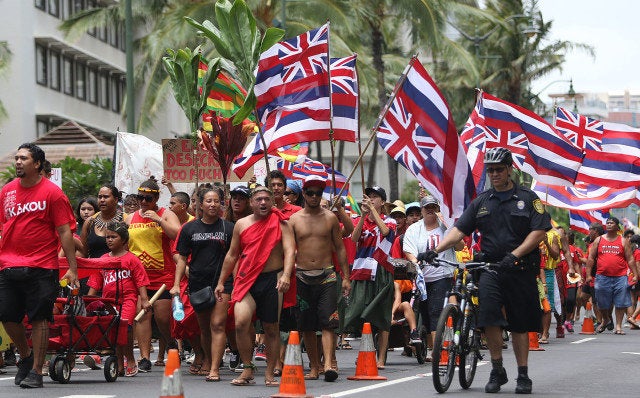 The election would select delegates for a constitutional convention, and is seen as a critical first step toward self-governance for Native Hawaiians -- the only indigenous community in the country without an independent political structure. A constitutional convention scheduled for early next year would then recommend a form of self-government, deciding what -- if any -- relationship that government should have with the United States.
But opponents of the election say that it's racially exclusive, arguing that Hawaii residents who don't have Native Hawaiian ancestry are being excluded from a vote that will have a big impact on their state.
In October, a district court ruled the election was legal because it was being conducted by the nonprofit Nai Aupuni as a private poll, not by the state, but opponents appealed the ruling. As evidence of the state's involvement, critics have pointed out that the election was made possible by $2.6 million from the Office of Hawaiian Affairs, a public agency tasked with improving the well-being of Native Hawaiians.
The Supreme Court order blocks the counting of votes until at least the 9th U.S. Circuit Court of Appeals issues its ruling on the election.
The court's four liberal justices said they would have allowed votes to be counted, pending the appeal.
Voting was scheduled to end Monday, but after Kennedy's ruling, Nai Aupuni extended voting until Dec. 21. The group said voters may not have cast ballots over concerns and questions about Kennedy's order.
Wednesday's ruling was issued soon after the group challenging the election alerted the Supreme Court about the extension.
"The U.S. Supreme Court decision to uphold Justice Kennedy's injunction halting a Hawaii state-sponsored, race-based election is a victory for the Constitution and the Aloha Spirit," Kelii Akina, one of the Native Hawaiian plaintiffs, said in a statement.
In a statement later Wednesday, Nai Aupuni said they "believe the process aligns with the U.S. Constitution and that the U.S. Ninth Circuit Court of Appeals ultimately will let the election process proceed."
"We will ask the appeals court to expedite the hearing so that votes can be counted and the constitutional convention, or 'Aha, can proceed this summer," the statement said.
This story has been updated to include comment from Nai Aupuni.
The Associated Press contributed to this report.
Popular in the Community