WASHINGTON -- Three years after Democrats began crafting health care reform, nearly 18 months after the president signed it into law, and eight months since the Supreme Court agreed to hear a challenge to its constitutionality, proponents of the Affordable Care Act can finally exhale. The law is constitutional, the court ruled in a Thursday session that supplied all the nervous anticipation of an actual election.

But while the law's mandate may pass legal muster, it remains unpopular. And as part of the decision to uphold the law, Chief Justice John Roberts may have made it even more toxic, determining that it was a tax. Policy experts said they remain concerned about components of the legislation, including looming cuts in Medicare payments to hospitals and other providers, while Democrats have exhibited general wariness with championing it on the campaign stump.

Democrats won today's battle, but the war over health care remains unsettled.

"I'm politically glad," said Howard Dean, the former Democratic National Committee chairman. "I think the fact that the Supreme Court legitimized it and the charge was led by John Roberts makes it much harder for Republicans. I feel like it would be hard to run around and scream about socialism when John Roberts voted for the bill.

"But we have got a lot of work ahead of us," Dean added. "We better make this work. It is the slow boat to China. What has happened here is we have basically cemented the future of health care reform into the private sector. That can be perilous. There is a lot of cost-control that has to be done."
Vermont, where Dean was governor, is attempting to do just that, working toward a single-payer system by 2013, the most aggressive state-based experimentation currently taking place. The problem is that there is virtually no political appetite left for U.S. lawmakers to consider additional reforms.
"It doesn't end the discontent" with the health care system, said Rep. Jerry Nadler (D-N.Y.). "I knew when I voted for this bill, it was a first step -- not nearly satisfactory in many ways -- but a first step, and a major first step," much like the beginnings of Social Security. "We're not going to want to make major changes, I don't imagine, right away. There are some of us will say we should have put in the public option, we should have put in the negotiation of prices on drugs. We'll push for that, but I don't know that any of that will happen. Maybe some will. But after a period of years, there'll be experience with it, and people will say, 'Well, this is working well, but that's a problem.' Nothing stands still."
Having endured years of sustained attack for constructing a bill that was based, fundamentally, on conservative principles, Democrats on Thursday were conceiving of ways to make the Affordable Care Act more popular rather than structurally different.

Top officials in the Obama White House stressed that they would continue to emphasize some of the law's popular provisions, from the prohibition of discrimination against people with pre-existing conditions, to allowing kids up to the age of 26 to remain on their parents' health care plans. Obama himself did as much in his statement on the court's decision.

In addition, one top official discussed spotlighting a provision of the bill that allows states to opt out of Affordable Care Act provisions, provided they meet minimal coverage requirements. The president, that official said, would push for the start date for that opt-out clause to be moved from 2017 to 2014.
"It has got a lot of attractiveness to folks who are conservatives," explained Sen. Ron Wyden (D-Ore.) who authored the provision and supports moving it to 2014. "But remember, there are at least as many progressive folks who said, 'Look, we wanted a public option and that was our second choice, we really wanted single payer.' So you give both sides an opportunity to say we have a chance to showcase our ideas."

Other leading Democrats had alternative suggestions, all agreeing that a bill that has been sold to the public before would need to be presented once again during the presidential campaign.

"We may get a reset and another hearing from the public to make the connection between why controlling health care costs is so very important for growing our economy," offered Maryland Gov. Martin O'Malley, chair of the Democratic Governors Association. "We liberals tend to run immediately to caring, love, and fairness and there was a real economic imperative here. You can't be a productive nation if your capital is going to escalating health care administrative costs."

Rep. Steve Israel (D-N.Y.) who chairs the Democratic Congressional Campaign Committee, predicted that the issue of health care would not "recede into the backdrop" simply because the court settled the legal dispute. But he said he suspects the contours of the debate have now shifted into the Democratic Party's favor.

"For most Independent voters, they are not interested in going backwards. They want to move on," Israel said in an interview. "They like the protections and are tired of the partisanship and they don't want to spend the summer re-litigating health care, particularly after a conservative Supreme Court upheld it."

Roberts certainly provided Democrats an imprimatur of sorts to claim that there is conservative backing for the Affordable Care Act. But early indications suggest Republicans don't really care. House GOP leadership has already planned to hold a repeal vote in July (which will fail in the Senate). And presumptive Republican nominee Mitt Romney was quick to the microphone to offer his support for the tear-it-all-down approach.
"What the court did not do on its last day in session, I will do on my first day if elected president of the United States," Romney declared, with a baking Capitol Hill in the background. "And that is, I will act to repeal Obamacare."
It's that extreme rejection of the entire law, said Massachusetts Senate candidate Elizabeth Warren, that has made it easier for Democrats to defend. Warren, rare for a Democratic candidate, unapologetically backs health care reform while on the campaign trail.
"This is a clear division between parties," Warren said in an interview. "It's a clear division here in Massachusetts between me and Scott Brown. Republicans want to go back and tear up the benefits of the Affordable Care Act and start at square one. They want to re-fight the battles that have gone on for more than three years now."
There is, said Warren, "a certain finality that comes from a Supreme Court decision -- except for Republicans. You know, if it had gone the other way, they'd be arguing finality."
Before You Go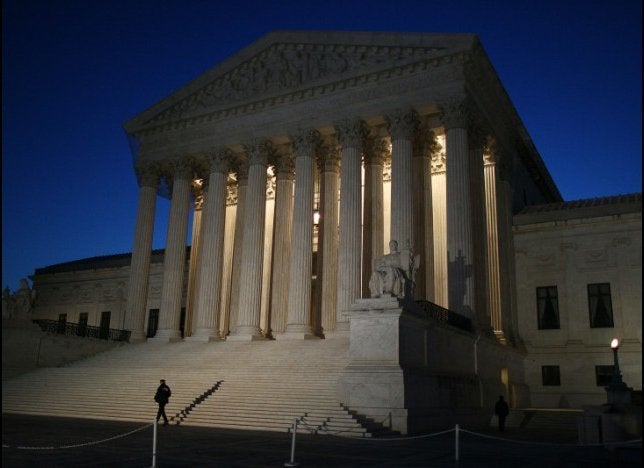 Political Reaction To Health Care Ruling
Popular in the Community