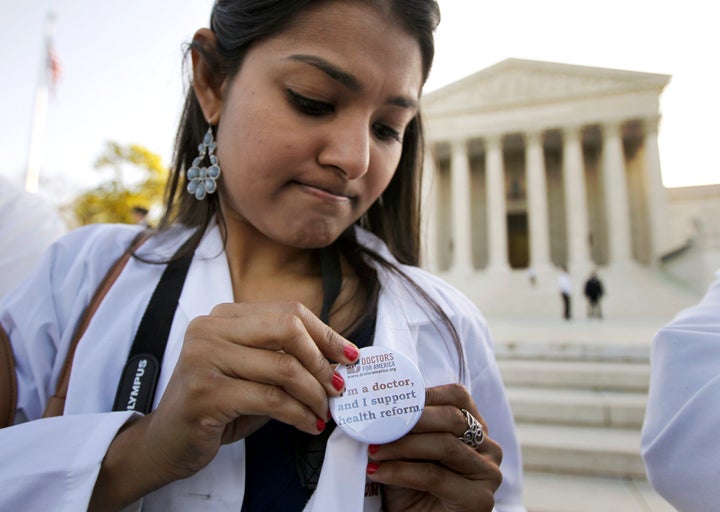 Health care reform repeal would slam big for-profit hospital chains like HCA, Community Health Systems and Tenet Healthcare as uninsured people continue to flood emergency rooms and rack up bills they can't pay, according to a report released Wednesday by Moody's Investors Service.
Hospitals didn't get everything they wanted from President Barack Obama's health care reform law but industry lobbying groups backed it anyway. Hospitals agreed to take a $155 billion, 10-year hit on their Medicare payments in exchange for the law's plans to expand health insurance coverage to more than 30 million people. Since federal law requires hospitals to treat anyone who shows up in an emergency room, hospitals currently have to eat much of the expense from poor people who can't afford their medical care.
Moody's, an influential credit-rating agency, notes that if the Court strikes only the individual mandate or the mandate along with health care reform's insurance market reforms, the number of uninsured wouldn't be reduced and hospitals would still see their Medicare revenue significantly decline. If justices strike the entire law, hospitals would dodge the Medicare cuts but still face growing numbers of uninsured patients and may lose money on investments they have made to prepare for 2014, when the biggest parts of the law are due to take effect.
Hospitals have already begun to transform themselves to align with health care reform's goals of reining in the growth of health care costs. Some of those investments, such as wider use of electronic medical records and other information technologies may still benefit hospitals even without repeal by making them more efficient. Other maneuvers, like mergers between hospitals or acquisition of physician practices, may wind up losing the companies money if not tied to health care reform initiatives that create financial incentives for better coordination of care among medical providers, Moody's says.
Moody's also cautions that while a full repeal of health care reform would eliminate the $155 billion in Medicare payment cuts, the political drive to reduce the federal budget deficit would put them right back on the table. The House last week passed a plan from Budget Committee Chairman Paul Ryan (R-Wis.) that would reduce Medicare spending by $205 billion.
But a partial reform could create chaos in the insurance market for individuals and small business in 2014 and beyond. The individual mandate aims to pressure younger and healthier people into the insurance market to offset the expense of providing medical care to older and sicker people. Were the Court to repeal only the mandate, health insurance companies would have to abide by the law's bans against denying coverage to people with pre-existing conditions and limits on their ability raise rates on more expensive patients. Sick people could flood the market, driving up premiums, which in turn could drive healthy people to to drop their insurance, leading to even higher premiums for those who remain.

Calling all HuffPost superfans!
Sign up for membership to become a founding member and help shape HuffPost's next chapter
BEFORE YOU GO