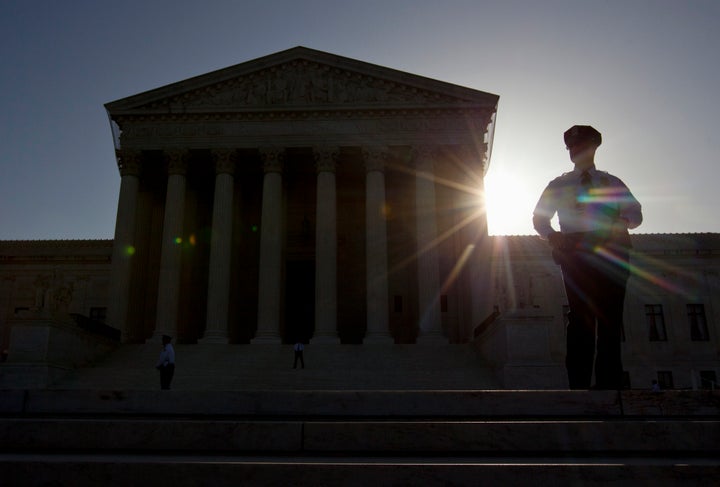 Share prices for big publicly traded health insurance companies like UnitedHealth Group and WellPoint jumped on Thursday. Traders reacted with optimism that when the Supreme Court rules on the constitutionality of health care reform, the decision won't disadvantage insurers, according to an analysis by TheStreet.com.
Aetna led gains, reaching a 52-week high of $49.90 before closing at $49.56, a 6.5 percent hike from its opening price on Thursday. Coventry Health Care rose 5.9 percent to $34.60 and UnitedHealth closed up 4.8 percent at $58.11. The other three big health insurance companies -- WellPoint, Humana, and Cigna -- also saw gains in New York Stock Exchange trading.
Another reason why investors may not be panicking is that health insurance companies make a lot of money on lines of business that wouldn't be much affected by whatever the Supreme Court does. Most Americans with health coverage get it at work and health insurance companies also have lucrative Medicare and Medicaid contracts that wouldn't go away.
The Supreme Court spent the first three days of this week hearing oral arguments in a challenge against health care reform brought by 26 states and other plaintiffs. The chief issue is the law's individual mandate that most U.S. residents obtain health coverage starting in 2014 or face a tax penalty. The plaintiffs contend it's an overreach by the federal government while the Obama administration argues it's necessary to regulate the national health care market. A ruling is expected by the end of June.
Court watchers on Wall Street may be keying on Chief Justice John Roberts saying "without the mandate, the whole thing falls apart" during yesterday's session, according to TheStreet.com. Some believe this suggests Roberts is inclined to invalidate the entire law if he determines the individual mandate to be unconstitutional.
The health insurance industry and the White House contend the mandate is so closely tied to insurance-market reforms in the law that they should stand or fall together. The Court's four liberal members are expected to support upholding health care reform and Roberts and Justice Anthony Kennedy are viewed as the most likely of the five conservatives to join them.
The Court could uphold the entire law, overturn the whole thing or repeal only portions of it, such as an expansion of Medicaid for the the poor or the individual mandate. Health insurance companies and the Obama administration are sounding the alarm about the latter outcome. Doing so would leave in place rules that insurers must sell policies to anyone who wants one, regardless of health status or age, and that limit their ability to charge higher premiums to people with bigger medical bills.
A full repeal of health care reform would deny health insurance companies access to the 24 million people protected to buy coverage through the law's "exchanges" by 2019. But the health insurance industry lobbied hard against the health care reform legislation, suggesting the companies wouldn't mind seeing the law disappear. Insurers have already incorporated some of the law provisions, such as not discriminating against children with pre-existing conditions, and may not jettison those policies even after a repeal. Other programs, including a government-funded health plan for adults with pre-existing conditions, would be nullified by repeal.
Calling all HuffPost superfans!
Sign up for membership to become a founding member and help shape HuffPost's next chapter