WASHINGTON ― The Supreme Court ruled unanimously Monday to rein in the government's power to seize assets from co-conspirators in a criminal enterprise, even when they didn't profit from the crime itself.
The court's decision in Honeycutt v. United States pertained specifically to the use of criminal asset forfeiture in federal proceedings. But some legal experts see it as the latest sign that the court, which has reliably upheld forfeiture statutes in the past, may now be turning a skeptical eye toward the practice after decades of explosive growth and increased attention on abuses, specifically in civil asset forfeitures.
The Honeycutt case involved two Tennessee brothers who were convicted on drug conspiracy charges for selling 20,000 water filters with the knowledge that meth cooks were extracting iodine from them. The government determined that this scheme had brought in over $270,000 in profits to a hardware store owned by Tony Honeycutt. He pleaded guilty to his role in the conspiracy and was ordered to pay $200,000 of those profits.
His brother, Terry Honeycutt, was convicted at trial, and the government sought the remaining $70,000 as a criminal asset forfeiture. But Terry Honeycutt argued that he had no controlling interest in his brother's store and therefore had not received any assets personally and should not be held liable. A district judge agreed, ruling that the government couldn't take Honeycutt's money because he hadn't directly received any profits from the sale of the filters. A circuit court later reversed that ruling, holding that the brothers could be held "jointly and severally liable" as co-conspirators in the enterprise. The case was then sent to the Supreme Court.
Writing for the 8-0 majority, Justice Sonia Sotomayor ruled Monday that, according to the Comprehensive Forfeiture Act of 1984, the government had made an impermissible attempt to seize assets from Honeycutt even though his personal funds had not actually been "tainted" by criminal activity.
"Congress did not authorize the government to confiscate substitute property from other defendants or co-conspirators," wrote Sotomayor. "It authorized the government to confiscate assets only from the defendant who initially acquired the property and who bears responsibility for its dissipation."
Justice Neil Gorsuch, who was confirmed after arguments before the court, didn't partake in the case.
The court's decision shuts down a practice that allowed prosecutors to seek outsized forfeiture judgments against lower-level players in crime rings, said Barry Pollack, president of the National Association of Criminal Defense Lawyers, which filed a brief in support of Terry Honeycutt.
"If you were the schmuck who got caught and you were a bit player and you never saw 98 percent of the proceeds from the scheme you were involved in, you would still be socked with a forfeiture order for 100 percent of those proceeds, and that judgment would follow you around for the rest of your life," Pollack told HuffPost.
"What the court is doing is just simply saying, to use these tools, you have to prove the allegations that you're making ― the mere fact that you allege something doesn't make it true, and there has to be a basis in reality for the government to pursue assets," added Pollack. "If what you really want to accomplish is to get that money back, you're going to have to do the hard work of finding the person or the company that ended up with the money and get it from them."
The court's ruling in Honeycutt may not ultimately have sweeping implications for government forfeiture programs, which bring in billions of dollars each year. But civil liberties groups say it gives them hope that justices may be increasingly willing to challenge the government's broad, often controversial interpretation of forfeiture statutes in both criminal and civil proceedings.
Pollack referred to the court's 2016 ruling in Luis v. United States, which held that the government couldn't freeze assets before trial if a defendant needed them to obtain the counsel of their choice.
Even in the Honeycutt decision, Sotomayor explained that Congress had written criminal forfeiture statutes in order to better "hold the defendant who acquired the tainted property responsible." This, Sotomayor concluded, meant that some modern applications of the practice, such as in Terry Honeycutt's case, had gotten out of sync with the law.
"[Sotomayor] could have just ended without the discussion of the history of forfeiture law and the traditional limits on the use of forfeiture law, but she included a pretty long discussion of it," said Dan Alban, an attorney at the Institute for Justice, a public interest law firm that advocates for forfeiture reform.
"This system — where police can seize property with limited judicial oversight and retain it for their own use — has led to egregious and well-chronicled abuses," wrote Thomas. "I am skeptical that this historical practice is capable of sustaining, as a constitutional matter, the contours of modern practice."
In his opinion, Thomas indicated the case wasn't suitable for the court's review. But critics of civil forfeiture say his statement is proof that this issue could unite justices ― as well as ordinary citizens ― from across the ideological spectrum.
"Those are two good hints by two different justices who don't necessarily agree on a whole lot," said Alban. "All of this suggests the Supreme Court right now is interested in exploring how the traditional limits of forfeiture law may constrain the recent expansions of forfeiture law dating back to the 1980s under the war on drugs."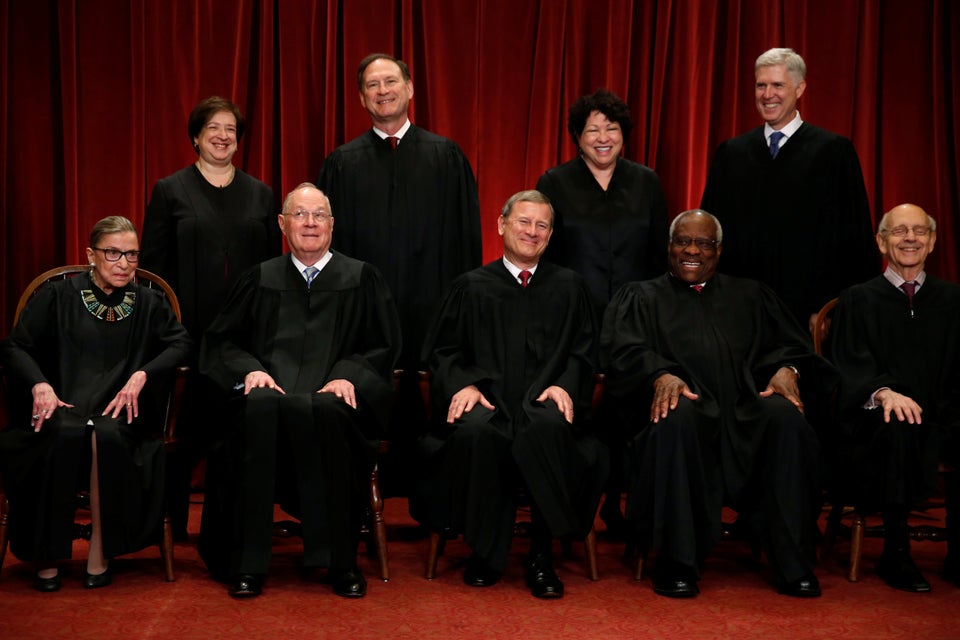 The Supreme Court's 'Family' Photos
Popular in the Community