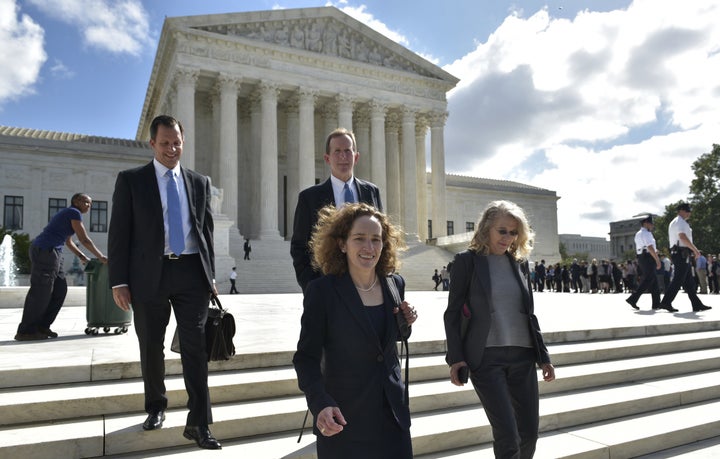 WASHINGTON ― Does giving a gift worth a lot of money make you a better person?
In a case that has Wall Street on alert, the Supreme Court on Wednesday tried to find a workable rule for prosecutors to go after inside traders — those who trade on confidential corporate information and make a fortune off it. 
If the justices' exchanges from the bench are any indication, the court may be willing to make it easier to prosecute this type of white collar-crime, which has gotten harder after a recent shakeup at its epicenter: New York. 
A major 2014 ruling there rewrote the rules for prosecuting insider trading, holding that tipsters disclosing money-making information must receive some "personal benefit" from divulging it before the person who uses that information can be convicted.
The Supreme Court's job now is to decide the extent of this personal benefit to the tipster. Must it be monetary or otherwise "valuable" ― that is, must the tipster gain something tangible by sharing the information? Or is it just enough for there to be a close personal relationship between the tipster and the tip's recipient?
The questions are fuzzy, in part because the law of insider trading is not so easily understood. The crime is loosely defined as profiting from non-public corporate information obtained from the inside of a company. But Congress has never defined it explicitly, and so it's been up to the Securities and Exchange Commission and the courts ― including guidance from the Supreme Court more than 30 years ago ― to fill in the gaps. 
The justices spent the bulk of their time pondering where to draw the line ― wary of giving too much power to prosecutors, but also mindful that Wall Street types are people, too, and need clear rules so that they or their close relatives don't get in trouble for improper dealmaking.
"You could have ... the view that helping a relative is helping yourself," said Justice Stephen Breyer, who wondered at length whether family closeness might be a way to delineate insider trading.
Giving a gift to a close relative "ennobles you, and in a sense it helps you financially because you make them more secure," said Justice Anthony Kennedy, channeling his most thoughtful self.
Hearing this must have been music to the ears of Preet Bharara, the Manhattan federal prosecutor, who was reportedly at the hearing and whose office stands to gain from a looser definition of insider trading.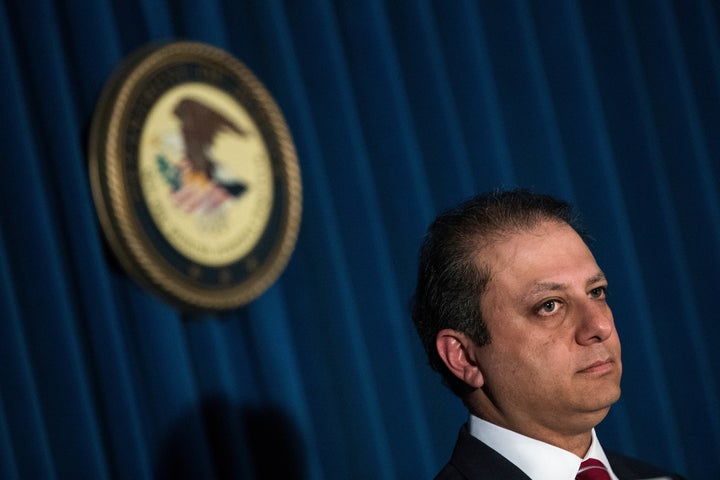 Bharara's office suffered a major setback when the federal appeals court in New York erected a big barrier for these prosecutions, requiring a "meaningfully close personal relationship" between an insider and her benefactor that brings a financial or otherwise "valuable" benefit to the insider. This new test meant that a number of Bharara's marquee cases couldn't stand, dealing a blow to his record as Wall Street's toughest cop. 
Justice Elena Kagan, who in recent years has stood up for clarity in criminal law, seemed to empathize with the government's more relaxed view of insider trading, suggesting that any gift of corporate confidences brings a benefit to the giver and thus justifies prosecuting the recipient.
"I'm stealing information to give a gift to somebody I know," Kagan said. "It might be, as in this case, a family member. It might be a friend. And I benefit from that because ― I mean ... I personally benefit. It's the exact opposite of using corporate information for corporate purposes. I'm using it for my own personal purposes."
You certainly benefit from giving to your family. It ennobles you, and in a sense ... it helps you financially because you make them more secure.

Justice Anthony Kennedy
Bassam Salman, the trader at the center of the case, made $1.2 million after he traded on corporate secrets disclosed by his brother-in-law, an investment banker at Citigroup. After receiving a tip, Salman would buy stock in companies targeted for future buyouts before those deals became public knowledge; he then sold the stock at a profit after the deals were announced and its value rose.
That's a classic case of insider trading, which eventually led to Salman's conviction of conspiracy and securities fraud in 2013. In his appeal to the Supreme Court, Salman is arguing that his brother-in-law never benefitted from the tips ― which meant that, under the recent New York precedent, Salman could not be convicted.
But the justices may not be willing to let a lowly New York court have the last word.
"You're asking us to cut back significantly from something that we said several decades ago, something that Congress has shown no indication that it's unhappy with, and in a context in which ... obviously the integrity of the markets are a very important thing for this country," Kagan told Salman's lawyer.
A ruling in Salman v. United States is expected sometime before next June.
REAL LIFE. REAL NEWS. REAL VOICES.
Help us tell more of the stories that matter from voices that too often remain unheard.