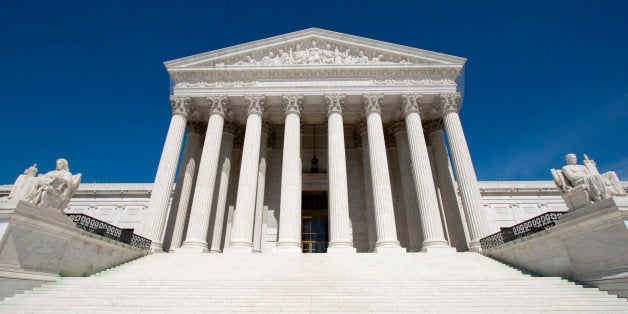 Today, a narrowly divided Supreme Court upheld the practice of sectarian prayers before local council meetings in the town of Greece, New York. The decision in the Greece v. Galloway, 12-696 case was the latest ruling in the ongoing issue of the constitutionality of legislative prayer.
Religious leaders were quick to weigh in, with some expressing their dismay at a decision which allowed sectarian prayer in a public forum.
Rev. Dr. C. Welton Gaddy, president of Interfaith Alliance, called the decision 'disturbing.' Interfaith Alliance filed an amicus brief on behalf of the respondents. Gaddy said in a press release:
Today's decision is bad for both faith and public life. Legislative prayer has long presented difficult questions for anyone who cares about maintaining the boundaries between religion and government. As problematic as the practice is, it was at least tolerable when preference was given to inclusive prayer that reflected our nation's diversity of faith and belief. This decision eliminates that preference and allows clergy to come in to the halls of government to promote a sectarian viewpoint.
The Baptist Joint Committee for Religious Liberty filed a friend-of-the-court brief in the case, opposing the town's practice of opening municipal meetings with prayer, saying the practice violates the conscience of those who have to be in attendance to participate in the meeting.
Rabbi David Saperstein, director of the Religious Action Center of Reform Judaism, condemned the Court's decision on behalf of the Reform movement, which is the largest Jewish denomination in North America:
An individual's religious belief – or non-belief – ought not be a prerequisite to accessing the political process. The Greece v. Galloway decision undermines the fundamental American principle of equal participation in government, regardless of the faith of the individual.
The Secular Coalition for America, which is comprised of over fifteen member organizations for atheists, humanists, agnostics, and freethinkers, issued a statement criticizing the ruling. Executive director Edwina Rogers said in a press release:
We are extremely disappointed that the Court chose to ignore the very blatant burden sectarian prayer imposes on the conscience of citizens with diverse religious beliefs and those without religious beliefs. Our founders went to great lengths to ensure that no American would be disenfranchised from civic participation due to their personal religious beliefs or lack thereof. This ruling violates the founding secular principles our country was built on.

Others supported the court's decision.
In this decision, the Supreme Court didn't violate the separation between the church and the state, rightly understood. The Court instead upheld it, and did the right thing.

Maybe this is a sign of a better way forward, toward a right kind of free marketplace of faith expression in American life. Let's pray that it is.
Calling all HuffPost superfans!
Sign up for membership to become a founding member and help shape HuffPost's next chapter
BEFORE YOU GO
PHOTO GALLERY
Top 10 Most and Least Religious States