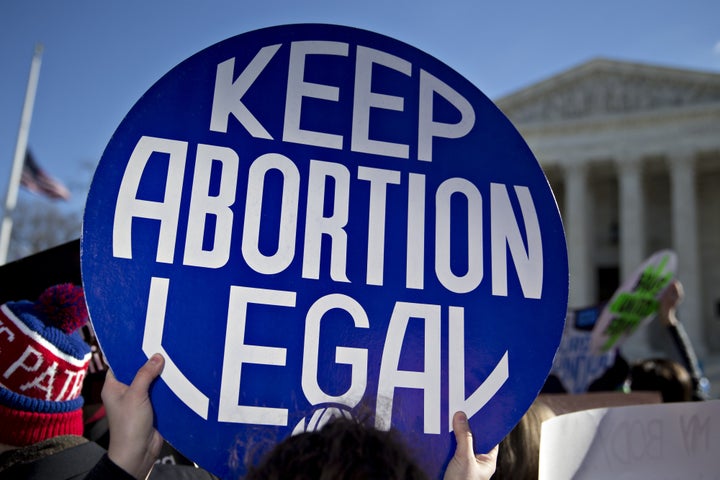 The Supreme Court on Friday blocked a Louisiana law that threatened to close all but one of the state's abortion providers, mere days after hearing a major abortion rights case from another state.
In a short order, the nation's highest court effectively halted a state law that required all doctors who perform abortions to have admitting privileges at hospitals within 30 miles of the clinic.
That provision is nearly identical to one the justices considered Wednesday, when they heard oral arguments in Whole Woman's Health v. Hellerstedt, a case from Texas that could determine the fate of similar abortion regulations in a number of conservative states. 
The court's action Friday coincided with the justices' scheduled private conference, in which they preliminarily cast their votes in the cases heard during the week. A decision in Whole Woman's Health is not expected until June.
The court did not indicate which justices agreed to keep the Louisiana law on hold. Only one justice, Clarence Thomas, noted his dissent and would have allowed the admitting privileges requirement to be enforced.
Still, it is likely the justices' deliberations in the Texas case informed what to do in the Louisiana one, which is still going through the appeals process.
In January and following a six-day trial, a federal judge ruled that the Louisiana law, signed by former Gov. Bobby Jindal (R) in 2014, unduly burdened the right to choose of "a large fraction of Louisiana women of reproductive age seeking an abortion" and prevented the law from taking effect. 
But an appeals court last week allowed the law to move forward, sending local clinics into crisis mode, since many of their doctors had trouble obtaining the required admitting privileges or were still in the process of obtaining them.
The Supreme Court's reprieve on Friday appears to have given them a sigh of relief. The court's action keeps clinics open at least until the formal appeal moves through the lower court. 
"Our Constitution, along with nearly half a century of legal rulings, is clear that women have the right to make critical decisions about their life and health without interference from politicians," Nancy Northup said in a statement. Northrup is the president of the Center for Reproductive Rights, which is litigating the case.
Calling all HuffPost superfans!
Sign up for membership to become a founding member and help shape HuffPost's next chapter
BEFORE YOU GO
PHOTO GALLERY
10 Ways The Supreme Court Could Settle 4-4 Ties