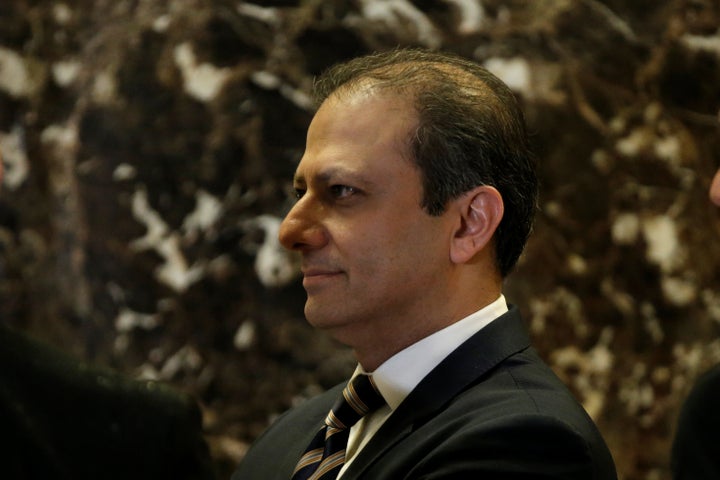 NEW YORK ― The happiest prosecutor in the country right now could very well be Preet Bharara, the Manhattan federal prosecutor.
In a unanimous ruling, the court made it easier for federal prosecutors to go after those who trade on material, non-public corporate secrets and then make a windfall off of it at the expense of other investors.
Bharara's near-perfect record in this area took a serious hit in 2014, when the federal appeals court in his home turf tightened the rules for prosecuting insider trading ― requiring that a tipster receive a "valuable" or "pecuniary" benefit from disclosing non-public corporate confidences before her benefactor could be prosecuted.
But the Supreme Court on Tuesday gave Bharara a reason to smile again, bringing the status quo to how it was before 2014, when prosecutors had an easier time proving the crime of insider trading.
Pointing to a precedent from 1983, Justice Samuel Alito said insiders need not profit or otherwise gain something tangible before the people they tip off can be on the hook.
"Making a gift of inside information to a relative ... is little different from trading on the information, obtaining the profits, and doling them out to the trading relative," Alito said. "The tipper benefits either way."
The court said this was a "commonsense" approach, which Bharara echoed in a statement and a tweet praising the Supreme Court ruling.
The high court "stood up for common sense and affirmed what we have been arguing from the outset ― that the law absolutely prohibits insiders from advantaging their friends and relatives at the expense of the trading public," the U.S. attorney said.
Now that the law of insider trading is great again for Bharara, it'll be interesting to see how he wields it in the Trump era ― which is shaping up to be a bonanza for Wall Street deregulation.
"Today's decision is a victory for fair markets and those who believe that the system should not be rigged," Bharara said, sounding a bit like the president-elect.
REAL LIFE. REAL NEWS. REAL VOICES.
Help us tell more of the stories that matter from voices that too often remain unheard.