WASHINGTON -- No one knew if the big marriage equality decision would be coming out of the Supreme Court on Friday morning, but hundreds of people showed up anyway, just in case.
"How can you not be here for this?" exclaimed Virginia resident Carmen Guzman, who has been showing up in front of the court with her wife, Ikeita Cantu, for weeks in anticipation of the historic ruling.
The crowd was overwhelmingly pro-marriage equality, with people carrying LOVE balloons, holding signs and nervously checking their phones every few minutes to make sure they didn't miss 10 a.m., when the Supreme Court would be issuing its decisions.
With hundreds of people packed into the small sidewalk area, getting cell phone service was tough. People lucky enough to be able to get through to Twitter, SCOTUSblog or email soon found themselves surrounded by those less fortunate who were begging to be updated when the decisions came out.
But there was no missing it when it happened.
"Marriage!" people in the crowd started shouting when it became clear that the court was issuing its ruling. "It's marriage!"
A few seconds later, people learned that the court had decided, in a 5-4 ruling, that same-sex marriage was constitutional nationwide.
There was no more joyous place to be in Washington at that moment, as the crowd jumped up and down, shouting, hugging, kissing, crying and calling loved ones.
Watch the crowd's reaction above.
"I'm really happy and I'm like, not shocked but I'm shocked. I'm -- I'm at a loss for words right now. I can't put together a sentence," said Tevin Johnson-Campion, 20, whose dads were plaintiffs in the case. "I just texted my parents, and they haven't texted back yet, but I hope they know how proud I am of them."
Paul Campion and Randy Johnson, Johnson-Campion's parents, wed in California in 2008, but in the eyes of their home state of Kentucky, they weren't married.
"All I want right now is to be with them," Johnson-Campion added.
Campion told The Huffington Post in a phone call that he and Johnson were at home watching CNN and checking SCOTUSblog for the decision.
"We cried a little. We jumped up and down a little. We hugged. And then we started getting messages right and left," he said. "We would have loved to have been there, but we're glad they made the decision today. We don't have to worry for another couple days."
Brennan Suen immediately called his mom in Little Rock, Arkansas, and in a tearful conversation, broke the good news to her while the crowd cheered in the background.
"I'm from Arkansas, and she was back there, and I don't know. She's very excited, obviously," he said. "I was here in 2013, when [the Defense of Marriage Act and California's Proposition 8] were struck down, and I spent the last four years of my life, professionally and personally, working toward this cause because obviously me and a lot of people care about it."
Merrie Fox and Lisa Newman have been together 12 years, holding a commitment ceremony in 2005 and marrying in California in 2008. They had just arrived from Austin, Texas, early Friday morning to ensure they were present for the historic moment. They broke down in tears and began hugging each other when the decision came out.
"We are overwhelmed," said Fox, pointing out that their marriage would finally be recognized in Texas. "We are humbled to be here and so excited and proud to be an American today. Today is the new someday. We are so excited."
Human Rights Campaign President Chad Griffin was sitting inside the courtroom for the decision, next to Jim Obergefell, the lead plaintiff in the case.
Obergefell wanted to be listed as the surviving spouse on his husband's death certificate. He married his partner of 20 years, John Arthur, aboard a medical jet in 2013, while Arthur was suffering from ALS. Arthur passed away in October of that year, three months after the couple filed their lawsuit.
"I was actually seated next to Jim, and we both had tears in our eyes and grabbed one another's hands, tightly. ... Jim certainly had a bit of a gasp when he heard his name, but you know -- love wins today," Griffin said after he came out to greet the crowd.
In the coming weeks, Sen. Jeff Merkley (D-Ore.) and Rep. David Cicilline (D-R.I.) hope to introduce comprehensive civil rights legislation protecting lesbian, gay, bisexual and transgender individuals from discrimination in employment, housing, public accommodations, federal programs, credit and education. They said they hope that the court's ruling will give that legislation an added push.
"I believe Americans are going to recognize that it is absolutely wrong that you have the right to marry, to be with your loved one, and yet can be kicked out of a restaurant," Merkley said. "To be unable to sign a mortgage because a mortgage company chooses to discriminate. To be unable to access a housing contracts. ... I think this really adds momentum to the effort for a comprehensive nondiscrimination bill."
Cicilline, who is openly gay, ran over to the court as soon as his staff alerted him to the decision.
"I was, believe it or not, in a meeting with members of parliament in Kyrgyzstan, which has a very different view of basic respect for members of the LGBT community," he said. "My office texted me, and I came here immediately."
"It's a tremendously exciting day," he added. "This is a very strong decision and a strong statement of who we are as a country, that everywhere in America now, members of the LGBT community are afforded full marriage equality, and it's a great statement of our values."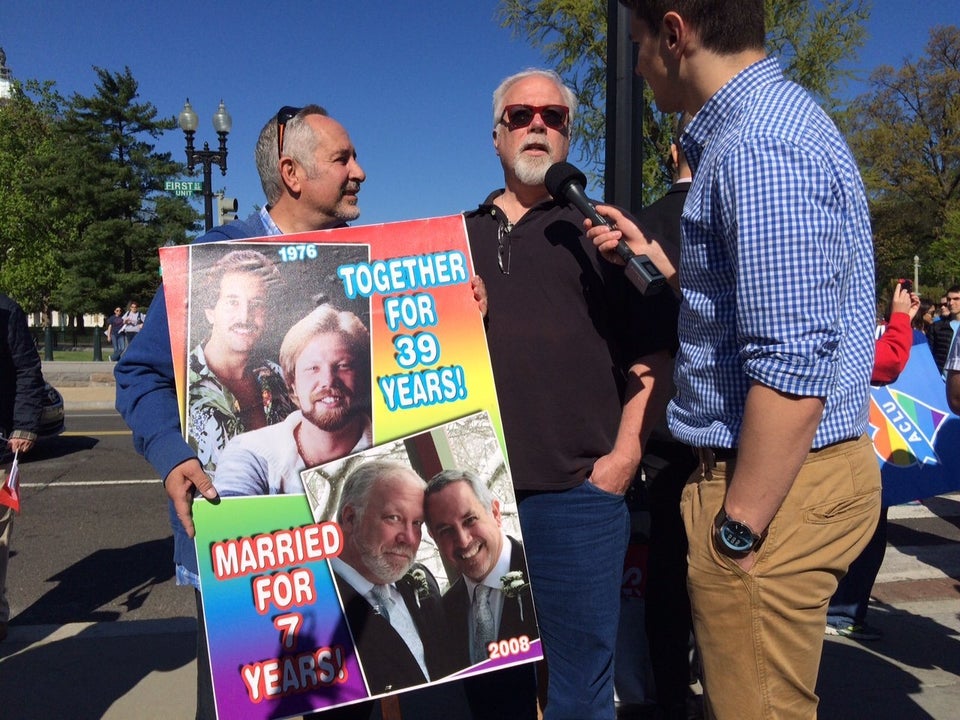 Gay Marriage Protests Outside SCOTUS
Popular in the Community