WASHINGTON -- If the Supreme Court rules in favor of marriage equality in June, many advocates believe it will be in large part because the court of public opinion has already decided that it's time. Support for same-sex marriage is at a record high and continues to grow as social conservatives fight to push back the tide.
That dynamic was on full view Tuesday morning outside the Supreme Court, with a large pro-marriage equality crowd and a smaller anti-equality faction confronting each other face to face, sometimes passionately. People began gathering before 8 a.m. and stayed well into the afternoon, taking advantage of the exceptionally pleasant spring day.
Hundreds of people from across the country gathered as the nine justices heard oral arguments in Obergefell v. Hodges, the case that is widely expected to determine whether there is a constitutional right for same-sex couples to marry.
Lesbian, gay, bisexual and transgender advocates waved rainbow flags, held signs showing loving same-sex families and talked about what an affirmative Supreme Court ruling would mean for them.
"It's important for long-term couples like Frank and I to be here today to show that America is an incredibly diverse place. We deserve equal treatment. All people deserve equal treatment under the law," said a man who identified himself as Joe from Oakland, California.
Joe and his husband, Frank, were holding an American flag and a sign reading "15 years" in honor of how long they've been together. They married in San Francisco in 2008, the first day that marriage equality became legal in the state and before California passed Proposition 8 to ban same-sex marriage. The Supreme Court essentially invalidated that ban in 2013.
Right next to Joe and Frank were members of the Westboro Baptist Church, who stood by the road holding signs that read "God H8s Fag Marriage" and singing covers of pop songs with the words changed to be anti-gay, such as Pink's "Just Give Me A Reason." (Westboro packed up and left around 10 a.m. to get to the Pentagon, which one member described as "just as perverse as this place.")
Joe and Frank from Oakland, California, stand next to Westboro Baptist Church protesters.
David Grisham, from the Christian fundamentalist group Repent Amarillo in Texas, shouted at same-sex marriage supporters using a microphone and speakers that they were going to hell. He told a woman who said she was a Christian that she wasn't one, and mocked a gay man for his voice and for wearing a pink hat.
When Cristina Meadows, a 16-year-old from Arlington, Virginia, told Grisham she had two mothers, he said her family wasn't healthy and that's why she'd turned out how she was.
Meadows said afterward that she took the first half of the day off school to be there. She didn't think she was going to convince Grisham of anything, but she wanted to speak out in support of her parents anyway. She said they are not married but want to be.
"We were over there just trying to drown him out with our love with everybody," Meadows said. "I don't think there's much potential to change their mind, but I think it is pretty cool that we can stand there and say that to him. It makes me feel better because I know that I'm right."
David Grisham faces off against marriage equality supporters.
Sam Pahl, an 18-year-old student from Eden Prairie, Minnesota, who had an American flag wrapped around his shoulders, certainly didn't expect be arguing about the Bible on the steps of the Supreme Court on his class trip to the nation's capital. But he said he simply couldn't stand to hear some of the religious arguments the same-sex marriage opponents were shouting.
"I believe in Jesus, and I believe in the resurrection, and I'm fully Christian," said Pahl. "But I don't believe in not allowing others to marry. First of all, it's nothing I can control. ... It's not my duty to stop others from being happy. Moreover, it's the foundation of our nation. I'm going into the Navy next year, and I will swear with my life to protect this Constitution from all enemies, foreign and domestic."
Minnesota high school student Sam Pahl argues with a same-sex marriage opponent.
Many of the opponents to same-sex marriage who spoke at the podium tried to make the case that it was their views that were being repressed. Rep. Bill Flores (R-Texas) cited the states where legislators and voters had banned same-sex marriage.
"This is not just a debate about marriage, although that is critically important," Flores said. "Today we ask ourselves, should the Supreme Court decide how we define marriage, or should we the people be the ones who define that?"
Flores and other speakers were interrupted by booing and chants. "What do we want? Equality," supporters shouted. "When do we want it? Now!"
The Gay Men's Chorus of Washington, D.C., also walked around and sang, using their melodies to drown out some of the anti-gay rhetoric.
A few black same-sex marriage supporters laughed as Patrick Mahoney, director of the Christian Defense Coalition, said at the microphones that gay rights couldn't be compared to the civil rights movement.
"Just a reminder, when you hear the gay community talk about how their struggle is the same as the struggle for civil rights of African Americans, we want to remind them that gays could produce films and plays. African Americans were not allowed into movie theaters," Mahoney said. "Gays could own restaurants; African Americans could not eat at those restaurants."
But for most LGBT advocates at the Supreme Court Tuesday, even these opponents couldn't detract from the celebratory nature of the day.
"I grew up in the '50s, and today was absolutely unimaginable as I was growing up," said Gene Robinson, who was the first openly gay bishop in the Episcopal Church. "To stand here today and to have all this happen in one lifetime is just astounding to me. We would never have dreamt such a thing."
Support HuffPost
The Stakes Have Never Been Higher
Before You Go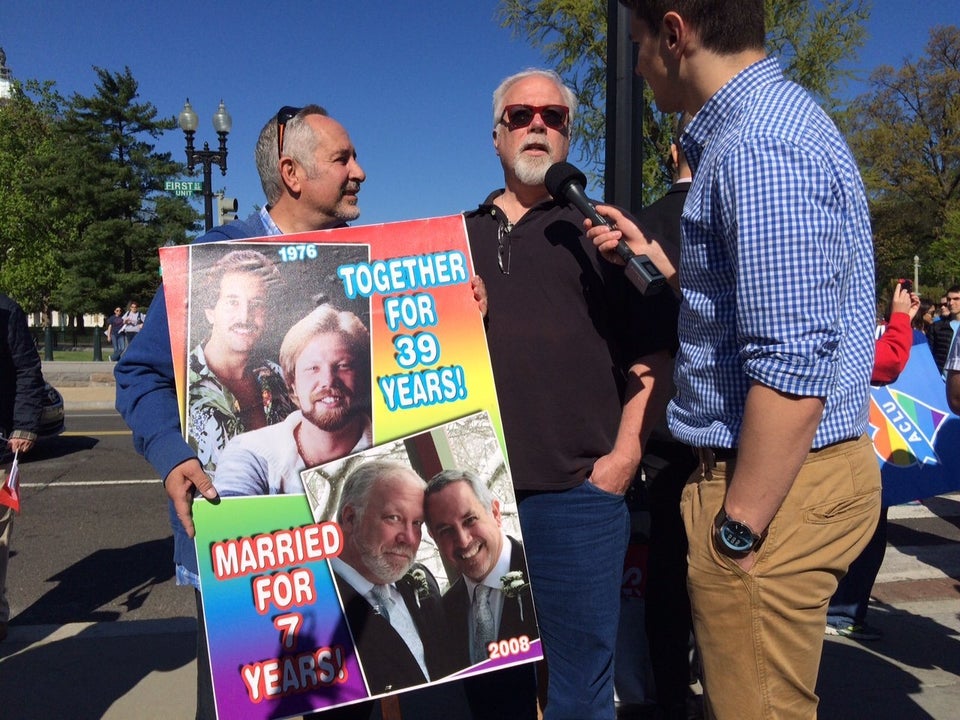 Gay Marriage Protests Outside SCOTUS
Popular in the Community