WASHINGTON — The Supreme Court doesn't always see eye to eye when messy issues of church and state collide. But what if it's schoolchildren who lose out if the court gets it wrong?
A majority of the justices on Wednesday seemed to recognize that the state of Missouri may have discriminated against a church that was shut out of a competitive funding program open to schools wishing to resurface their playgrounds with tire scraps. Under the state's constitution, no public funding may go to "any church, sect or denomination of religion."
The case, Trinity Lutheran Church v. Comer, calls into question the state's application of that provision, which the church claims violates the federal Constitution. The Supreme Court has upheld similar funding prohibitions in the past, but here the church insists that its school was denied funding solely on account of its religious status — and that the funds it sought for tire scraps should've been granted because they wouldn't be used for religious instruction.
Given the stakes of the case, one of the biggest church-state disputes the Supreme Court has heard in the past decade, all eyes were on Justice Neil Gorsuch, the court's newest member and someone whose record suggests a sympathy for religious rights.
But it turned out the rookie justice only played a minor role in the hearing, intervening toward the end of an hourlong session in which even some of the more liberal justices appeared ready to recognize that there are constitutional limits to denying funding to religious schools for something that isn't exactly sectarian: the type of surface upon which children play.
When Justice Elena Kagan told the lawyer representing Missouri that the state's treatment of the church school appears to be "a clear burden of a constitutional right," it became apparent that maybe the dispute isn't as close as some observers anticipated.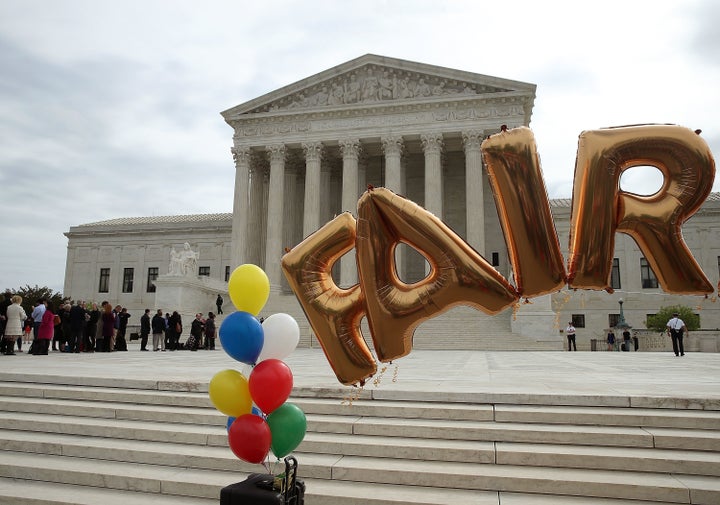 "As long as you're using the money for playground services, you're not disentitled from that program because you're a religious institution doing religious things," Kagan said. "And I would have thought that that's a pretty strong principle in our constitutional law. And how is that the State says that that's not violated here?"
Justice Stephen Breyer wondered if a Constitution that protects the free exercise of religion would tolerate a state to give everyone law enforcement, public health or fire department protections except churches.
"If it does not permit a law that pays money out of the treasury for the health of the children in the church, school, or even going to church, how does it permit Missouri to deny money to the same place for helping children not fall in the playground, cut their knees, get tetanus, break a leg, et cetera?" Breyer asked. "What's the difference?"
The Supreme Court itself sent signals that the case could be a divisive one. The justices agreed to hear it before the death of Justice Antonin Scalia last year, and it wasn't until President Donald Trump nominated Gorsuch to replace him that the court decided it to schedule it for oral arguments — an indication that maybe the powers that be at the court wanted a fully staffed bench before the justices entertained the challenge.
The case was complicated further by a changing of the guard in Missouri's governor's mansion. In an eleventh-hour move last week, Gov. Eric Greitens (R) announced that the state would begin accepting grant applications like the kind Trinity Lutheran was denied. The high court asked both sides in the case if that switch in positions rendered the case moot, but everyone agreed that the justices should go ahead and decide it anyway.
David Cortman, the lawyer representing the church, told the justices that Greitens' shift was akin to "policy by Facebook or press release." He suggested that the Supreme Court should resolve the dispute because constitutional rights shouldn't be subject to changes in "political winds."
"This church is not going to close its religious practices or its doors because its playground doesn't have these tires."
Justice Sonia Sotomayor, who emerged as the strongest defender of Missouri's position, pointed out that 39 states have constitutional amendments in their books that erect stronger church-state barriers for public funding than the federal Constitution.
"One would think that if there's play in the joints" of the Constitution's religion clauses, Sotomayor said, quoting language from a 2004 case, "that that would include the concept that states are free to say we don't want to spend money from the public fisc on houses of worship."
"This church is not going to close its religious practices or its doors because its playground doesn't have these tires," Sotomayor added. "No one is asking the church to change its beliefs. In fact, no one is asking the church as a condition ... 'Don't use what we give you for religious purposes' — they're not even doing that. They're just saying we don't want to be involved with the church."
James Layton, who served as Missouri's solicitor general until January but was retained by state officials to defend the funding program, said the state takes a hard stance with churches because it doesn't want to be perceived as playing favorites — a kind of religious endorsement that by itself may be unconstitutional.
"We don't want to be in a position ... where we are selecting among churches," he said. "We don't want to be in a position where we are making a visible, physical improvement on church property."
But based on how several justices responded to Missouri's line-drawing in the case — singling out Trinity Lutheran for no other reason than it was a church running a school — the Supreme Court may very well conclude that states should be more careful when drawing "status-based" lines in the first place.
"So long as the money is granted based on neutral criteria that are faithfully applied, I don't know how you can draw a distinction between a program that's open to everybody and a selective program," Justice Samuel Alito said.
The Supreme Court is expected to decide Trinity Lutheran Church v. Comer by the end of June.