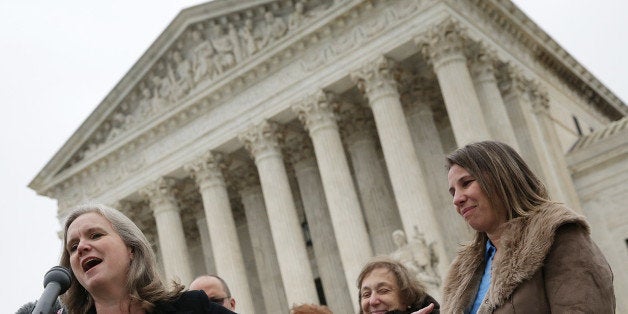 All eyes are on the U.S. Supreme Court today as they hear the case of Peggy Young vs. UPS. Peggy asked for reasonable accommodations in her scope of work when she became pregnant and her doctor noted that she could no longer lift more than 20 lbs. Instead of accommodations, UPS put Peggy on unpaid leave and she lost her health benefits when she needed them the most.
But it's not as if UPS doesn't offer accommodations to workers in other instances. UPS offers accommodations to workers who get a DUI, who are hurt on the job and who have disabilities. They just didn't (until recently) offer those same accommodations to pregnant workers, as the Pregnancy Discrimination Act of 1978 says should be done -- and that's how this case ended up being heard in the U.S. Supreme court today.
Peggy Young isn't alone in experiencing pregnancy discrimination. Moms across the country have been reporting thousands of cases of pregnancy discrimination. For example, Florence, KY police officer Lyndi Trischler was pushed out of her job, five months pregnant, because of a new City-wide policy that denies modified duty to employees unless they have a "work-related" condition. Officer Trischler repeatedly requested light duty for her pregnancy-related disabilities, upon her doctor's advice, but the City refused to budge. As a result, Trischler lost critical income when she needed it most, which caused her to move out of her apartment, which she could no longer afford.
This week, Trischler is cleared to return to work, eight weeks after giving birth to her son who, sadly, was born with a severe genetic disorder and only survived mere hours. In July, A Better Balance filed a charge of discrimination with the Equal Employment Opportunity Commission against the City of Florence on behalf of Trischler, arguing the City's policy deprives pregnant workers of their right to equal treatment under the law. It also flies in the face of the Americans with Disabilities Act -- to have a policy that an employer will not allow modified duty is like hanging a sign saying: "No disabled workers in need of reasonable accommodations permitted here."
As Officer Trischler returns to work today, the United States Supreme Court will hear oral arguments in a case, Young v. UPS, analyzing yet another policy that discriminates against pregnant workers. The employee, Peggy Young, was pregnant and working at UPS when she requested relief from heavy lifting for the health of her pregnancy. UPS denied the request, despite the fact that they made such accommodations for many other classes of employees. Young was forced to go on unpaid leave and lost her health benefits.
Unfortunately, pregnancy discrimination is not isolated to these incidents; it happens all the time and should not.
MomsRising often hears from our members who faced similar obstacles. Like Amanda from Iowa:
In 2012 I was working as a sales associate at a dollar store. My manager informed me that if I required any restrictions due to my pregnancy she would remove me from the schedule. Sadly, I ended up having a miscarriage. During my next pregnancy, I worked as a temp at a warehouse, building store displays. At 17 weeks, after I'd rushed from work to the hospital, my doctor said I should be placed on desk duty. However, my employer does not accommodate such restrictions, so I was forced to take unpaid leave. I had no way to pay my bills or for gas to see my doctor.
And at A Better Balance, we routinely hear similar stories from women who call our hotline. Armanda Legros told her story before a U.S. Senate hearing in May:
I worked for an armored truck company on Long Island for two years before I was pushed out of my job. I was 6 and ½ months pregnant when I pulled a muscle in my stomach doing heavy lifting at work and had to miss the rest of the week recovering. My doctor told me to avoid heavy lifting so I wouldn't hurt myself again, and gave me a note to bring into work. My manager took one look at the note and sent me home without pay, indefinitely... the experience of having my son -- without a paycheck -- was one of the hardest for my family.
Far too many employers are either ignoring or misinterpreting the 1978 Pregnancy Discrimination Act, which was expressly designed to protect pregnant workers from discrimination and promote their economic security.
No woman in this country should have to choose between her paycheck and her doctor's orders. Women comprise half the paid labor force, and three in four moms work outside the home. Too many women are struggling to make ends meet despite working full-time or even two jobs. When working women, the primary purchasers in our consumer-fueled economy, are without a salary because they've been forced to quit, are fired or are pushed onto unpaid leave, it negatively affects our economy and families' financial security.
Pregnant women should be protected from discrimination in the workplace and be treated no differently, and certainly no worse, than people who are injured on the job.
We are confident that the Supreme Court will make clear once and for all that policies like those at issue in the UPS case are illegal under current federal law. Treating pregnant workers worse than others runs contrary to Congressional intent in passing the Pregnancy Discrimination Act, which demands equal treatment.
Kristin Rowe-Finkbeiner is Executive Director & CEO of MomsRising.org, an online and on-the-ground grassroots organization of more than a million people working to achieve economic security for all families.
Dina Bakst is co-founder & co-president of A Better Balance, a national legal advocacy organization dedicated to advancing fair and family-friendly laws and workplace policies. She is co-author of Babygate: How to Survive Pregnancy & Parenting in the Workplace.

Popular in the Community