WASHINGTON ― Something unusual happened as Supreme Court nominee Neil Gorsuch was testifying before the Senate Judiciary Committee on Wednesday. His would-be future colleagues took a swipe at his past work.
As Gorsuch was essentially interviewing for a job on the high court, the justices roundly rejected a legal standard that he'd embraced in a 2008 disability rights case. In a unanimous ruling, Chief Justice John Roberts wrote that the standard, which sets a particularly low bar for schools' responsibility to students with disabilities, is not good enough.
"When all is said and done, a student offered an educational program providing 'merely more than de minimis' progress from year to year can hardly be said to have been offered an education at all," Roberts wrote.
The case before the justices concerned the level of educational benefit that public schools must provide under the federal Individuals with Disabilities Education Act. "Merely more than de minimis" was the standard observed in the current case by the U.S. Court of Appeals for the 10th Circuit, Gorsuch's court.
"For children with disabilities, receiving instruction that aims so low would be tantamount to sitting idly ... awaiting the time when they were old enough to drop out," Roberts added.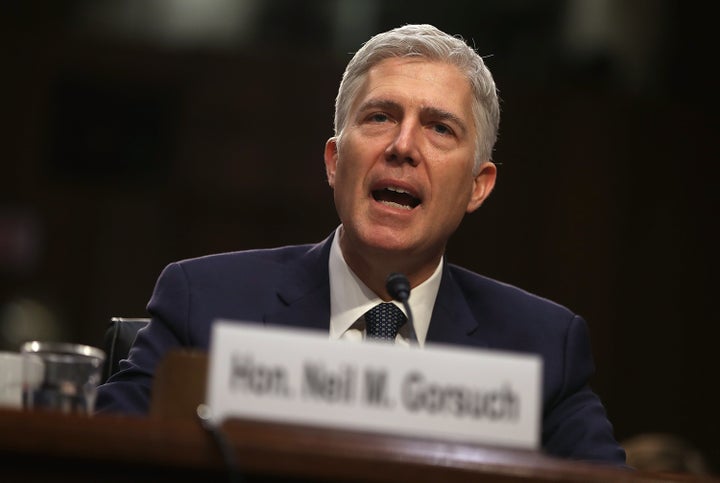 Democrats on the Senate Judiciary Committee immediately jumped on the ruling issued Wednesday morning. They began pressing Gorsuch about it, emphasizing the word "merely" ― a word that had attracted the justices' attention as well during oral arguments. Sen. Dick Durbin (D-Ill.) called the ruling "powerful."
"Why in your early decision did you want to lower the bar so low ... as a standard for public education to meet this federal requirement under the law?" Durbin asked Gorsuch. The judge noted that he had just seen the ruling during a quick break in the confirmation hearing.
"If I was wrong, Senator, I was wrong because I was bound by circuit precedent, and I'm sorry," Gorsuch said. He noted that the ruling in the 2008 case had been unanimous and that one of his fellow judges on that case was a Democratic nominee.
"To me, you were actually the first in this case that you wrote to come up with this standard and then you added the word 'merely,'" said Sen. Amy Klobuchar (D-Minn.). She later said that Gorsuch's addition of that word "creates a ceiling ... more than a floor" for the benefits that students with disabilities receive under the law.
Gorsuch responded that he was simply following precedent in the 10th Circuit. He said, "I disagree," when Klobuchar charged that his ruling made the standard more stringent. "It's not a surprise to me," she said, that the Supreme Court rejected the lower court's language unanimously.
Republicans on the committee rushed to Gorsuch's defense. Chairman Chuck Grassley (R-Iowa) sent out an advisory to reporters stating that the judge "did not invent that legal test" and that he relied on a 1996 decision from his own circuit. The advisory added that Gorsuch's addition of "merely" didn't change the protections for students with disabilities.
Sen. Ted Cruz (R-Texas) argued that Gorsuch was simply following guidance from the Supreme Court and other courts at the time.
"Yes, sir. I follow orders," Gorsuch said. That answer, Cruz said, "should give comfort that you would continue to do so as a Supreme Court justice."
During oral arguments in January, several justices puzzled over who came up with the standard that they later rejected. "Who invented it?" asked Justice Ruth Bader Ginsburg.
In Wednesday's ruling, the Supreme Court said that kids with disabilities must be offered an educational program that is "reasonably calculated to enable a child to make progress appropriate in light of the child's circumstances." This standard, the court said, is fact-specific and depends on "the unique circumstances of the child."
Disability rights advocates praised the ruling.
Jeff Perkins, the father of the child with autism at the center of the case Gorsuch decided in 2008, is set to testify against the judge's confirmation on Thursday.
REAL LIFE. REAL NEWS. REAL VOICES.
Help us tell more of the stories that matter from voices that too often remain unheard.