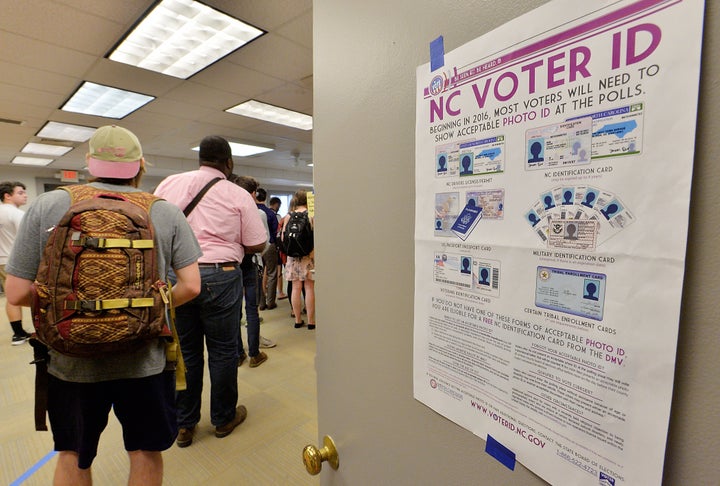 Late last month, a federal appeals court struck down North Carolina's restrictive voting law, noting that it targeted African Americans "with almost surgical precision" and likening it to the worst of Jim Crow-era laws.
In striking down the law, the U.S. Court of Appeals for the 4th Circuit effectively restored seven days of early voting that North Carolina lawmakers had taken away ― bringing the total to 17 ― thus benefitting minority voters. Many of them take advantage of features such as Sunday voting, same-day registration and extended voting hours ahead of Election Day.
But the appeals court didn't tell North Carolina what to do with the restored days ― only that they needed to be restored. And the state's board of elections went along, setting Oct. 20 as the start for early voting in North Carolina but leaving it up to each of North Carolina's 100 county boards to specify what rules to follow on those days.
That left an opening for Republicans. And on Sunday, they struck: County election boards should "make party line changes to early voting," the state GOP's executive director, Dallas Woodhouse, wrote in a memo sent to GOP election officials and later obtained by The News and Observer.
""Our Republican Board members should feel empowered to make legal changes to early voting plans, [which] are supported by Republicans.""
"Our Republican Board members should feel empowered to make legal changes to early voting plans, that are supported by Republicans," Woodhouse wrote in emails sent to county board members, the majority of whom lean Republican because they're appointed by party leadership. "Republicans can and should make party line changes to early voting."
And for Woodhouse ― who calls himself "an unabashed partisan" ― it seems as though tweaking the rules of early voting is nothing more than kowtowing to party interests, not an exercise in invidious racial discrimination. (His own partisan brother appears to think otherwise.)
You be the judge ― these are some of the legal changes Woodhouse suggested to election officials:
Limited hours and thus fewer opportunities for same-day registration, which Woodhouse said is "ripe for voter fraud." Yet the 4th Circuit said that claims of in-person voter fraud in North Carolina are "merely imaginable."
No Sunday voting, which African-American voters favor as part of "souls to the polls" drives after church on Sunday. The GOP leader justified this move as a favor to poll workers who need at least one day off after working tirelessly for six days.
No early voting at campus sites, because college students are apparently not "entitled to their own voting site." But the measure benefits them because college students often don't drive.
This is precisely the kind of tinkering ― benign on paper but discriminatory in practice ― that could have subjected North Carolina to federal government oversight under the Voting Rights Act of 1965. But in 2013, the Supreme Court struck a key part of it, lifting that oversight requirement from North Carolina and other states and localities with a history of voter discrimination.
In a statement, Woodhouse defended himself and his party's positions, which seek "to preserve the integrity of the voting process so everyone's vote is properly counted" ― a rationale for North Carolina's restrictive law that the 4th Circuit all but discarded.
"The county board members are an independent body, and we have the right to lobby them as much as anybody else, for Republican positions," Woodhouse said.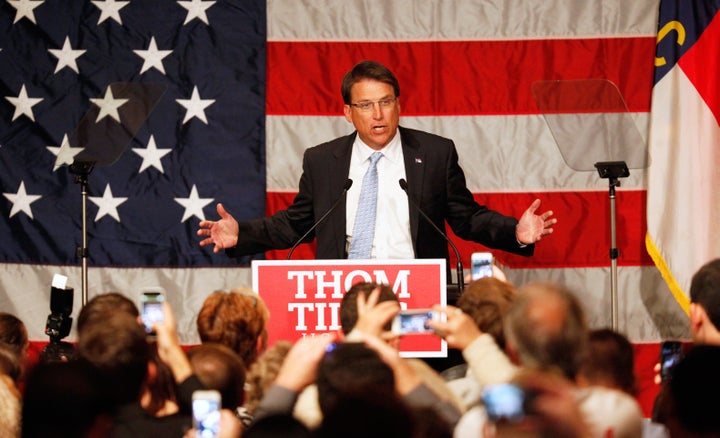 Perhaps. But all of this scrambling is happening just as the Supreme Court is weighing an emergency request from North Carolina to reinstate the law ― including its reduction of early voting to only 10 days. McCrory, the state governor, has called this measure, the voter ID requirement and the other provisions of the law a "model" for other states to follow.
Roberts earlier this week asked the civil rights groups challenging the law to respond to the state's request to reinstate the law by next week ― around the same time county boards in North Carolina are due to submit their local early voting plans to the State Board of Elections for approval.
Irving Joyner, a law professor and lawyer who is representing the North Carolina chapter of the NAACP in the litigation, told The Huffington Post that he and his team are monitoring what is happening at these county board meetings and collecting data. So far, he said, some counties have bucked the GOP's wishes and offered Sunday and on-campus early voting, as well as extended hours of operation at polling sites.
But with 100 counties to keep track of, the data collection will continue until right before the advocacy groups make their case to the high court. And the more they gather, the better the picture they'll paint for Roberts and his bench-mates.
"That will be a part of our response to the Supreme Court — to give a county by county breakdown of what is going on," Joyner said.
Popular in the Community