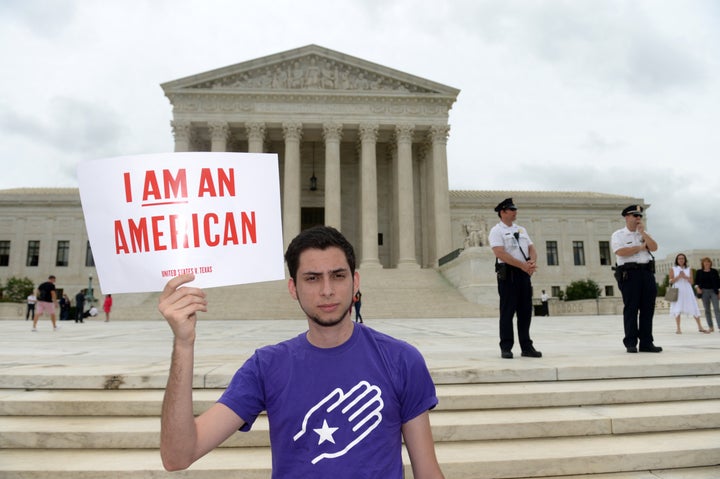 One member short following the death of Justice Antonin Scalia, the court split evenly in that case ― a multi-state challenge to a plan that would have deferred the deportation of millions of undocumented parents of American citizens and permanent residents.
The federal government pointed to the court's vacancy as a justification for its petition and boldly asked the Supreme Court to agree to rehear the case, but only "before a full nine-Member Court."
In denying the petition, the justices effectively allowed the dispute to return to the lower courts, where the case is expected to proceed to trial and may eventually land before the high court at a later time. By that point, it's possible the next president will be in office and a replacement for Scalia will have been confirmed.
To Marielena Hincapié, executive director at the National Immigration Law Center, the court's move on Monday and the uncertainty over its ninth member only underscore the stakes in the presidential election.
"The fact that the Supreme Court has continued to fail to act on the nation's most pressing issues only serves to remind us that we need a fully functional court today, not next year," she said in a statement, which also called on the Senate to confirm Garland.
"Voters must turn out to ensure that we elect a president who will shape the future of the country ― not just for the next four years but for decades ― as she or he will get to nominate several Supreme Court justices," Hincapié added.
Her group is involved in a parallel legal effort to allow Obama's executive actions on immigration to be implemented in those states that are pro-immigration and that weren't involved in the Texas-led lawsuit over the deportation deferral plan.
Ken Paxton, the Texas attorney general, claimed in a statement Monday that the Supreme Court, by denying the federal government's request, had "validated" the state's position in the case.
"This is the latest setback to the president's attempt to expand executive power and another victory for those who believe in the Constitution's separation of powers and the rule of law," Paxton said.
But the court's one-line order, much like its original one-line ruling in June, was silent on the actual merits of the case. Which is to say: The justices have yet to deliver the final word.
Popular in the Community