Asked whether President Barack Obama should nominate a replacement for the late Supreme Court Justice Antonin Scalia, Americans' views in four new surveys vary widely, showing that nuances of language matter just as much in polling as in tricky legal cases.
While all questions about the issue are similar, they are worded just differently enough to elicit very different responses. The NBC News/Wall Street Journal and CBS News polls both asked respondents about their personal preferences for the next Supreme Court nominee -- and, unsurprisingly, the answers split evenly along party lines.
The HuffPost/YouGov question, meanwhile, asked Americans what they thought Obama should do about the Supreme Court vacancy, giving respondents the option of choosing either "nominate a replacement" or "let the next president nominate a replacement" for their answer. Most chose the former option.
And a Fox News poll found the most support for immediately filling the Supreme Court vacancy. This may be because once choice framed the nomination as a shared "responsibility" of current leaders, Obama and the Senate. Putting them on the same side, rather then casting them as rivals, likely defused some of the partisan tension inherent in the other polls.
Despite the inconsistencies, the polling makes some things clear.
One is the extent to which opinions rely on partisanship, rather than differing views on judicial precedent. In the HuffPost/YouGov survey, Democrats were eight times more likely than Republicans to express a high level of confidence in Obama's ability to choose a good nominee, a sentiment that translated into support for the president immediately nominating a replacement.
Ninety-two percent of Americans who were very confident in Obama's ability to pick a nominee wanted him to nominate someone, compared to just 15 percent of those who said they weren't at all confident in Obama's choice.
Democrats were 10 points more likely than Republicans to have a favorable view of the Supreme Court overall, although that's down from a 40-point gap in approval last summer after the court's decision to preserve a major part of the Affordable Care Act. Views on Scalia's legacy also split along decidedly partisan lines: 74 percent of Republicans, versus just 28 percent of Democrats, said they approved of his record as a justice.
Yet for all the political division inherent in the current nomination debate, it might be a little overblown to suggest that the issue will play a central role in the 2016 elections.
Americans theoretically consider the topic a serious one: 58 percent, including more than three-quarters of Republicans, said future appointments to the Supreme Court will be at least somewhat important to their vote in November.
But that doesn't mean it's at the top of everyone's minds. Asked to choose the two election issues that mattered most to them, just 6 percent of respondents said they were focused on which party gets to nominate Supreme Court justices -- and the issue ranked dead last in a list of nine topics.
That could change if the Supreme Court vacancy becomes a regular talking point on the campaign trail, but there's reason to suspect that its impact will remain limited.
"[R]esearch shows that the Supreme Court is a well-respected institution but not very important for most voters," political scientist Julia Azari wrote Wednesday. "[V]oting has become polarized and predictable -- leaving few voters to be swayed by a fight over the court."
The HuffPost/YouGov poll consisted of 1,000 completed interviews conducted Feb. 17-18 among U.S. adults, using a sample selected from YouGov's opt-in online panel to match the demographics and other characteristics of the adult U.S. population.
The Huffington Post has teamed up with YouGov to conduct daily opinion polls.You can learn more about this project and take part in YouGov's nationally representative opinion polling. Data from all HuffPost/YouGov polls can be found here. More details on the polls' methodology are available here.
Most surveys report a margin of error that represents some, but not all, potential survey errors. YouGov's reports include a model-based margin of error, which rests on a specific set of statistical assumptions about the selected sample, rather than the standard methodology for random probability sampling. If these assumptions are wrong, the model-based margin of error may also be inaccurate. Click here for a more detailed explanation of the model-based margin of error.
Also on HuffPost: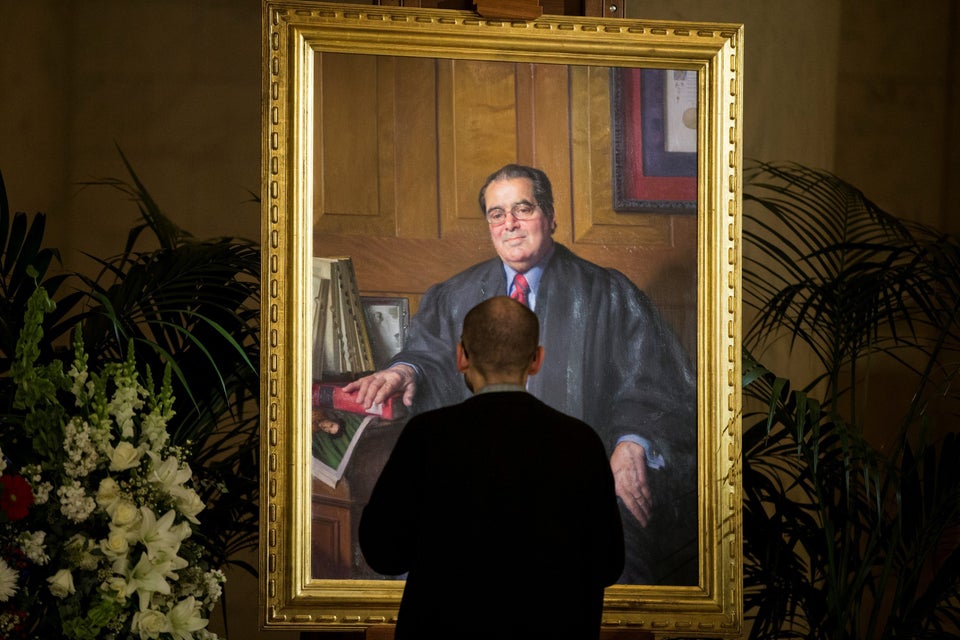 Americans Say Goodbye To Supreme Court Justice Antonin Scalia
Popular in the Community