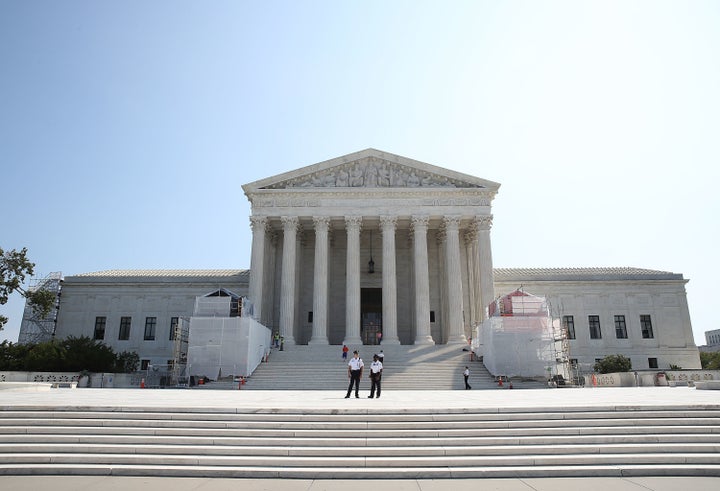 A new Pew Research survey found that Americans' views on the court in 2016 have recovered from last year's rock-bottom numbers. The pollster found that 60 percent of those surveyed had a favorable opinion of the justices' work, compared with 32 percent who held negative views. By contrast, 43 percent viewed the Supreme Court negatively in 2015 ― the lowest point in the last 30 years.
It is unclear what is driving the public's chipper attitudes about the court, but it's possible that a quieter docket or fewer politically charged decisions are behind the shift. Since the death of Justice Antonin Scalia earlier this year, the court has issued narrower and less controversial decisions.
While Scalia was still on the bench, the Supreme Court was poised to rule conservatively in a number of high-profile cases ― including on the future of affirmative action, public-sector unions, and the intersection of religion and contraception access under the Affordable Care Act.
But Scalia's absence likely altered the end result in many of those controversies, and what were once thought to be blockbuster cases ― with a potential for aggressive decision-making by the more conservative justices ― ended up tied 4-to-4 or narrowly decided.
The court has also been accepting cases at a lower pace than prior years and is accepting fewer cases that are destined to be headline grabbers ― its new term beginning next week is already shaping up to be a sleeper.
So in a sense, it appears that this new Supreme Court composition, still in transition while awaiting the confirmation of a ninth member, is operating in such a way that it's ruffling fewer feathers ― or at least causing fewer Americans to sense that its work is making too much political noise. And maybe that's a good thing.
Calling all HuffPost superfans!
Sign up for membership to become a founding member and help shape HuffPost's next chapter