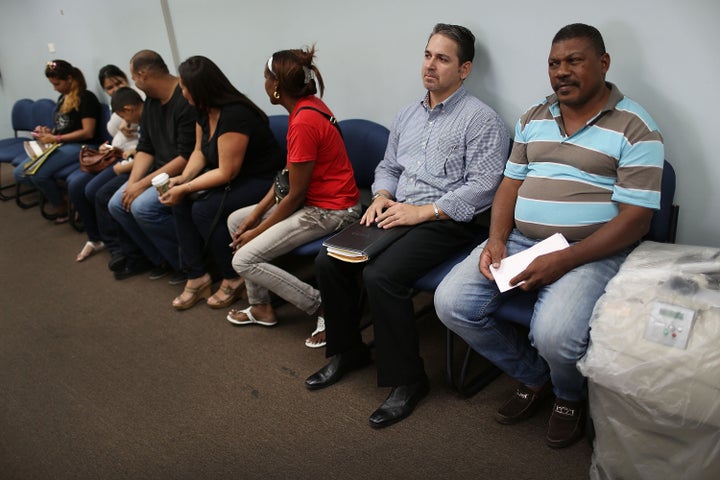 WASHINGTON -- Puerto Rico had a good day, or at least a hopeful one, in court on Tuesday.
The Supreme Court seemed receptive to Puerto Rico's argument that it has the power to enact bankruptcy protections for its public entities, including its cash-strapped utilities. The sympathetic hearing suggests the financially beleaguered commonwealth may gain one more tool, however modest, in its efforts to reduce a debt burden of over $70 billion.
There's another factor that may weigh in Puerto Rico's favor: The case is being heard by a Supreme Court in which the liberals outnumber the conservatives. The currently eight-member court lost one more judge when Justice Samuel Alito recused himself -- possibly because he and/or his wife have investments in a fund that is a major holder of Puerto Rican utility company debt.
And the liberals clearly dominated the hearing. With the exception of a few questions from Chief Justice John Roberts, the three conservative justices on the bench did not speak at all.
The dispute centers on the Recovery Act, a 2014 Puerto Rico law that aimed to create a special bankruptcy process for certain public corporations, including the island's three main public utilities. Those utilities owe a combined $20 billion. The largest, the Puerto Rico Electric Power Authority, owes $9 billion just by itself.
The ability to restructure their debt would benefit those companies -- and possibly their customers, the residents of Puerto Rico -- but their creditors would face significant losses. That concern drove a group of major creditors to sue to stop the law from taking effect.
"This is also a flesh-and-blood situation in Puerto Rico."
BlueMountain Capital Management and funds managed by Franklin Advisers and OppenheimerFunds successfully argued in the lower courts that federal bankruptcy law's pre-emption of state law applies to Puerto Rican law as well. The U.S. Bankruptcy Code prohibits states from establishing their own bankruptcy laws that would "bind a creditor that does not consent."
Critically for this case, however, the states do have the ability to extend federal bankruptcy protections under Chapter 9 to their municipalities -- that is, cities, towns, school districts, municipal utilities, etc.
Puerto Rico contends that it is not subject to the overall prohibition on enacting state bankruptcy protections because it's not a state. It points to a 1984 federal law, which denies the commonwealth the ability to let its municipalities seek Chapter 9 protection -- the very ability that states have. If Puerto Rico is not a "state" there, the argument goes, then it's not a state for the rest of Chapter 9 -- which happens to include the provision preventing states from writing their own binding bankruptcy laws.
The creditors counter that Chapter 1 of the U.S. Bankruptcy Code clearly establishes that the term "'State' includes the District of Columbia and Puerto Rico, except for the purpose of defining who may be a debtor under Chapter 9." Thus, while Puerto Rico is not a state for purposes of defining when its municipalities "may be a debtor," the creditors argue that federal law still considers it a state when it comes to prohibiting states from writing their own bankruptcy laws.
On Tuesday, Puerto Rico's lead attorney, Christopher Landau, insisted that a state's "only role" under Chapter 9 is to extend bankruptcy protections to municipalities. Therefore, he said, the exception laid out in Chapter 1 is "just another way of saying Puerto Rico is outside the scope of Chapter 9" entirely.
"I can't say that an 'airplane' means a horse."
The liberal justices initially seemed skeptical of that interpretation.
At one point, under persistent questioning from Justice Stephen Breyer, Landau reminded Breyer that the justice has "always been sensitive" to the kind of argument he was making.
"That may be, but I can't say that an 'airplane' means a horse," Breyer interjected, prompting laughter throughout the chamber.
But as the time wore on, Breyer and his Democratic-appointed fellows seemed to find Landau's arguments more compelling.
Justice Elena Kagan noted more than once that while she had not initially been persuaded by Puerto Rico's case, Landau's elucidation at oral argument helped her to understand it.
Kagan pressed the creditors' lawyer, Matthew McGill, to rebut Puerto Rico's point -- which she described as "once you're not eligible for Chapter 9, none of the provisions of Chapter 9 apply to you."
"The fundamental fallacy of the argument is that the 'gateway' requirement [that an entity be a state in order to extend Chapter 9 protections] somehow excludes you from the scope of Chapter 9 entirely," McGill said.
Breyer was not satisfied with that response, suggesting that it does not require one to "play games with words" to see that Chapter 9 is directed at those entities that have the power to utilize federal bankruptcy protections -- which is to say, states.
Although everybody seemed to agree that Congress' intentions in passing that 1984 law were murky at best, the liberal justices appeared to find it curious that Congress would have deliberately left Puerto Rico without any method for discharging government debts, short of an act of Congress.
"Why would Congress put Puerto Rico in this never­-never land"? Justice Ruth Bader Ginsburg asked.
"Why would Congress put Puerto Rico in this never-never land?"
The elephant in the room was the Puerto Rican financial and economic crisis, which grows more severe by the day. The Puerto Rican government has maintained that the commonwealth cannot pay its debts and that it is reaching the limits of what it can reasonably ask its people to sacrifice. It has already resorted to austerity measures in the form of spending cuts and tax increases, which have effectively left the island stuck in a prolonged recession.
As a result, Puerto Rico has been experiencing population loss since 2005, including a net migration of 64,000 people to the U.S. mainland in 2014 alone. The Treasury Department estimates that the island's 3.5 million population has declined 10 percent in the past decade.
This is the second time this year that Puerto Rico, represented by Landau, has pleaded for the Supreme Court to recognize its right to decide something for itself. The island has apparently placed its hopes for relief in the judiciary after years of requests for congressional action went unanswered.
The Obama administration is still pushing Congress for legislation that would grant Puerto Rico power to restructure its debts and establish a financial oversight board to ensure the commonwealth makes fiscal reforms. The Treasury Department has argued that extending Chapter 9 authority would not be enough, since it would allow the island to restructure only $20 billion out of its $70 billion debt.
A bill being drafted by House Republicans would create somewhat stricter hurdles for restructuring than the White House has set forth and ultimately would leave those decisions to the discretion of the oversight board.
Landau used the final portion of his argument time on Tuesday to remind the justices that "this is also a flesh-­and­-blood situation in Puerto Rico."
"To say that [the law] precludes Puerto Rico from dealing in any way with the financial crisis for its public utilities, which … provide basic services like electricity and water to its people -- that's the question: whether people in a village in Puerto Rico will be able to get clean water," he said.
A decision in Puerto Rico v. Franklin California Tax-Free Trust is expected sometime before the end of June.
Before You Go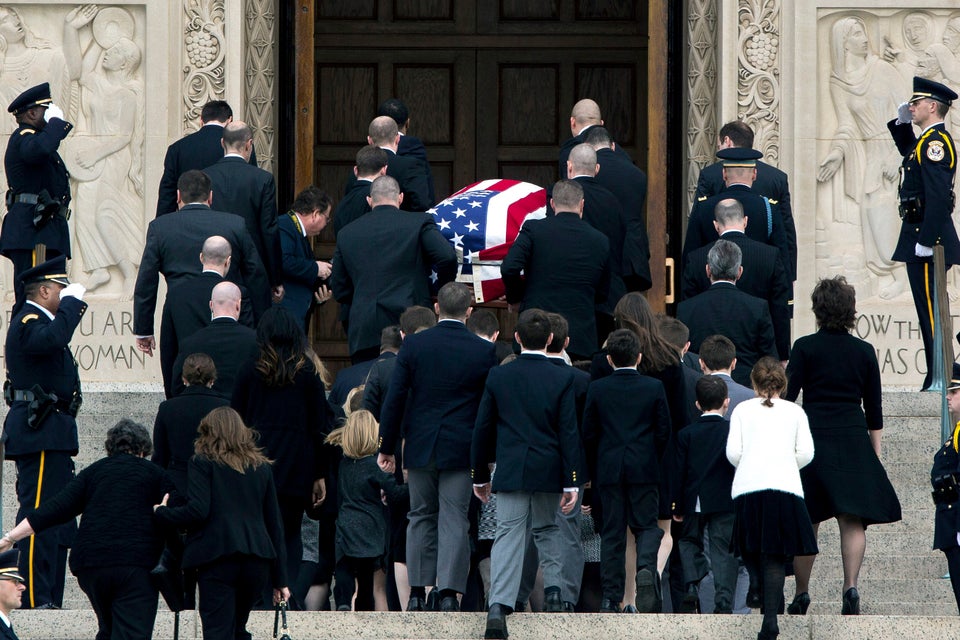 Funeral Of Supreme Court Justice Antonin Scalia
Popular in the Community