In a decision that should send ripples through the criminal justice system, the Supreme Court ruled Monday that the Constitution empowers judges in criminal cases to scrutinize racist statements made by jurors during jury deliberations.
Such deliberations, held in secret and without the presence of judges, are largely shielded from court review under the "no impeachment" rule. The general principle behind it is that the jury system would suffer if judges were constantly second-guessing what jurors decide behind closed doors.
But in a 5-to-3 ruling, the Supreme Court looked at its precedents and found a constitutional exception to that rule whenever there is evidence that a juror exhibited racial bias in voting to convict a defendant.
"This Court's decisions demonstrate that racial bias implicates unique historical, constitutional, and institutional concerns," Justice Anthony Kennedy wrote in his opinion, which conceded that the jury system is human and thus can be flawed. "An effort to address the most grave and serious statements of racial bias is not an effort to perfect the jury but to ensure that our legal system remains capable of coming ever closer to the promise of equal treatment under the law that is so central to a functioning democracy."
The ruling ― joined by Justices Ruth Bader Ginsburg, Stephen Breyer, Sonia Sotomayor and Elena Kagan ― is highly readable and was replete with the kind of language Kennedy reserves for landmark rulings, such as those he has authored on gay marriage and affirmative action in higher education.
"It must become the heritage of our Nation to rise above racial classifications that are so inconsistent with our commitment to the equal dignity of all persons," Kennedy wrote.
"It must become the heritage of our Nation to rise above racial classifications that are so inconsistent with our commitment to the equal dignity of all persons."
The case arose after two Colorado jurors in the criminal trial of a Latino, Miguel Peña-Rodriguez, reported to his attorney that another juror had made "anti-Hispanic" comments during deliberations. The defendant had just been convicted of harassment and unlawful sexual contact with two teenage girls.
According to those jurors, the biased juror had expressed his belief that Peña-Rodriguez was guilty because "Mexican men had a bravado that caused them to believe they could do whatever they wanted with women" and that "he did it because he's Mexican and Mexican men take whatever they want." He had also referred to the defendant as "an illegal," even though he was legally in the country.
Colorado courts refused to accept these jurors' revelations to contest the verdict and let Peña-Rodriguez's conviction stand. He was sentenced to two years' probation and was required to register as a sex offender.
Recognizing that every state and the federal government follow a version of the no-impeachment rule, the Supreme Court nonetheless said it was its responsibility to "enforce the Constitution's guarantee against state-sponsored racial discrimination in the jury system."
"A constitutional rule that racial bias in the justice system must be addressed — including, in some instances, after the verdict has been entered — is necessary to prevent a systemic loss of confidence in jury verdicts, a confidence that is a central premise of the Sixth Amendment trial right," Kennedy wrote.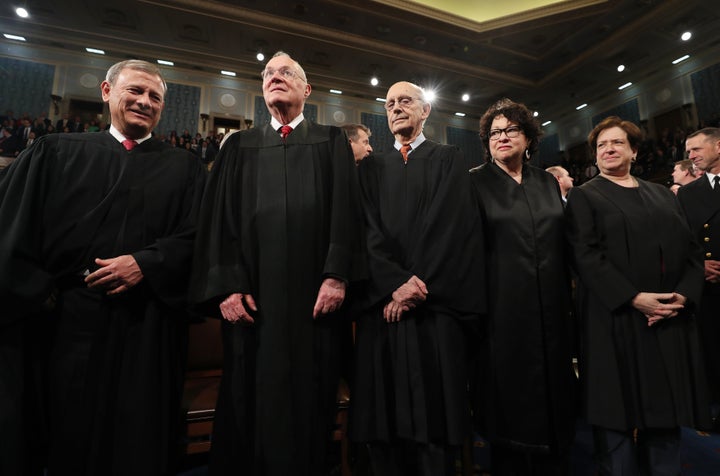 The high court cautioned that not just any "offhand comment indicating racial bias or hostility" during deliberations will allow a defendant to challenge his or her verdict ― but only those statements in which "racial animus was a significant factor in the juror's vote to convict."
Kennedy's opinion left it up to the states to determine the proper procedures in similar cases moving forward. The court also noted that there are already safeguards in the criminal process to screen out and contain biased jurors ― such as the jury selection process and the instructions judges give prior to deliberations.
In a dissenting opinion, Justice Clarence Thomas wrote that the text of the Constitution did not compel the majority's conclusion.
"In its attempt to stimulate a thoughtful, rational dialogue on race relations ... the Court today ends the political process and imposes a uniform, national rule," Thomas wrote. "The Constitution does not require such a rule. Neither should we."
Justice Samuel Alito, in a separate dissenting opinion joined by Thomas and Chief Justice John Roberts, called the decision "well-intentioned" but said the ruling will undermine the finality of jury verdicts and may lead to a slippery slope of similar challenges ― for example, if there's evidence that a juror expressed sexist or religiously bigoted views during deliberations.
"Today's decision — especially if it is expanded in the ways that seem likely — will invite the harms that no-impeachment rules were designed to prevent," Alito wrote. He noted that jurors, unlike judges and attorneys, are ordinary people who should be allowed "to speak, debate, argue, and make decisions the way ordinary people do in their daily lives."
But Kennedy and the majority saw things differently, singling out racial discrimination as "especially pernicious in the administration of justice" ― bad enough that not even everyday jurors should be allowed to use it against a defendant.
"It is the mark of a maturing legal system that it seeks to understand and to implement the lessons of history," Kennedy wrote.
Support HuffPost
The Stakes Have Never Been Higher
Popular in the Community