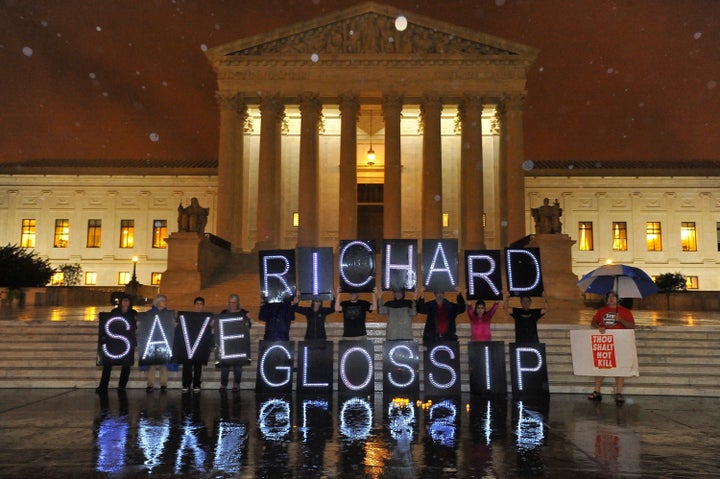 The U.S. Supreme Court has rejected an eleventh-hour plea by Oklahoma inmate Richard Glossip to stay his execution, minutes before he was scheduled to die by lethal injection Wednesday.
In a short, unsigned order, the justices declined his petition for a stay of execution and a separate petition asking for review of a divided Oklahoma Court of Criminal Appeals ruling that denied Glossip a hearing to present new evidence pointing to his innocence. 
Justice Stephen Breyer -- who in June indicated he would be willing to entertain a challenge to the constitutionality of the death penalty itself -- dissented from the stay denial, which shows he might have thought Glossip's whole case merited review by the court. 
In their Tuesday petition, Glossip's lawyers urged the justices to halt the execution, arguing that the Constitution prohibits Oklahoma from putting to death a person "when there is too much doubt about the integrity of the person's conviction."
That doubt arose from the testimony of Justin Sneed. In 1997, Best Budget Inn handyman  Sneed confessed to beating motel owner Barry Van Treese to death with a baseball bat. A week later, Sneed said that Glossip, his supervisor at the Oklahoma City motel, ordered him to do it. Based solely on Sneed's testimony, Glossip was convicted of murder and sentenced to death. Sneed is serving a life sentence at a medium-security prison after striking a deal in which he implicated Glossip as the mastermind.
Glossip's lawyers wrote that newly "discovered evidence demonstrates substantial doubt about Sneed's credibility."
But in court papers filed Tuesday evening, Oklahoma Attorney General Scott Pruitt, through state lawyers, fiercely opposed Glossip's petition to halt his execution, telling the justices his request is "wholly unwarranted" because his appeal itself lacks constitutional merit and Oklahoma followed proper procedure all along.
 "Petitioner's mere disagreement with the state court's rejection of his claims does not warrant" the justices' involvement, Oklahoma said in its filing, adding that the appeals court who turned Glossip away on Monday properly decided the case on state procedural grounds. 
State lawyers also delved into the lengthy trial record to attack Glossip's contention that his murder conviction was premised on the testimony of a witness whose credibility has been called into question.
The justices are familiar with the Glossip name. He was the lead plaintiff in a controversial case the court decided in June. In that 5-4 decision, the court ruled that a drug used in Oklahoma's lethal-injection cocktail was not in violation of the Eighth Amendment's prohibition on cruel and unusual punishment.
Glossip's execution is scheduled for Wednesday afternoon. 
Calling all HuffPost superfans!
Sign up for membership to become a founding member and help shape HuffPost's next chapter