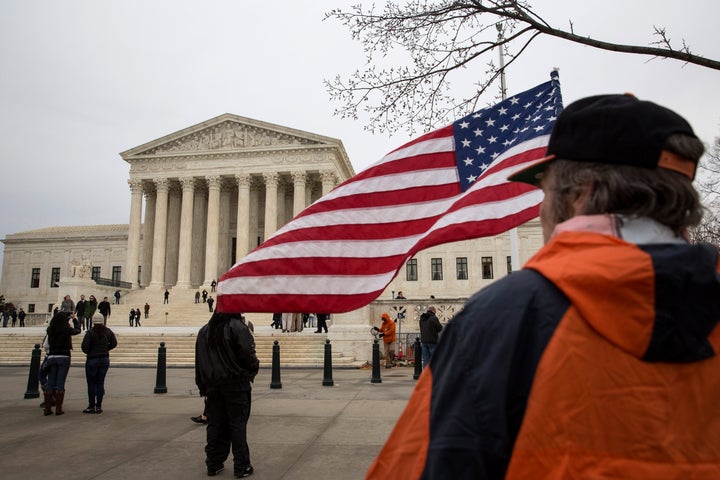 The U.S. Supreme Court on Thursday ruled that the Constitution doesn't guarantee people convicted of crimes the right to receive a sentence as quickly as possible.
It turns out that courts across the nation were sharply divided over whether the Sixth Amendment, which protects a right to a speedy trial, actually applies after a person has been convicted at trial or by way of a guilty plea.
In a unanimous ruling written by Justice Ruth Bader Ginsburg, the Supreme Court settled the question and decreed that the right only applies to the part of the criminal process following an arrest and before conviction.
"During the segment between accusation and conviction, the Sixth Amendment's Speedy Trial Clause protects the presumptively innocent from long enduring unresolved criminal charges," Ginsburg wrote, but it doesn't apply to the time "beyond conviction, which terminates the presumption of innocence."
The justices were acting in the case of Brandon Betterman, a Montana man who was charged with bail jumping after failing to show up for court while facing unrelated domestic violence charges.
After he pleaded guilty to the bail jumping offense, he sat in jail for 14 months awaiting a sentence largely due to "institutional delay" -- bureaucratic hold-ups by the court in scheduling a sentencing hearing and in generally getting its act together.
Ginsburg explained that criminal cases typically "unfold in three discrete phases," and that each phase comes with its own safeguards to curtail undue delays for defendants: pre-arrest or formal charging; the period from arrest through conviction; and the post-conviction period that lasts through sentencing.
The court ruled that the Constitution's speedy trial guarantee only applies to the second phase, when the accused is still presumptively innocent and any government violations can be solved by simply dismissing the charges. But after that, Ginsburg wrote, the right "detaches upon conviction."
It would be an unjustified windfall, in most cases, to remedy sentencing delay by vacating validly obtained convictions.

Justice Ruth Bader Ginsburg
"It would be an unjustified windfall, in most cases, to remedy sentencing delay by vacating validly obtained convictions," she wrote, implying that once you're guilty, you're guilty.
Justice Clarence Thomas, joined by Justice Samuel Alito, wrote separately to note that states may have laws and procedures to allow defendants some relief if their sentencing is taking unusually long. That came with a rebuff of the man at the center of Thursday's ruling.
"And a person who sleeps on these remedies, as Betterman did, may simply have no right to complain that his sentencing was delayed," Thomas wrote. It turns out Montana does have statutes to that effect, though their efficiency is unclear.
Justice Sonia Sotomayor also wrote separately to emphasize, as Ginsburg did, that people who sit around waiting for their sentence may have "other recourse" under the Constitution's right to due process.
But as the Supreme Court often does, she noted "the question is an open one" and should be left for another day in "an appropriate case" -- perhaps that of another hapless individual like Betterman.
Calling all HuffPost superfans!
Sign up for membership to become a founding member and help shape HuffPost's next chapter