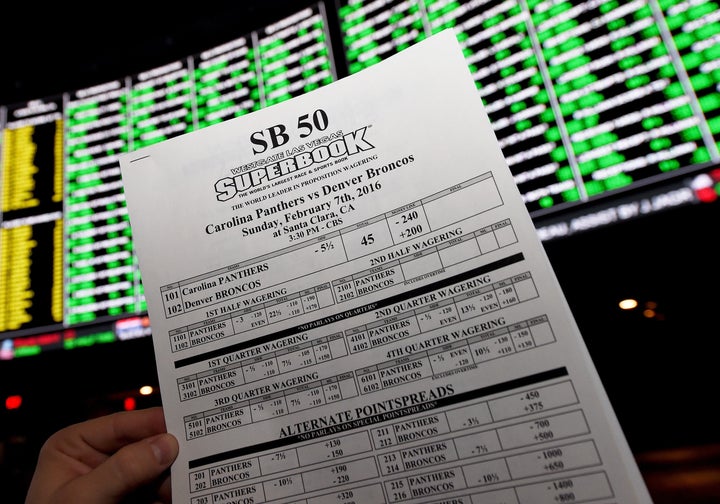 WASHINGTON ― The U.S. Supreme Court ruled Monday morning that a federal ban on sports gambling is unconstitutional, paving the way for sports betting to spread across the United States.
The ruling in the case known as Murphy v. NCAA is the result of a 2014 legal challenge from the state of New Jersey and will invalidate the 1992 Professional and Amateur Sports Protection Act, or PASPA, which prohibited wagering on single sporting contests except in Nevada.
New Jersey passed laws to legalize sports gambling in 2012 and again in 2014, only to have its attempts shot down by the U.S. Court of Appeals for the 3rd Circuit, which ruled that PASPA prohibited states from allowing gambling on sports. New Jersey responded by suing and built its case on the argument that the federal government could not compel states to regulate activities Congress had chosen not to police itself.
Six justices joined the majority to invalidate the law, while Justices Ruth Bader Ginsburg and Sonia Sotomayor dissented from the majority opinion. Justice Stephen Breyer elected to join most of the majority, but said in his own opinion that he also agreed, in part, with Ginsburg.
It was, essentially, an argument not over sports gambling but over the powers of the federal government in a federalist system. And the court sided with New Jersey, with Justice Samuel Alito writing in the majority opinion: "Congress can regulate sports gambling directly, but if it elects not to do so, each State is free to act on its own. Our job is to interpret the law Congress has enacted and decide whether it is consistent with the Constitution. PASPA is not."
The four major men's sports leagues ― the NBA, NFL, MLB and NHL ― and the NCAA all opposed New Jersey's efforts. However, an outcome in favor of sports gambling was widely expected after oral arguments in December, when a number of justices indicated support for the state's arguments.
The ruling will allow New Jersey to regulate sports gambling almost immediately, and other states could follow soon: Pennsylvania has already legalized sports gambling, and was only waiting for the Supreme Court decision to continue moving forward. West Virginia and Mississippi could also continue their efforts to legalize the practice. At least a dozen other states are considering legislation to legalize sports gambling.
"Today's decision is a victory for the millions of Americans who seek to bet on sports in a safe and regulated manner," the American Gaming Association said in a statement after the ruling. "Today's ruling makes it possible for states and sovereign tribal nations to give Americans what they want: an open, transparent, and responsible market for sports betting."
The Supreme Court decision could also push the issue onto the agenda in Congress, which could choose to legalize and regulate sports betting on the federal level. That's the approach favored by sports leagues like the NBA, which sought to block New Jersey's efforts not because it is opposed to sports gambling, but because it prefers a federal regulatory scheme to a patchwork of various state laws.
Rep. Frank Pallone (D-N.J.) last year introduced legislation known as the GAME Act to provide federal oversight on sports gambling and said Monday that the decision should push Congress to act on his bill.
"The states are going to go wild, wild west for a while."
"Now that the Supreme Court has struck down this unlawful and confusing law, it is time for Congress to move the GAME Act forward to ensure that consumer protections are in place in any state that decides to implement sports betting," Pallone said in a statement.
Progress on that front, however, could be slow, especially in an election year, meaning states will likely continue to set the agenda on sports gambling.
"I think there'll be a full year until the federal government comes in with guidance. Stranger things have happened, but I'd put it low on the list," said Paul Martino, an investor in FanDuel, one of the largest daily fantasy sports operators. "The states are going to go wild, wild west for a while."
In a statement, NBA Commissioner Adam Silver said that while his league still favors "a federal framework that would provide a uniform approach to sports gambling in states that choose to permit it," it will "remain active in ongoing discussions with state legislatures."
The NCAA, which has previously threatened to move events from states that legalize gambling, said in its statement that it "will adjust sports wagering and championship policies to align with the direction from the court."
Though gambling was the central issue in the case, New Jersey's states' rights argument also turned Murphy v. NCAA into "perhaps the most important federalism case the Supreme Court has heard in years," Daniel Wallach, a gambling law expert, said after oral arguments in December. As such, Monday's ruling could have implications far beyond the world of sports, including immigration, gun rights and marijuana legalization.
That's because New Jersey argued, and the Supreme Court ultimately agreed, that PASPA violated the "anti-commandeering doctrine," a somewhat controversial legal theory that says Congress cannot compel states to enforce federal laws in place of the federal government.
The doctrine has become more significant in recent years as President Donald Trump has threatened to pull funding from so-called sanctuary cities that place some limits on their agreements to enforce federal immigration laws. A federal judge blocked Trump's executive order targeting sanctuary cities in November, arguing that it violated the Constitution's protections on separations of power, and legal experts have suggested that a ruling in favor of New Jersey in the gambling case could bolster sanctuary cities' fight against the administration.
The question at the heart of the gambling case also applies to city and state efforts to legalize marijuana despite federal prohibition laws, a growing movement that likely also received a boost from the Supreme Court ruling on Monday morning.
This story has been updated with more detail about and reaction to the ruling.
Popular in the Community