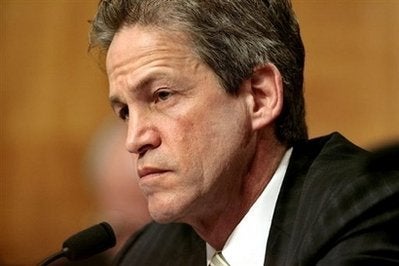 In what may very well be the death knell for Norm Coleman's time in the U.S. Senate, the Minnesota Supreme Court on Wednesday unanimously dismissed one of his last legal objections to the recount process.
In a five-to-zero decision, the court rejected a Coleman campaign lawsuit that sought to block the course of the recount due to concerns that some ballots had been counted twice. It was the Minnesota Republican's last legal angle for making up the 47-vote deficit he currently faces against Al Franken.
Coleman had argued that in the process of recounting, some precincts had accidentally counted both the original ballots and duplicates that were used for those original ballots that couldn't be properly scanned. But the campaign asked only for the state to look at 25 specific counties, suggesting that the argument was politically and not legally motivated. Moreover, it couldn't provide evidence that voting tallies during the recount exceeded those on Election Day -- which would have been the obvious result of duplicates being counted.
With this issue, seemingly, out of the way, the recount process will come to an end once the state and both campaigns decide what to do about improperly rejected absentee ballots. That should come in early January. And while it would be foolish to predict how the counting and disbursement of these 1,600 ballots would proceed -- the two camps have agreed on principles by which the process will be conducted -- it seems likely that the results will favor Franken.
Franken's campaign has been pining to have these wrongfully rejected absentee ballots counted from the beginning of the recount process, suggesting that they believe the votes will favor Franken. It is more common for Democratic voters to make clerical errors on their absentee ballots than it is for Republicans.
All told, the window through which Coleman was looking to hold unto his Senate seat just became measurably narrower.
UPDATE: Not entirely surprising, the Coleman campaign says a lawsuit challenging the results of the election is now a near certainty. According to the Hill:
The Coleman campaign had claimed [duplicate] ballots, created by local election officials to mirror original ballots that were somehow damaged, were sometimes counted twice by accident, and should not be included.

"We are deeply disappointed in that result. The Supreme Court decision virtually guarantees this election will be decided with an election contest," Fritz Knaak told reporters on a conference call on Christmas Eve. "There's no question, I mean no question in our minds that [a lawsuit] will happen now."

Should the Coleman campaign file a contest, which it must do within seven days of the end of ballots being counted, the election results cannot be certified and no one will be sworn in when the 111th Congress meets January 5.
Popular in the Community