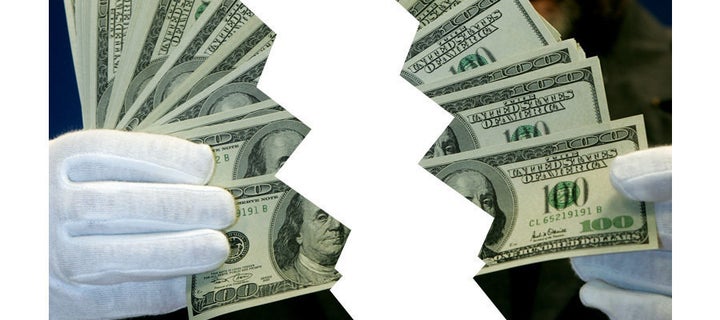 Last week's Supreme Court decision in the Citizens United case has created the ripest environment since the Jack Abramoff scandal to implement tough new campaign finance laws.
On the Hill, there are currently at least seven separate pieces of legislation in the works to prevent an unprecedented flood of corporate money in the upcoming midterm elections. And in his State of the Union address on Wednesday night, President Barack Obama jumped on the bandwagon, making the unusual move to scold the Supreme Court to its face. The justices, he said, have allowed campaigns to be "bankrolled by America's most powerful interests, or worse, by foreign entities." Congress, he added, should "pass a bill that helps to right this wrong."
The court's decision last week was a major reversal of judicial precedent, lifting restrictions on what corporations can spend on advertisements for or against candidates within 30 days of a primary or 60 days of a general election.
Though there is some sober-minded skepticism as to whether the decision will have such an earth-shattering effect on elections, it has nevertheless spurred action on the good-government legislative front. Democrats in Congress have moved swiftly, with Rep. Chris Van Hollen (D-Md.) coordinating with Sen. Chuck Schumer (D-N.Y.) to get legislation passed in the upcoming week.
There are a host of ideas from which to choose. The latest is from Rep. Mike Capuano (D-Mass.), whose legislation would require a corporation to get approval from a majority of its shareholders before spending any money on electioneering communications. On Wednesday, Rep. Rosa DeLauro (D-Conn.) introduced the "Prevent Foreign Influence in our Elections Act," which would extend a currently-existing ban on election activity by foreign corporations to include their U.S. subsidiaries. Rep. John Hall (D-N.Y.) introduced a similar bill on Tuesday.
Rep. Alan Grayson (D-Fla.) didn't even bother to wait for the decision to come down, introducing a series of bills the week beforehand. One of them, the "Business Should Mind Its Own Business Act", would add a 500-percent excise tax on political ad spending.
Rep. Donna Edwards (D-Md.) told HuffPost that because of the breadth of the decision, she is skeptical anything less than a constitutional amendment will be effective in keeping corporate money out of politics.
"I think the Supreme Court has actually left us with no choice," she said. "We hoped the court would have had a little more of a mixed ruling that would have left us with some options."
Leadership aides in the Senate are fairly mum about what type of legislative language they're hoping to put forward. But one aide said a lot of the discussion is currently focused on the idea of banning corporations with a certain amount of government contracts from spending money in an election. The White House, meanwhile, is currently in a wait-and-see approach, but an administration aide acknowledged that the administration is looking at shareholder say, a ban on contractors and limits on foreign subsidiaries, among other approaches.
"Those have been topics that have come up in conversations on the Hill with Schumer and Van Hollen," said the aide. "And they have all surrounded those three components."
The Citizens United decision does not allow corporations to dump unprecedented amounts of money directly into candidates' campaign coffers; it frees them to spend unlimited sums on campaign advertisements. Nonetheless, the Supreme Court's actions have clearly breathed legislative life into a good government community that has been looking for a major breakthrough ever since the McCain-Feingold Act of 2003.
Among them are advocates of clean or "fair" elections. Rep. John Larson (D-Conn.), author of the Fair Elections Now Act, wrote in an Thursday op-ed for Roll Call that the Supreme Court decision proves that publicly-financed campaigns are a necessity.
"FENA was written well before this Supreme Court decision but has become even more important in the wake of it," wrote Larson. "It would give all candidates for Congress the option of taking part in a public financing system once they meet certain criteria of viability, taking the corrosive influence of big money out of politics and letting elected officials get back to the real business of governing."
The message, apparently, is catching on. David Donnelly, National Campaigns Director of the Public Campaign Action Fund, said that, on Monday his organization briefed 71 members' offices on the public financing bill during a packed conference on the Hill. "We had to turn some offices away," he said. Of the 71 offices that showed up, more than half had not yet signed on to the bill, which so far has 128 cosponsors, including three Republicans.
"If Congress doesn't also take a look at how much time they are going to have to spend fundraising from the very same wealthy interests who are pouring money into campaigns, then they are missing the boat," he told HuffPost.
FENA's biggest obstacle is the Senate. A source working on legislation in the upper chamber said the appetite simply isn't there to get a public-financing bill passed. Moreover, there is already a major lobbying push to ensure that foreign companies who do have a strong domestic presence aren't adversely affected by congressional action. "The Hall bill," explained one lobbyist working on the issue, "would redefine what a foreign corporation is. Any company with five percent or more of their shareholders as foreign nationals would face prohibition. That could affect almost every major publicly traded company."
Nevertheless, the president clearly thinks the time is ripe to make political progress on the good government front. In his State of the Union address, Obama went even further than the issues raised in the Citizens United case and called on Congress to put limits on what lobbyists can give to candidates, to require lobbyists to disclose every government contact they make on behalf of a client and to give full disclosure of all earmark requests.
When asked by Roll Call, Van Hollen declined to say whether he will include new lobbyist disclosure requirements in his bill.
Popular in the Community