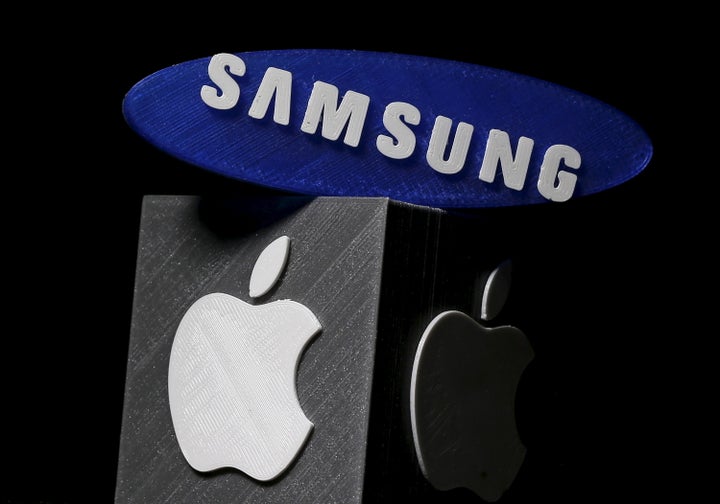 The Supreme Court handed Samsung a symbolic victory on Tuesday over its arch-rival Apple in a patent dispute worth $400 million.
In a brief, unanimous opinion authored by Justice Sonia Sotomayor, the court threw out the damage award and sent the case back to an appeals court to reassess it.
That means Samsung will still be on the hook for a yet-to-be-determined amount. A jury found the company violated three design patents held by Apple that govern the iPhone's curved exterior and icon-based interface.
Because these features make the iPhone stand out from competitors, Apple argued that it was entitled to the entire $400 million figure ― which represents Samsung's entire profits from all of its smartphone models that were found to violate iPhone patents.
The Supreme Court rejected that argument, noting that in design patent law ― which requires patent violators to hand over total profits after they've been found liable ― the term "article of manufacture" should be read broadly.
"So understood, the term 'article of manufacture' is broad enough to encompass both a product sold to a consumer as well as a component of that product," Sotomayor wrote.
Notably, the high court declined to go further than that. It's now up to the U.S. Court of Appeals for the Federal Circuit, which specializes in patent cases, to resolve whether each of the iPhone design patents at issue in this controversy represent the end product or are merely components. What that court decides should significantly limit how big a slice of Samsung's profits Apple will get.
"It seems to me that the design is applied to the exterior case of the phone. It's not applied to ... all the chips and wires," Chief Justice John Roberts said at the hearing. "So there shouldn't be profits awarded based on the entire price of the phone."
Apple downplayed the significance of the ruling and said the focus should be on Samsung's theft of patented ideas ― a fight that will continue in the lower courts.
"The question before the Supreme Court was how to calculate the amount Samsung should pay for their copying. Our case has always been about Samsung's blatant copying of our ideas, and that was never in dispute," Apple spokeswoman Rachel Wolf Tulley said in a statement to The Huffington Post. "We will continue to protect the years of hard work that has made iPhone the world's most innovative and beloved product."
Samsung did not respond to requests for comment.
Alexander Kaufman contributed reporting.
Calling all HuffPost superfans!
Sign up for membership to become a founding member and help shape HuffPost's next chapter
BEFORE YOU GO
PHOTO GALLERY
Donald Trump's Potential Supreme Court Justices