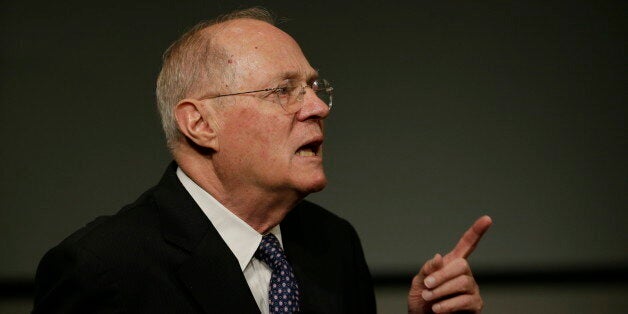 WASHINGTON -- Justice Anthony Kennedy agreed with the majority in a capital punishment case Thursday. But in an unusual move, he dedicated almost all of his concurring opinion to condemning the practice of solitary confinement in the nation's prisons, even though the issue, of his own admission, had "no direct bearing" on the case.
The case concerned whether the defendant, Hector Ayala, should have been able to argue that prosecutors intentionally excluded black and Hispanic jurors during his 1989 trial for a triple murder during a San Diego drug robbery four years earlier. The trial judge asked prosecutors to justify why they had excused all seven potential minority jurors, but accepted their explanations in a private hearing without providing an opportunity for Ayala's lawyers to respond.
On Thursday, the court's conservative wing, joined by Kennedy, held that any jury selection error in the case was harmless, overturning a decision from the 9th U.S. Circuit Court of Appeals.
In Kennedy's lengthy opinion concerning how Ayala was incarcerated, he noted that Ayala had been isolated for most of his 25 years of custody. The justice wrote that at least 25,000 of the country's inmates are serving a substantial amount of their sentence in isolation, "many regardless of their conduct in prison."
"If [Ayala's] solitary confinement follows the usual pattern, it is likely respondent has been held for all or most of the past 20 years or more in a windowless cell no larger than a typical parking spot for 23 hours a day; and in the one hour when he leaves it, he likely is allowed little or no opportunity for conversation or interaction with anyone," Kennedy wrote.
Kennedy's opinion emphasized growing evidence that solitary confinement irreparably harms prisoners, quoting authors Charles Dickens and Fyodor Dostoyevsky along the way. Crucially, he invites litigation -- which is already winding its way through the federal court system -- over the issue. Kennedy frequently serves as the court's swing vote, so this invitation may hearten criminal justice reform advocates.
"In a case that presented the issue, the judiciary may be required, within its proper jurisdiction and authority, to determine whether workable alternative systems for long-term confinement exist, and, if so, whether a correctional system should be required to adopt them," he wrote.
The justice suggested that the public wasn't sufficiently interested in how prisoners are incarcerated.
"Too often, discussion in the legal academy and among practitioners and policymakers concentrates simply on the adjudication of guilt or innocence," he argued. "Too easily ignored is the question of what comes next. Prisoners are shut away -- out of sight, out of mind. It seems fair to suggest that, in decades past, the public may have assumed lawyers and judges were engaged in a careful assessment of correctional policies, while most lawyers and judges assumed these matters were for the policymakers and correctional experts."
Kennedy's condemnation of solitary confinement provoked sarcastic disagreement from Justice Clarence Thomas, who was also in the court's majority. Thomas argued that Ayala's accommodations in prison were better than those of his victims.
"I join the Court's opinion explaining why Ayala is not entitled to a writ of habeas corpus from this or any other federal court," Thomas wrote. "I write separately only to point out, in response to the separate opinion of JUSTICE KENNEDY, that the accommodations in which Ayala is housed are a far sight more spacious than those in which his victims, Ernesto Dominguez Mendez, Marcos Antonio Zamora, and Jose Luis Rositas, now rest. And, given that his victims were all 31 years of age or under, Ayala will soon have had as much or more time to enjoy those accommodations as his victims had time to enjoy this Earth."
Kennedy's advocacy on the issue has previously gone beyond the pages of his opinions: In March, he told a House of Representatives subcommittee that "solitary confinement literally drives men mad." The stance fits in with Kennedy's overall emphasis on the concept of dignity.
In his Thursday opinion, Kennedy suggested that the public is increasingly becoming aware of the issue. He cited news articles about Kalief Browder, who committed suicide earlier this month after being put in solitary for roughly two-thirds of his three years at New York City's Rikers Island jail complex. Browder was charged with stealing a backpack, but was confined to solitary without standing trial or being found guilty of the charge.
"Over 150 years ago, Dostoyevsky wrote, 'The degree of civilization in a society can be judged by entering its prisons,'" Kennedy concluded. "There is truth to this in our own time."
Read Kennedy's full opinion here.
Calling all HuffPost superfans!
Sign up for membership to become a founding member and help shape HuffPost's next chapter
BEFORE YOU GO
PHOTO GALLERY
Supreme Court Justices