WASHINGTON -- The Supreme Court struck as unconstitutional part of a restrictive Texas statute that threatened to shutter half of the state's remaining abortion clinics and deny millions of women the right to a safe abortion.
The ruling in Whole Woman's Health v. Hellerstedt represents the most significant victory for abortion rights at the high court since the turn of the century, as states have scrambled to pass and defend similar laws across the country, seeking to chip away at the landmark Roe v. Wade.
That 1973 decision, refined by a conservative compromise in a 1992 case, established that the Constitution protects a woman's right to end her pregnancy, but later rulings and conservative lobbying have given states leeway to craft abortion laws and regulations targeting not so much the right but those who facilitate it.
"We conclude that neither of these provisions offers medical benefits sufficient to justify the burdens upon access that each imposes," he wrote. "Each places a substantial obstacle in the path of women seeking a previability abortion, each constitutes an undue burden on abortion access, and each violates the Federal Constitution."
When the Supreme Court heard the Whole Woman's Health case in March, Texas insisted that "abortion is legal and accessible" in the state, but was badgered by the liberal wing of the court, led by Justice Ruth Bader Ginsburg, to explain how its law, the controversial HB 2, protects women's health -- an interest the court has in the past recognized as a valid justification for abortion-related legislation.
Avowing a concern for women's health, Texas lawmakers passed the sweeping HB 2, which, among other requirements, mandated that abortion clinics undergo costly structural upgrades so as to resemble mini hospitals, and that abortion doctors obtain so-called admitting privileges at nearby hospitals -- all in the name of reducing health risks and increasing safety.
But everyone else -- particularly women residing in remote areas, hundreds of miles from the nearest abortion clinic -- would have been left in the lurch or forced to travel to neighboring states, such as New Mexico, where abortion access is more readily available.
In deciding the Whole Woman's Health case, the Supreme Court zeroed in on whether the two contested laws amounted to an "undue burden" on a woman's constitutional choice to obtain an abortion -- the legal test governing abortion restrictions but one that has failed to dissuade state legislatures, particularly in the South, from enacting end-run measures around it.
Breyer's majority opinion -- for which he was joined by Ginsburg and Justices Anthony Kennedy, Sonia Sotomayor and Elena Kagan -- reaffirmed this constitutional standard, including the principle that "unnecessary health regulations that have the purpose or effect of presenting a substantial obstacle to a woman seeking an abortion impose an undue burden on the right" to an abortion.
As to the admitting privileges provision, Breyer said there was "nothing" in the record of the case to show that the requirement advanced the interest of protecting women's health, and chided Texas for admitting during oral arguments that it couldn't find "a single instance" of it even helping "one woman obtain better treatment."
"In our view, the record contains sufficient evidence that the admitting-privileges requirement led to the closure of half of Texas' clinics, or thereabouts," Breyer wrote.
"Each places a substantial obstacle in the path of women seeking a previability abortion, each constitutes an undue burden on abortion access, and each violates the Federal Constitution."
The Supreme Court was also deeply skeptical of the mini hospital requirement, which it said "does not benefit patients and is not necessary," particularly for medication-induced abortions and even for surgical abortions.
Breyer took issue that "requiring scrub facilities" or "having ceiling, wall, and floor finishes" -- only a couple of a laundry list of regulatory upgrades clinics had to undergo -- "have such a tangential relationship to patient safety in the context of abortion as to be nearly arbitrary."
The dissenters, led by Justice Samuel Alito, recognized that the "constitutionality of laws regulating abortion is one of the most controversial issues in American law," but nonetheless would have ruled for Texas on the more narrow ground that abortion providers didn't litigate the dispute correctly.
"When we decide cases on particularly controversial issues, we should take special care to apply settled procedural rules in a neutral manner. The Court has not done that here," Alito wrote, joined by Chief Justice John Roberts and Justice Clarence Thomas.
Invoking the late Justice Antonin Scalia, Thomas also authored a solo dissent -- going as far as to call abortion a "special right" that shouldn't be given favored treatment from other rights in the Constitution.
"Today's decision will prompt some to claim victory, just as it will stiffen opponents' will to object," Thomas wrote. "But the entire Nation has lost something essential. The majority's embrace of a jurisprudence of rights-specific exceptions and balancing tests is a regrettable concession of defeat -- an acknowledgement that we have passed the point where 'law,' properly speaking, has any further application."
Abortion rights advocates praised the ruling.
"Today, the Supreme Court affirmed what we at Whole Woman's Health have known all along — that every woman, no matter where she lives, deserves access to compassionate, respectful, and comprehensive care from a clinic she trusts," Amy Hagstrom Miller, who leads the clinic at the center of Monday's decision, said in a statement. "Today justice was served."
NARAL President Ilyse Hogue added that the key to the ruling was the court's ability to look into the intentions of the legislature that passed the law, which is central to similar court challenges in states such as Louisiana and Mississippi.
"The Justices apparently saw what we already knew — that the Texas law under review and all those like it are never about protecting women," she said. "They are about trying to ban abortion and undermining a woman's dignity and ability to determine her own future."
"HB2 was an effort to improve minimum safety standards and ensure capable care for Texas women," Ken Paxton, the state attorney general, said in a statement. "It's exceedingly unfortunate that the court has taken the ability to protect women's health out of the hands of Texas citizens and their duly-elected representatives."
Other abortion opponents also lamented the ruling and vowed to keep fighting.
"Sadly, the commonsense laws that protect women in real, full service healthcare centers won't be in effect in Texas abortion clinics, but Americans United for Life will continue to fight -- in legislatures and in the courts -- to protect women from a dangerous and greedy abortion industry," said Clarke Forsythe, AUL's acting president.
Reasonable minds will disagree over what Monday's ruling will mean for abortion rights in the near future, but one detail shouldn't get lost: Justice Kennedy, for the first time since 1992, joined the liberals on the court to rule against an abortion law that didn't comport with the very test that he helped articulate.
Read the court's ruling below:
Support HuffPost
The Stakes Have Never Been Higher
Before You Go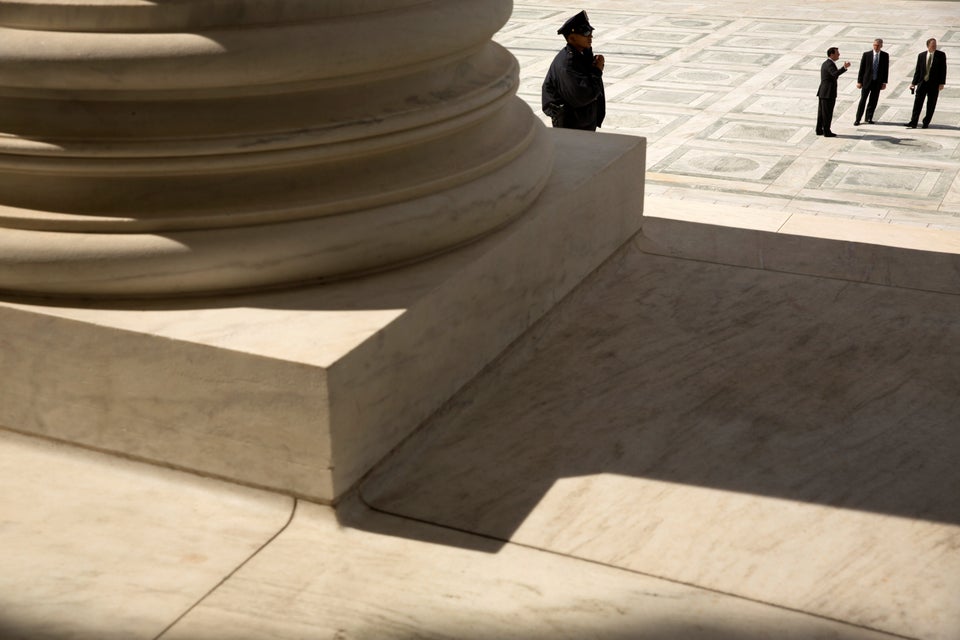 Exclusive Look Inside The Supreme Court
Popular in the Community