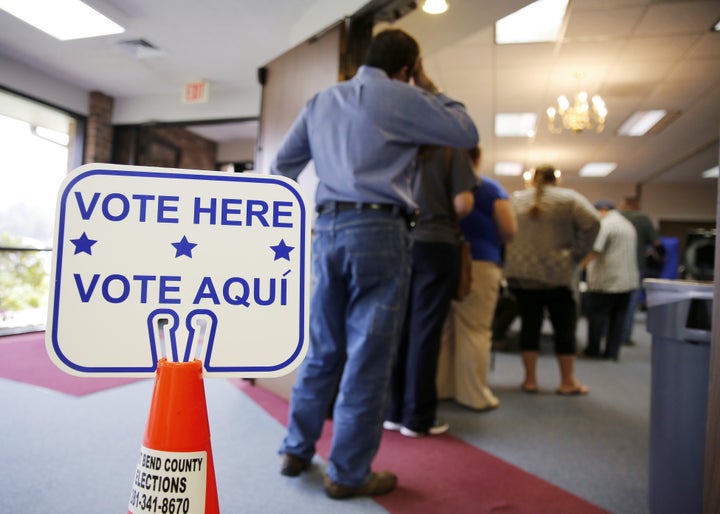 The Supreme Court on Friday declined a request from voting rights advocates to stop Texas from enforcing its controversial voter ID law, which is on track to get its first real test-drive in a presidential election.
But in a nod to this reality, the justices acknowledged that they very well may change their minds on the law -- which has had a lengthy history in the courts and is scheduled for yet another hearing in May.
"The Court recognizes the time constraints the parties confront in light of the scheduled elections in November, 2016," read the court's unsigned order, which also set a July 20 deadline for the U.S. Court of Appeals for the 5th Circuit to issue a definitive ruling on whether the law violates the Voting Rights Act of 1965.
If that court doesn't meet the deadline, the Supreme Court said that "an aggrieved party" -- that is to say, the people challenging the law -- may once again petition the justices to put the voter ID law on hold.
Critics of the law say its exacting requirements will have the effect of disenfranchising elderly people, poor people and people of color. Among the forms of identification accepted under the contested Texas law are a driver's license, a military ID, a U.S. passport and a license to carry a handgun.
The Campaign Legal Center, an advocacy group that filed the current request to the Supreme Court, was pleased with Friday's development.
"This order gives us the opportunity to protect Texas voters if the 5th Circuit fails to rule in time," Gerry Hebert, the group's executive director, said in a statement.
Texas Attorney General Ken Paxton (R), for his part, appeared ready for the next legal showdown.
"We appreciate the Supreme Court allowing the law to remain in effect at this time and look forward to defending the merits of our case in front of the entire Fifth Circuit next month," he said in a statement.
Richard Hasen, an election law expert at the University of California, Irvine, argued in a blog post that rather than being a straight win for one side or the other, the Supreme Court's move is simply an attempt to put the otherwise conservative 5th Circuit on a firm schedule.
The last time the justices stepped in and allowed the law to go into effect, ahead of the 2014 elections, the three women on the court, led by Justice Ruth Bader Ginsburg, issued a warning about the law's potential impact.
"The greatest threat to public confidence in elections in this case is the prospect of enforcing a purposefully discriminatory law, one that likely imposes an unconstitutional poll tax and risks denying the right to vote to hundreds of thousands of eligible voters," Ginsburg wrote.
Popular in the Community