The U.S. Supreme Court on Tuesday upheld President Donald Trump's travel ban in a 5-4 ruling.
"The government has set forth a sufficient national security justification to survive rational basis review," Chief Justice John Roberts wrote for the court's five conservatives.
"Because there is persuasive evidence that the entry suspension has a legitimate grounding in national security concerns, quite apart from any religious hostility, we must accept that independent justification," Roberts wrote in the majority opinion.
The ban, announced in September, is the third iteration of a Trump policy to crack down on immigration from Muslim-majority countries. Lower courts blocked the ban last fall until the Supreme Court allowed it to go into effect in December while legal proceedings continued in the case Trump v. Hawaii. The state of Hawaii argued that the ban discriminates based on nationality and specifically targets Muslims. The Trump administration, meanwhile, contended that such a ban is a necessity for national security purposes.
The Supreme Court decision was a stinging defeat for opponents, who contended it was motivated by religious discrimination.
Becca Heller, director and co-founder of the International Refugee Assistance Project, called the decision "absolutely devastating, not only for Muslims, who are the primary target of this shameful ban, but for everyone who believes in the freedom of religion."
"This decision will embolden him even more to discriminate against everyone his administration deems undesirable, as we have seen in recent weeks," Heller said of the president.
Trump quickly exulted in his win.
Trump signed two previous bans into law, both of which were quickly shot down in court but still managed to wreak havoc on the country's immigration and refugee resettlement systems.
The first, signed during Trump's first week in office, included a ban on travel for people from seven countries as well as a halting of the U.S. refugee resettlement program. It caused mass confusion given that no details about its execution were mapped out beforehand. Scores of people were detained at airports across the country, and even those with valid visas who were waiting to board flights in the subsequent days weren't able to travel. Mass protests erupted across the country as a result.
The second ban, a slightly watered down version of the first, restricted people from six Muslim-majority countries, including refugees, unless they could prove a "bona fide" relationship with a U.S. person or entity.
Trump simultaneously decided to slash the annual U.S. refugee resettlement quota to 45,000 for fiscal year 2018, the lowest in history. State Department data shows that the country is on track to admit only about half of that total.
"It means that we're not saving 25,000 lives this year," said Erol Kekic, executive director of the Immigration and Refugee Program at Church World Service, one of the major refugee resettlement agencies.
The Supreme Court ruling was "unsurprising," Cornell University law professor Stephen Yale-Loehr said. "Because immigration touches on national sovereignty and foreign relations, courts have generally deferred to the president on immigration issues," he said.
Read the Supreme Court opinion:
Before You Go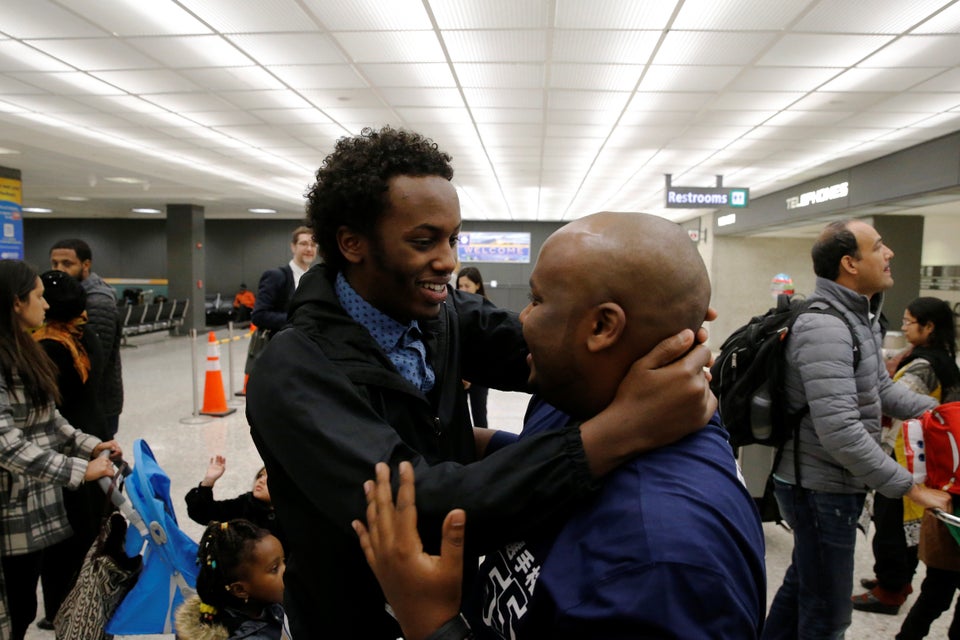 Families Reunited After Travel Ban Lifted