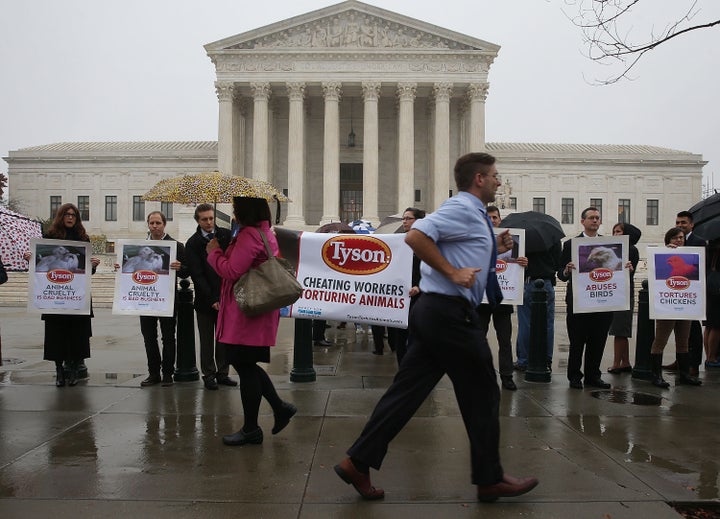 WASHINGTON -- The Supreme Court on Tuesday ruled in favor of thousands of meatpacking workers at a Tyson Foods plant in Iowa who banded together and sued the company for wage theft.
A jury and later an appeals court agreed that Tyson was liable under federal and state labor law to the workers, who said they were not being paid for the time they spent "donning and doffing" equipment required for the job. The court awarded them nearly $3 million in damages.
But the company challenged the award before the high court, claiming the workers had improperly relied on a statistical average of the time they spent changing into and out of their protective gear -- and arguing that they never should've been allowed to sue collectively in the first place.
In a 6-2 ruling, the Supreme Court rejected Tyson's arguments and said that workers who sue as a class may rely on this kind of "statistical" or "representative evidence" on a case-by-case basis, especially if an individual worker suing alone lacks the means to prove how he or she was shorted on pay.
"If the sample could have sustained a reasonable jury finding as to hours worked in each employee's individual action, that sample is a permissible means of establishing the employees' hours worked in a class action," wrote Justice Anthony Kennedy, joined by Chief Justice John Roberts and the court's liberal wing.
This is especially true, Kennedy explained, when employers are careless in their record keeping and there's no way for workers to prove definitively how much time they've been underpaid for.
An employee "has carried out his burden if he proves that he has in fact performed work for which he was improperly compensated and if he produces sufficient evidence to show the amount and extent of that work as a matter of just and reasonable inference," Kennedy wrote, citing a 70-year-old precedent that allowed for similar calculations for unpaid wages.
Deepening their newfound conservative alliance, Justices Clarence Thomas and Samuel Alito dissented together. (There's good reason to believe the late Justice Antonin Scalia would have joined his conservative colleagues: He wrote the 2011 decision in Wal-mart Stores v. Dukes, which significantly rolled back class-action rights and which Tyson relied on to make its case.)
Thomas agreed with Tyson's argument that the plaintiffs hadn't proved enough commonality between them to sue the company as a class. In particular, he reasoned that the more than 3,000 workers involved in the Tyson case would have all spent different amounts of time putting on and taking off their gear for work. That variability between workers, Thomas wrote, "created an unacceptable risk" for Tyson in defending itself.
Scott Michelman, an attorney for the workers, said he had feared the case could "sound the death knell for class actions," giving the court an opportunity to further restrict plaintiffs' ability to join together in big lawsuits. The Walmart case, for example, made it harder to bring class-action suits under federal anti-discrimination law.
"This is an outstanding result for ordinary Americans' ability to hold corporate actors accountable," Michelman said. "It's an important reaffirmation of the right of workers, consumers and others to band together in a class-action and enforce rights they might not otherwise be able to enforce."
The plaintiffs in the Tyson case are a good example of the kind of vulnerable workers who can benefit from class-action lawsuits. Low-level meatpacking jobs are dangerous and typically low-paying, and they tend to be filled by immigrant workers without better options. As individuals, they may not have the resources to pursue expensive wage theft litigation, but lawyers are far more likely to represent them if they can sue as a class.
Cristian Farias reported from New York; Dave Jamieson reported from Washington.
Calling all HuffPost superfans!
Sign up for membership to become a founding member and help shape HuffPost's next chapter
BEFORE YOU GO
PHOTO GALLERY
10 Ways The Supreme Court Could Settle 4-4 Ties