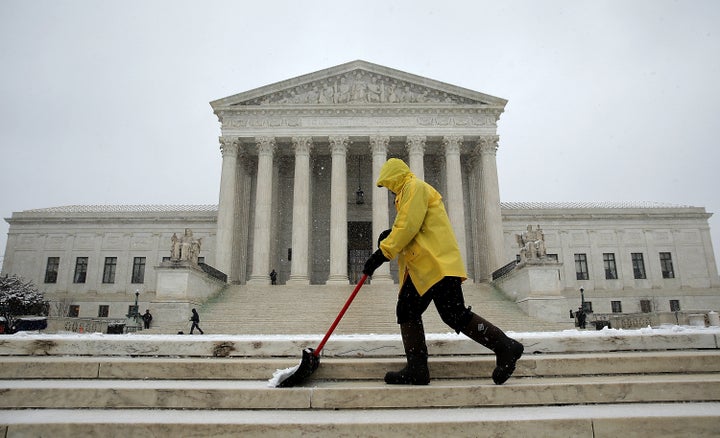 Washington largely shut down on Monday after a major snowstorm hit the East Coast over the weekend. But one branch of the federal government did show up for work: The U.S. Supreme Court.
To be sure, the bench was a little lighter on Monday, with only five of the nine justices making it to a public hearing to announce some of the decisions: Chief Justice John Roberts and Justices Anthony Kennedy, Ruth Bader Ginsburg, Clarence Thomas and Elena Kagan.
Mark Walsh, a veteran Supreme Court reporter who was also one of two journalists at the hearing, said general attendance was also sparse: Only two members of the public were present, plus court staff, other officers and a few guests.
Still, that didn't keep the court from going about its business.
"I see we have a big audience for the FERC case," Kagan said, referring to the energy case she decided for a 6-2 court. (Justice Samuel Alito recused himself from the case due to a financial conflict; presumably, that's why he wasn't there.)
Other decision announcements followed, including one in which Roberts had to stand in for Justice Antonin Scalia, who apparently didn't make it to work because he has an engagement in Singapore scheduled for Thursday.
Because the Supreme Court only released opinions but didn't formally hear arguments in any pending case on Monday, it won't release audio of these sessions until sometime in the fall.
But Walsh, who was there for SCOTUSblog, managed to catch this bit:
"I would be remiss if I did not thank the court's employees for their dedicated efforts over the past few days and this morning, which allowed the court to hold our scheduled sitting today," Roberts said at the close of the session.
Maybe Roberts was following in the footsteps of his predecessor, the late William Rehnquist, who 20 years ago defied nearly two feet of snow to keep the court open after a major blizzard.
Or maybe he just wanted to prove that the least dangerous branch of the federal government is truly independent from the others.
PHOTO GALLERY
Supreme Court Justices Get Out Of The Office
Calling all HuffPost superfans!
Sign up for membership to become a founding member and help shape HuffPost's next chapter