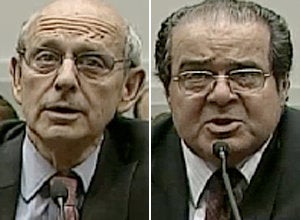 Supreme Court Justices Antonin Scalia and Stephen Breyer talked about Twitter and their friendship with Supreme Court nominee Elena Kagan on Thursday.
During an appearance before a House Judiciary subcommittee, House Judiciary Chairman John Conyers said he had a question for the Justices but that staff had warned him that it was out of bounds.
Scalia responded, "Mr. Chairman, we're both friends of Elena Kagan, and I don't think we're willing to go beyond that." People at the hearing laughed.
Conyers said that wasn't his question. He never asked it.
Scalia and Breyer were there to talk about the Administrative Conference of the United States. Scalia was chairman and Breyer served as a Senate liaison for the regulation-studying body.
During a line of questioning about public commenting for the Administrative Conference, the justices were asked about Twitter.
Scalia told the panel that he has heard of Twitter but that he doesn't know what it's all about (his wife calls him "Mr. Clueless").
Justice Stephen Breyer on the other hand, told the panel that he was "hypnotized" with the microblogging site during the 2009 protests in Iran.
WATCH: Justices Talk About Twitter
Popular in the Community