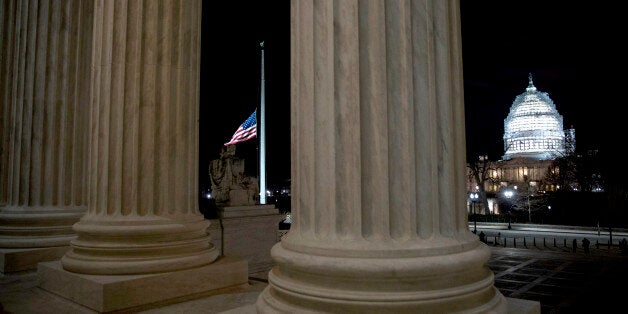 "Justice Delayed Is Justice Denied" ---(Attributed: William Gladstone, Dr. Martin Luther King, The Talmud, Magna Carta et al)
The Constitution of the United States of America

Article II, Section 2, Clause 2

The President shall nominate, and, by and with the Advice and Consent of the Senate, shall appoint Ambassadors, other public Ministers and Consuls, Judges of the Supreme Court, and all other Officers of the United States...
Republicans have shown enormous respect for the Constitution of the United States of America and their hero Associate Justice Antonin Scalia by instantly using his death to demand that President Obama ignore the Constitution for the next 340 DAYS (93% of the 8th year of his elected presidential term) and NOT fulfill his constitutional obligation to appoint an Associate Justice to replace Justice Scalia.
In December 1987, President Ronald Reagan had 415 days left of his second presidential term and faced a Senate with a Democratic majority 55-45. He nominated Anthony Kennedy for the Supreme Court. The process careened through in a brisk 64 days. (Given that this spanned the Christmas and New Year holidays, the actual confirmation process was very swift indeed.) And despite the Democrats holding a 55-45 majority, the confirmation sailed through unopposed 97-0.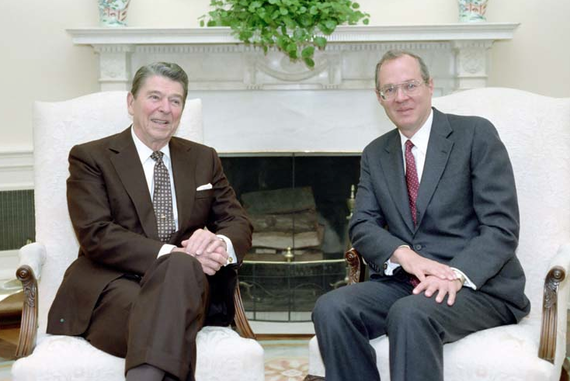 President Ronald Reagan meets his Supreme Court nominee Anthony Kennedy in the Oval Office - November 1987. [Photo courtesy: Grecian Formula]
Much to the consternation of conservatives everywhere, I have pleasure in presenting here -- in chronological sequence -- the salient details of the nomination process of the last nine justices to be appointed to the Supreme Court. There was no single webpage I could find presenting this information in grid format. So I spent time researching and creating the information below. Cite it to all the conservatives you know. Nothing frazzles them like incontrovertible facts that show up their hypocrisy!
Note that the longest confirmation process of the last 30 years was 106 days for Clarence Thomas. The shortest was a breathtaking 24 days for John Roberts.
In other words it can be done. And it should be done.
And when conservatives bray and bleat their opposition to President Obama -- winner of the 2008 and 2012 presidential elections -- fulfilling his constitutional responsibilities there's a simple response:
Direct them to the words of that great conservative intellectual - George W. Bush: "Elections have consequences..."
Associate Justice Antonin Scalia

Trigger: Justice Rehnquist elevated to Chief JusticeNominated by: President Ronald Reagan (R)Nominated: June 17, 1986 Confirmed: September 17, 1986State of Senate: Republicans: 53 • Democrats: 47Confirmation Vote: 98-0Time from nomination to confirmation: 91 days
Associate Justice Anthony Kennedy

Trigger: Retirement of Justice Lewis PowellNominated by: President Ronald Reagan (R)Nominated: November 30, 1987Confirmed: February 3, 1988State of Senate: Democrats: 55 • Republicans: 45 Confirmation Vote: 97-0Time from nomination to confirmation: 64 days
Associate Justice Clarence Thomas

Nominated by: President George H. W. Bush (R)Trigger: Retirement of Justice Thurgood MarshallNominated: July 1, 1991 Confirmed: October 15, 1991State of Senate: Democrats: 56 • Republicans: 44 Confirmation Vote: 52-48 Time from nomination to confirmation: 106 days
Associate Justice Ruth Bader Ginsburg

Nominated by: President Bill Clinton (D)Trigger: Retirement of Justice Byron WhiteNominated: June 14, 1993 Confirmed: August 10, 1993State of Senate: Democrats: 57 • Republicans: 43 Confirmation Vote: 96-3Time from nomination to confirmation: 56 days
Associate Justice Stephen Breyer

Nominated by: President Bill Clinton (D)Trigger: Retirement of Justice Harry Blackmun Nominated: May 13, 1994 Confirmed: August 3, 1994State of Senate: Democrats: 57 • Republicans: 43 Confirmation Vote: 87-9Time from nomination to confirmation: 81 days
Chief Justice John Roberts

Nominated by :President George W. Bush (R)Trigger: Death of Chief Justice William Rehnquist Nominated: Sept 5th, 2005Confirmed: Sept 29 2005State of Senate: Republicans: 55 • Democrats: 44Confirmation Vote: 78-22Time from nomination to confirmation: 24 days
Associate Justice Samuel Alito

Nominated by: President George W. Bush (R)Trigger: Retirement of Sandra Day O'Connor Nominated: October 31, 2005 Confirmed: January 31, 2006State of Senate: Republicans: 55 • Democrats: 44Confirmation Vote: 58-42Time from nomination to confirmation: 91 days
Associate Justice Sonia Sotomayor

Nominated by: President Barack Obama (D)Trigger: Retirement of David Souter Nominated: May 26, 2009 Confirmed: August 6, 2009State of Senate: Democrats: 58 • Republicans: 40Confirmation Vote: 68-31Time from nomination to confirmation: 71 days
Associate Justice Elena KaganNominated by: President Barack Obama (D)Trigger: Retirement of John Paul Stevens Nominated: May 10, 2010 Confirmed: August 5, 2010State of Senate: Democrats: 57 • Republicans: 41Confirmation Vote: 63-37Time from nomination to confirmation: 86 days
Popular in the Community