Surfers love telling tales about the best rides of their lives. Usually these stories have to do with their best wave rides, but sometimes it's the ride that got them there that is more legendary.
We asked Davey to tell us a little about his iconic surf car shots. His reflections are full of serendipitous photo ops, a couple of the world's most famous surfers, distant lands, remote breaks, and cars you'd never expect could make the trip.
His experiences will inspire you to hit the road for your own adventure -- surfboard or not. When you've got a ride like one of these, it truly is about the journey rather than the destination.
To see Davey's full collection of surf vehicle photos, check out his gallery on The Inertia.
1. "Plain Place," aka Oakhampton, Tasmania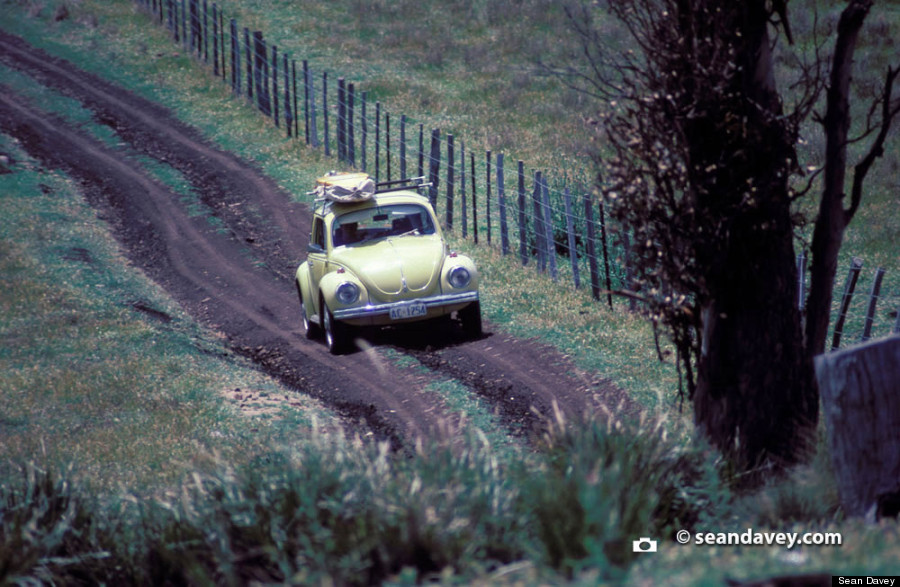 This car belonged to my surf buddy Alan Davis, in Tasmania, Australia, way back in the 80's. We used to take this thing everywhere, simply because it was a good economical car for those long missions. He also had one of those home mini component stereo systems inside his glove box. That car was way cool....
2. 7 Mile Beach, Hobart, Tasmania.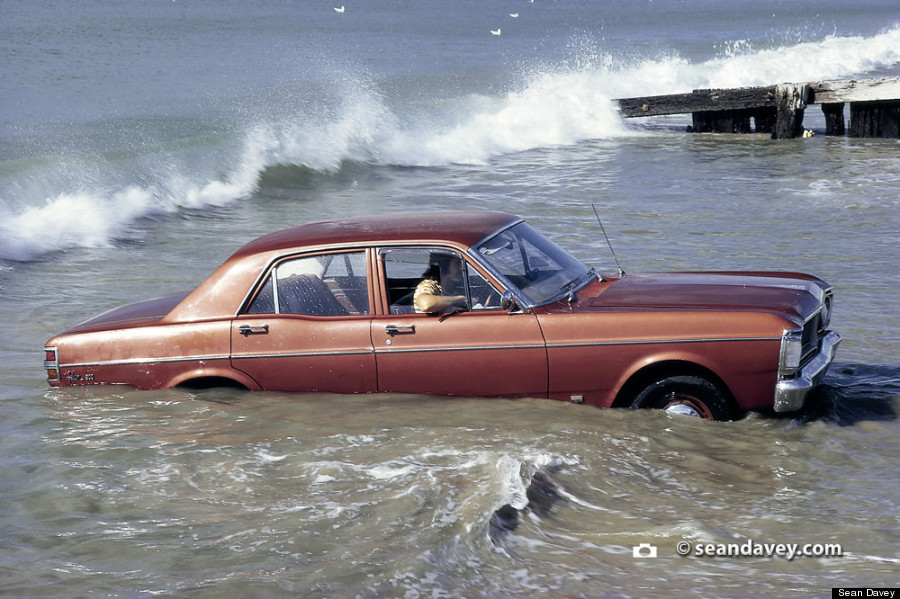 This is a classic old Australian 80's Ford Falcon and it was obviously owned by a guy who cared for it well, until this day when he was putting his boat in at the ramp under a much bigger than normal swell. He got bogged. He opened his door right when a wave came, so it went all inside his car. I saw it for sale the very next week.
3. Laniakea, North Shore, Oahu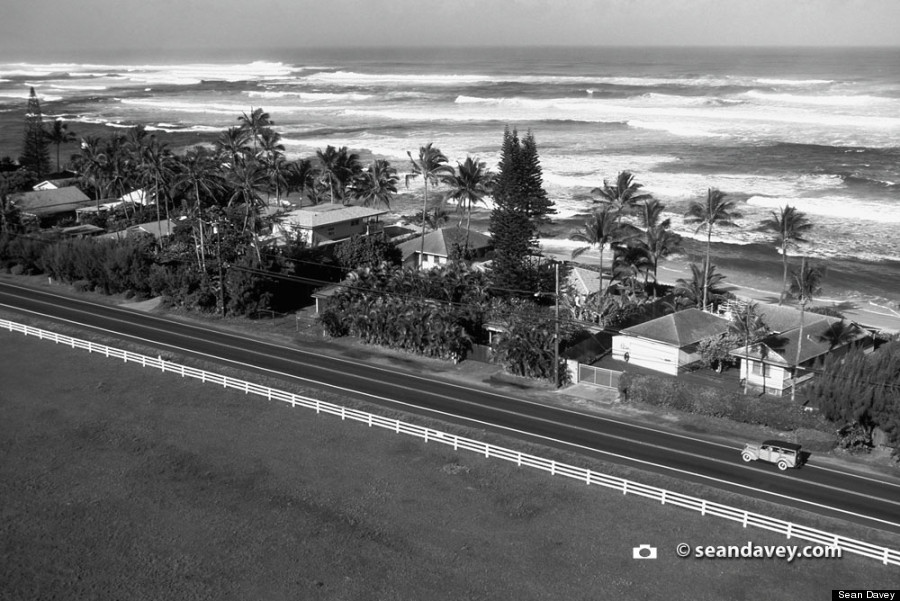 I was up in the helicopter shooting big wave surfing and we were crossing over Kamehameha Highway just as this old vintage woody was passing by. Serendipitous timing, you could say.
4. City of Melbourne Bay, King Island, Australia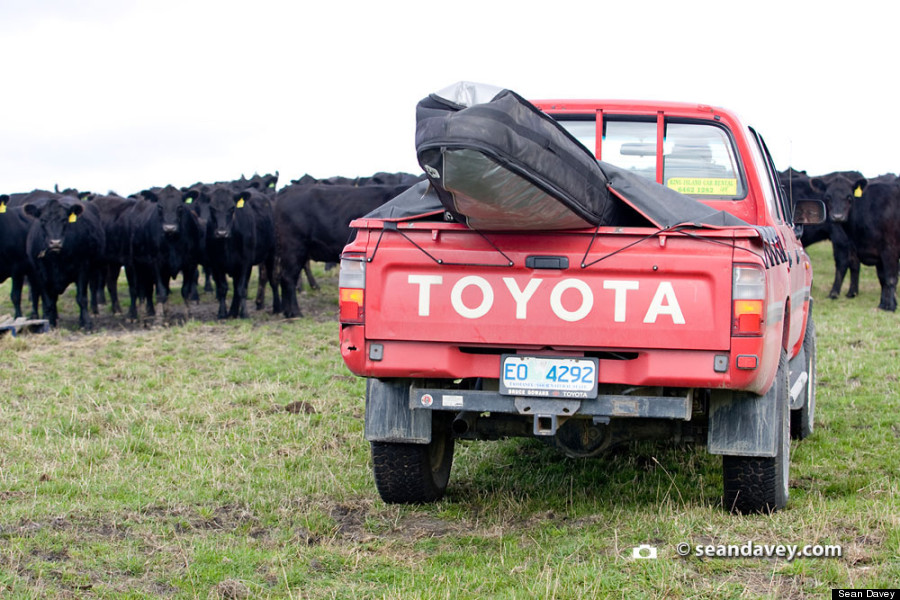 This is from King Island, a small island in Bass Strait, just under Melbourne, Australia. King Island is a farming community, world famous for their beef and dairy products especially. This is the only kind of traffic jam you will ever encounter on King Island.
5. West Cape, Yorke Peninsula, South Australia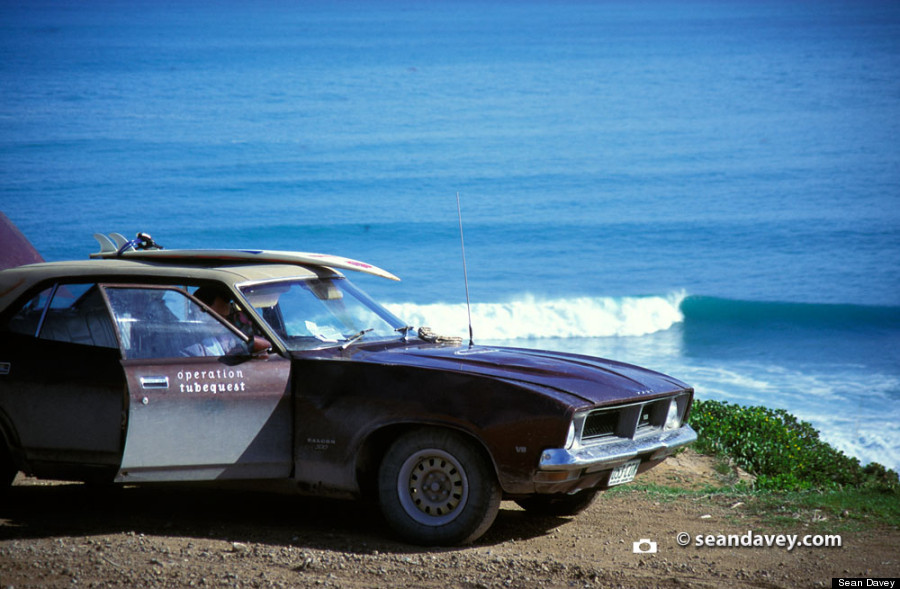 This is a mid-70's Australian Ford Falcon which Australian Surfing Life Magazine purchased, then sprayed "Operation Tubequest" on the doors and sent it off into the much-feared South Australian desert knowing that they would get great waves and cause all kinds of mayhem in an area where outsiders were generally not welcome. The trip went for 6 weeks and resulted in three major article features. Before you pack your bags, you should know that this location is just a couple of miles from where they filmed the real Great White sharks for "Jaws."
6. "The Deep, Deep Scrub," near Currie, King Island, Australia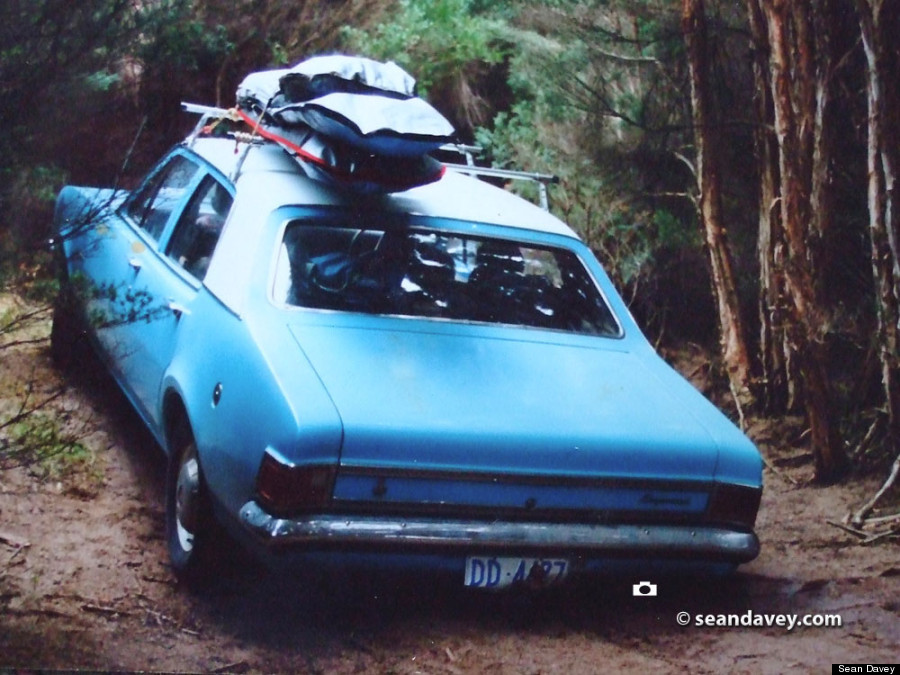 A classic old Australian Holden from the late 60's. These were very rugged vehicles and would go off road to surprisingly great extents. This photo was taken by my late friend Jeremy Curtain. It's his mate Salty's car. Those boys on King Island pioneered all the island's surf breaks back in the day, using these cars where there were no roads.
7. Currie, King Island, Australia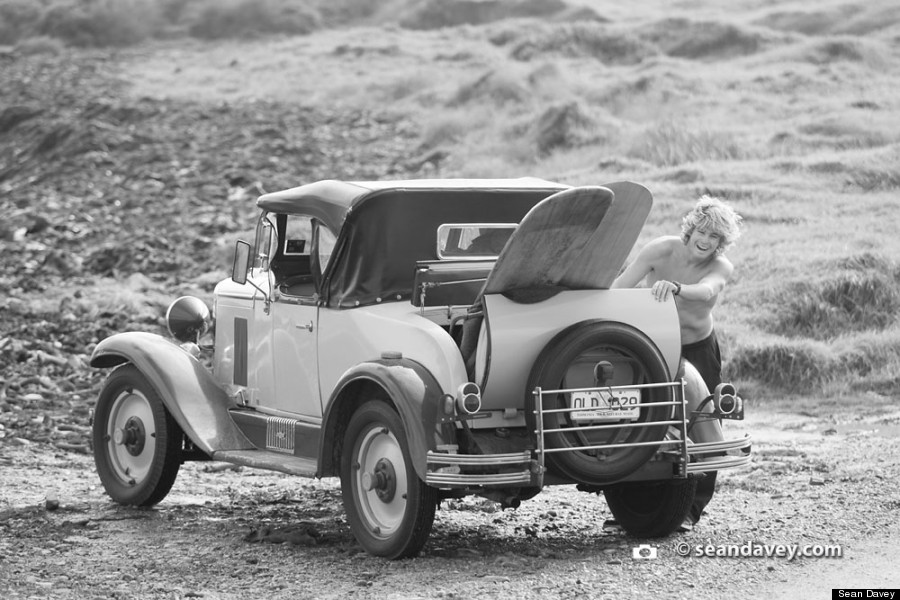 Again, this one's on King Island, Australia and features an old chevy from the 20's. It belongs to this really nice old guy who let us borrow it for a few pictures. (Thanks, mate.) The surfer is Hath Joske.
8. Nettley's Bay, Tasmania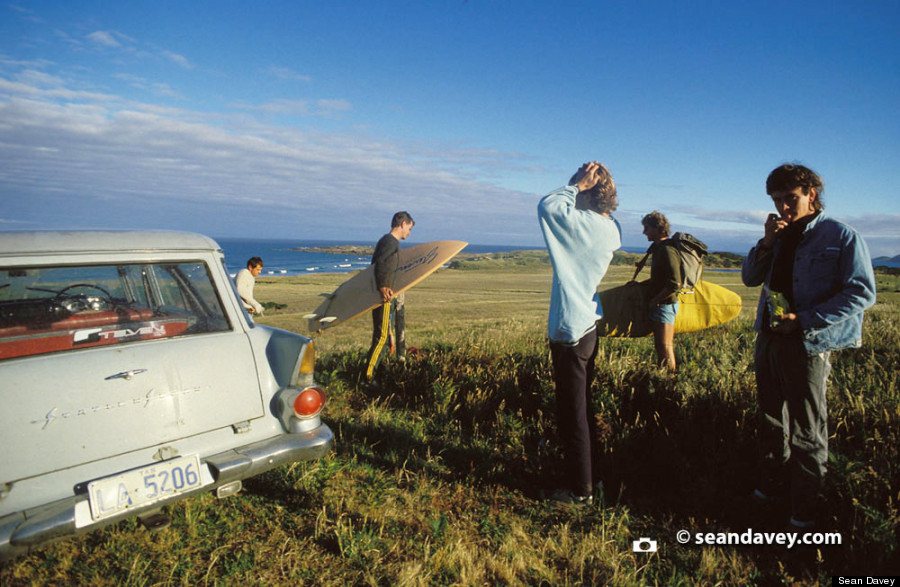 Another classic old Australian Holden. This one is from the early 60's. My mate Alan Davis bought it off this old guy who had owned it since new. The thing was awesome. It was the 80's and we named it after the movie "Greystoke." It was such a fitting name.
9. Seal Beach, California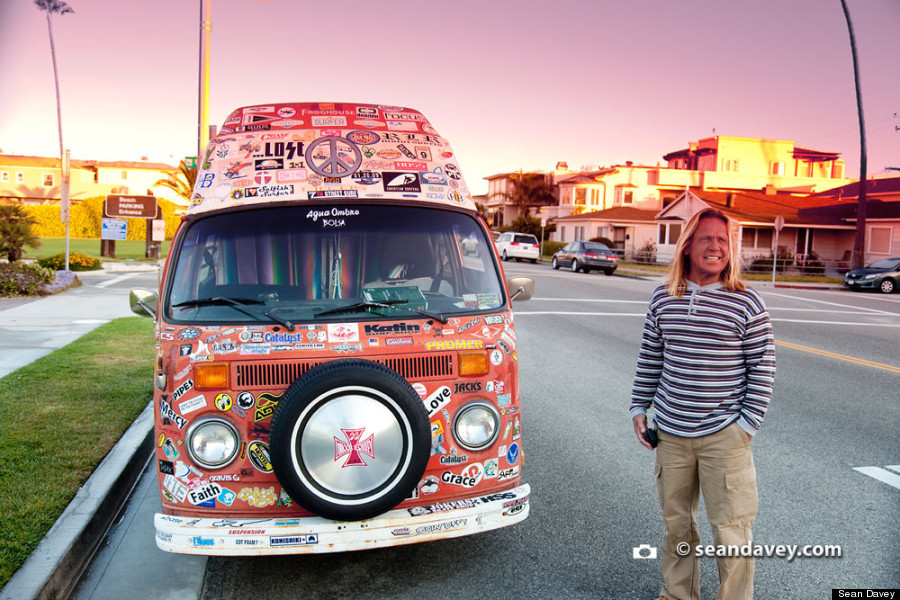 I was just cruising along one morning and saw this guy with his old Kombi van and asked him if I could shoot a portrait. He was stoked that I was interested.
10. Joel Tudor, Pipeline, North Shore, Oahu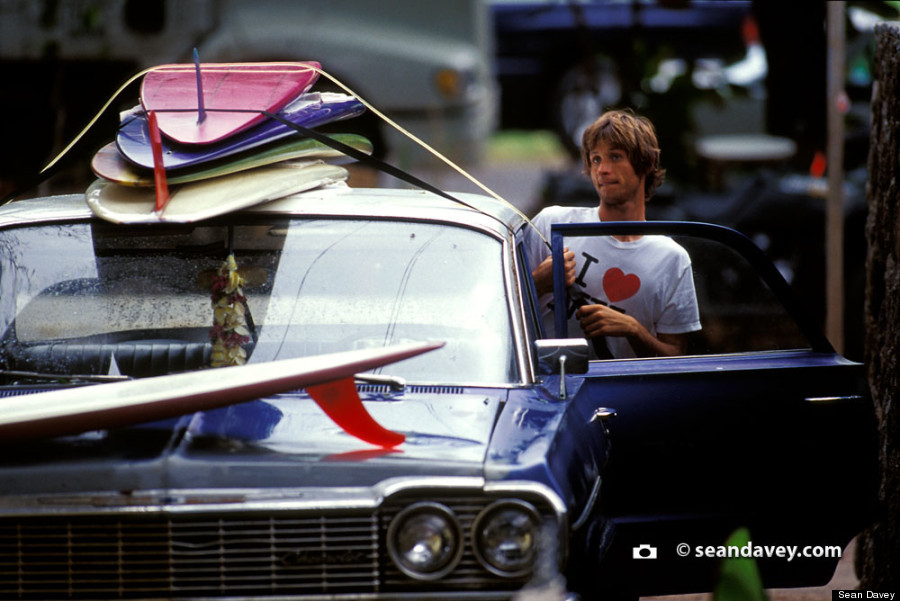 I was walking along one day and just happened upon this scene and instantaneously focused and shot. The scene was lost within seconds. Perfect example of being ready for the moment.
11. Martha Lavinia Nature Reserve, King Island, Australia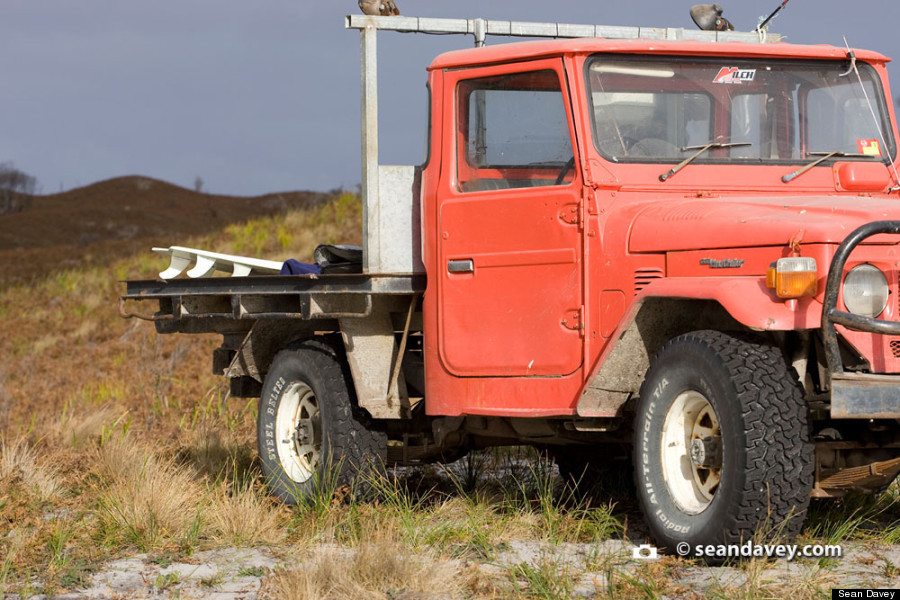 Another image still from King Island. Loads of the local farmers have very practical utility trucks. This guy just throws his board on his work truck after work and drives down for a surf.
12. Shark's Cove, North Shore, Oahu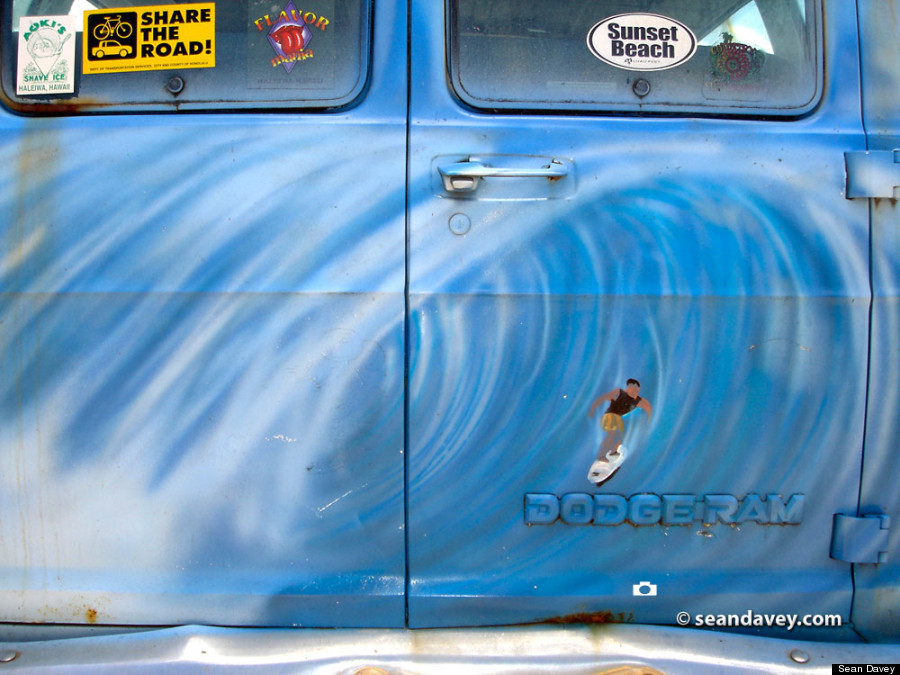 This is the work of Drew Toonz. One hell of a talented artist who sometimes goes around and beautifies the place by painting up old wrecks that are visually polluting the North Shore. He gives them beauty and humor.
13. Pipeline, North Shore, Oahu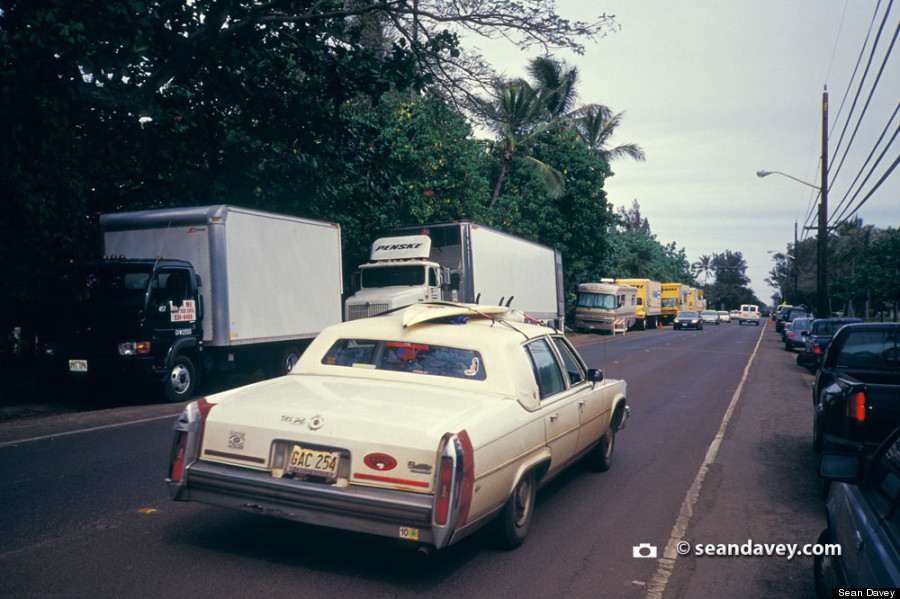 It's amazing what you'll see surfers driving up here on the North Shore. Especially out of town surfers. They are typically on a bit of a holiday and something like an old limo would rock as a holiday car, would it not? So yeah, you do see some neat vehicles about the place. The production trucks parked across the street were there for the filming of "Blue Crush."
14. Mark Occhilupo, Bondi Beach, Australia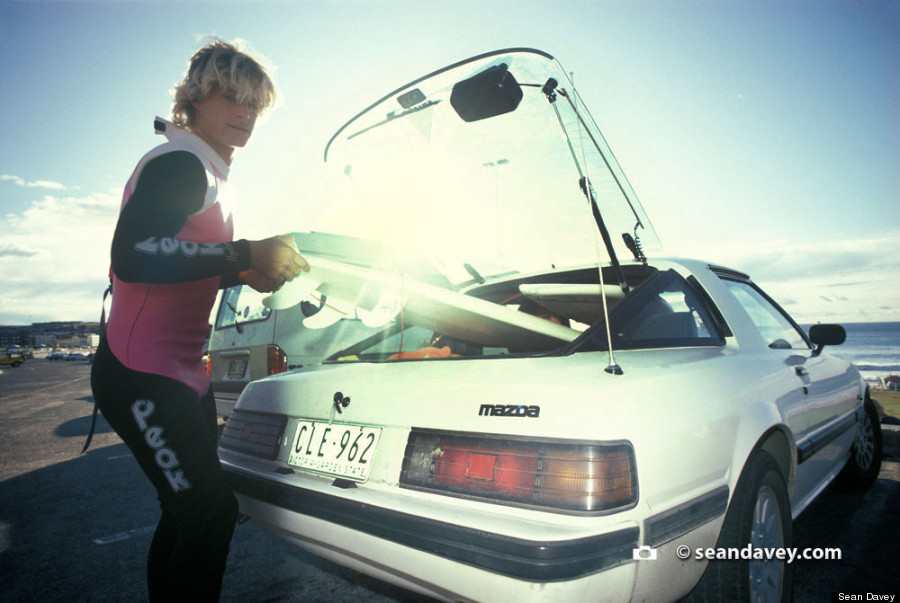 This was during the first coming of Occy the pro surfer. He was young and just about unbeatable. I guess he was hanging out with Rabbit [Bartholomew] about this time because I think this is Rabb's old RX7 with the Queensland license plates. I happened to see Occy waxing up in the Bondi Beach parking lot and grabbed a couple of portraits of him. His wetsuit sponsor at the time was Peak wetsuits. To this day, my Californian friends ask where they can get the old Occy Peak suits.
15. Porky's Beach, King Island, Australia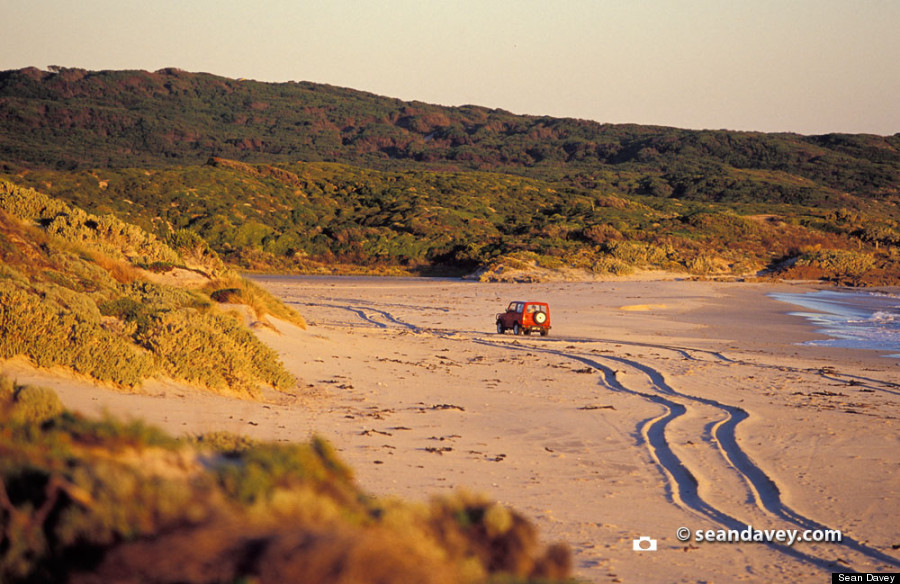 This is probably just about the right kind of vehicle when driving around rural beachy areas. It's 4wd and it's light, meaning you can push it out if it does get bogged.
16. Huon Highway, Tasmania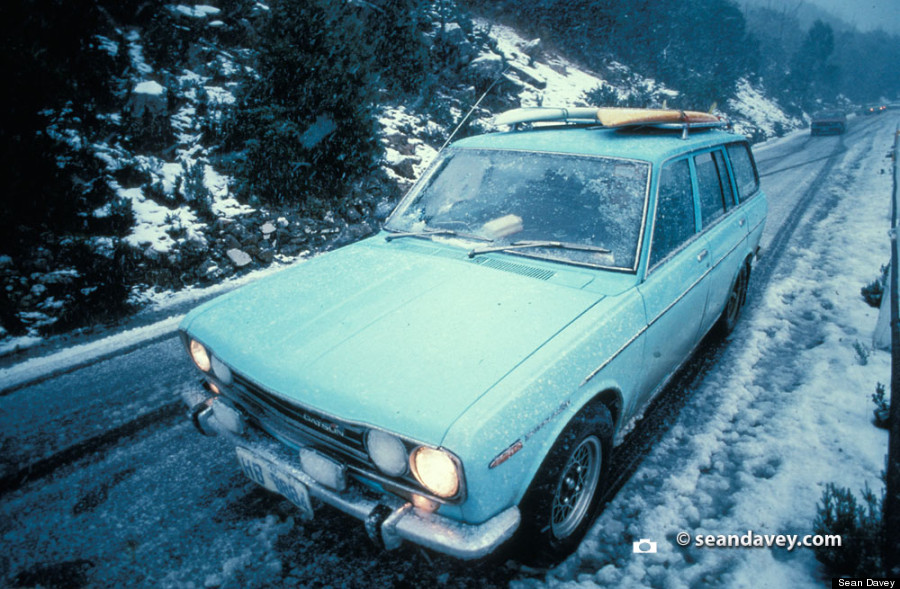 Tasmanian surfers have their lot to deal with in the winter months. Blizzards are known to happen in the more frontier areas to the west and south. This is what surfers put up with to get a few waves at that time of the year.
17. Ehukai Beach Park, North Shore, Oahu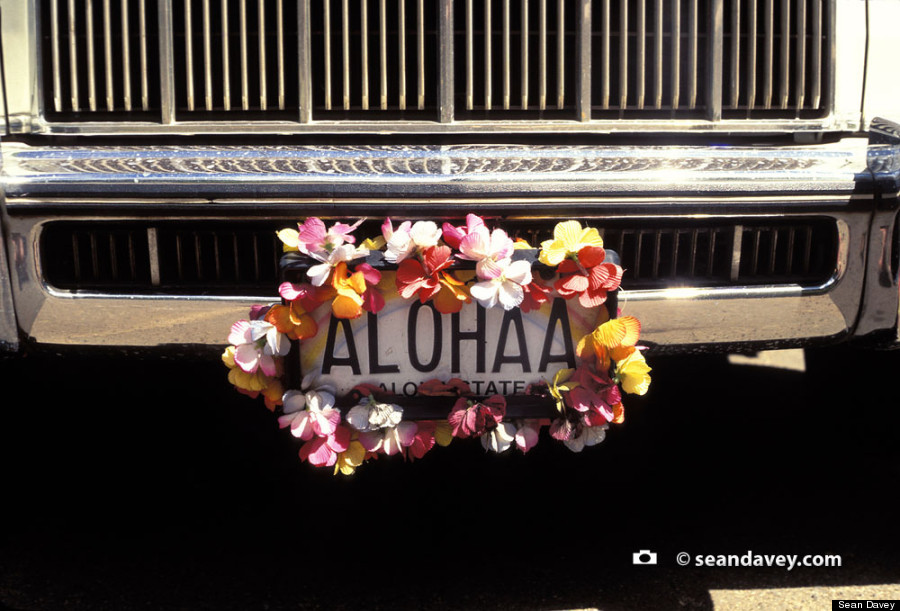 I spotted this license plate in the Ehukai beach parking lot one afternoon and was immediately drawn to it for a picture. It is still one of my favourite symbolic images of Hawaii.
Correction: A previous version of this post listed number nine as Huntington Beach, CA. The photograph was taken in Seal Beach, CA.